Each day, Michelle Hahn walks downstairs to the basement of the William and Gayle Cook Music Library. The sound recordings cataloger and assistant librarian finds her way through blue and gray bins and stacks of boxes containing reel tapes, vinyl records, CDs and cassette tapes. She passes shelves of records labeled with the names of famous composers like Mozart, Handel, Schubert and Wagner. Then she reaches her office.
The large window in her basement office lets in the sun, which shines through blue and translucent empty plastic reels that used to hold tape filled with music.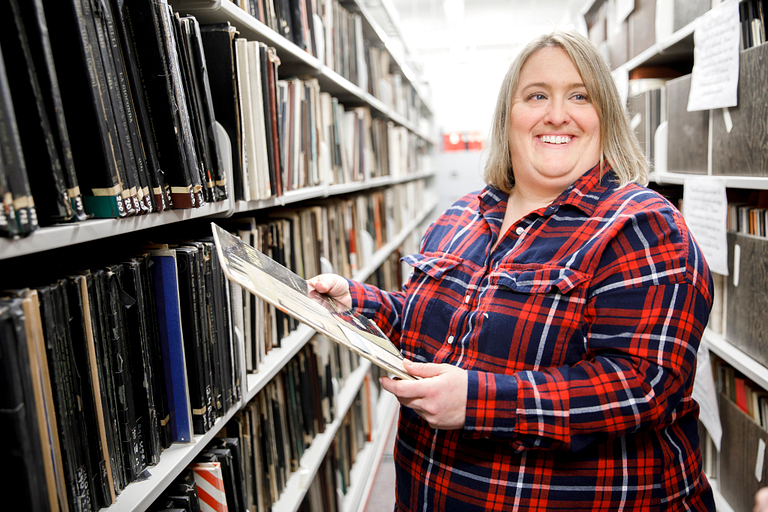 It's in this sunny space at her computer that Hahn makes it possible for almost anyone to access one of the largest academic music libraries in the world.
As a sound recordings cataloger, Hahn inputs information about the library's collections into IU's online library catalog, IUCAT. Without that information, the collections wouldn't be searchable and accessible.
"I make sure people can find what they're looking for and be sure what they've found is what they want," she said.
Hahn's behind-the-scenes role at the library gives patrons a roadmap to the 700,000 recordings in the library's collections, made up mostly of classical music and jazz.
When a new vinyl record needs to be added to IU's collections and a description doesn't already exist in another collection, Hahn creates one. When she writes up her descriptions, she includes all of the relevant information that would be needed for someone to find the item, such as a title, names of composers, important dates and locations, the kind of music and the types of musical instruments used.
"Cataloging is intended to help a user search for relevant content, determine whether the content will meet their needs and locate the content," she said.
Thanks to Hahn, you can easily locate and listen to the oldest Jacobs School of Music recordings from the 1940s and '50s. The work of music cataloging allows you to hear the jazz of David Baker, founder of IU's Jazz Studies Program, and listen in on the student performances of renowned violinist and IU professor Joshua Bell from anywhere.
"So much can get lost," Hahn said. "Cataloging is behind the scenes, but it's extremely valuable. It's crucial in the digital information age." Hahn has helped alumni find and listen to performances by deceased family members. Students have been able to pick their instrument out of a concert they've performed in because they've been able to locate it with the information Hahn provides. She's also helped listeners access encore performances that weren't previously listed in the database's records.
It's a job Hahn knew was right for her.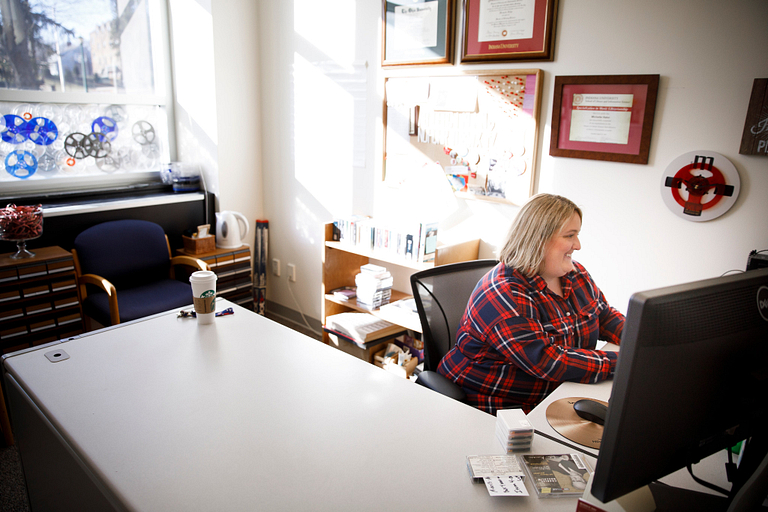 As an undergraduate student at Ohio University, Hahn had intended to be a music teacher or music therapist, but she was struck one day when she saw an advertisement about studying library sciences at IU.
"It jumped off the wall at me and said 'This is what you should be doing,'" she said.
She applied and was accepted at IU, earning a master's degree in music librarianship. She describes her experience in graduate school as "ideal." She still remembers standing on the corner of Third Street and Jordan Avenue by a stone wall near the library and realizing IU was where she belonged.
"I just knew," she said. "I found my place here."
It wasn't until almost eight years later that she had the chance to come back to IU. She worked in Dallas, Texas, as a music catalog librarian at Southern Methodist University. While there, she became a life member of the IU Alumni Association in Texas and went to college fairs to share information about IU and stay connected.
When a position for a sound recordings cataloger opened up at IU, Hahn jumped at the opportunity.
Now that she's here, it's important to her to not only make music accessible to others but to carry on the legacy of one of her mentors, Ralph Papakhian, a longtime music librarian at IU who Hahn worked for doing book cataloging while she was earning her master's degree.
Every day she's reminded of the significance of her work by a memorial tree outside her office window that is dedicated to Papakhian.
"I've got to keep at it," she said.