The I Association, the letter-winning athletic alumni group, recently hosted a four-day-long celebration in honor of diving legend Hobie Billingsley's 90th birthday.
Billingsley, who served as IU Bloomington's diving coach from 1959 to 1989, is considered to be one of the most influential figures in diving history and helped to catapult IU's swimming and diving program to one of the best in the NCAA. Over the course of his career, he made it to five Olympics games as a coach; was named Diving Coach of the Year nine times; led IU to 23 Big Ten Championships and six NCAA Championships; and coached 115 national champions.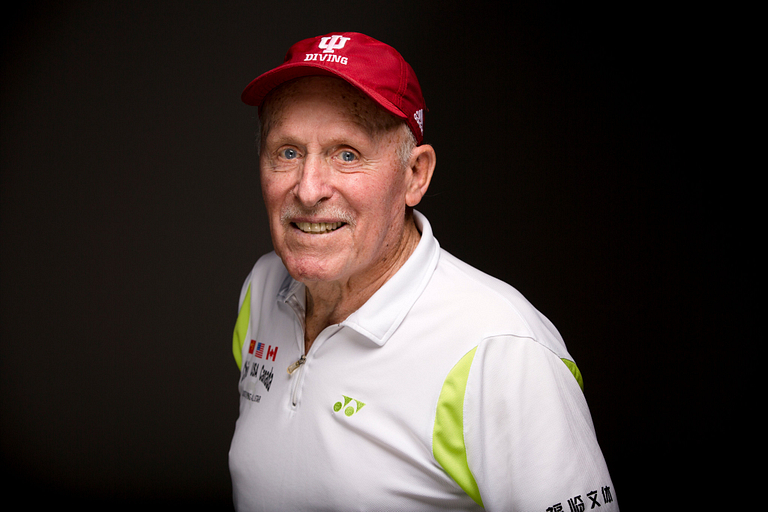 "Hobie is a true Hoosier living legend, and his birthday celebration was a testament to that," said Brian Brase, director of the I Association.
The weekend of festivities was initiated and organized by Billingsley's former swimmers and divers along with the I Association.
His official birthday celebration dinner, on June 23, saw upwards of 145 attendees from six countries; guests included his family, dozens of his former divers, IU administrators and members of the USA Diving Board of Directors. Members of IU's current dive team, including coach Drew Johansen, Michael Hixon, Cody Coldren, Clark Carter, Michal Bower, Mya Kraeger and Taylor Carter were also present.
Other birthday weekend events included a film festival, a diving clown show, a golf outing, and several receptions and socializing hours. Speakers included Hoosier and Olympic swimming coach Ray Looze, Hoosier and Olympic diving coach Johansen, IU football coach Tom Allen, IU Vice President and Director of Athletics Fred Glass, IU Vice President Emeritus Terry Clapacs and IU Foundation President Emeritus Curt Simic.
All of these people, with IU connections and beyond, came out to celebrate Billingsley's dedication to the sport of diving.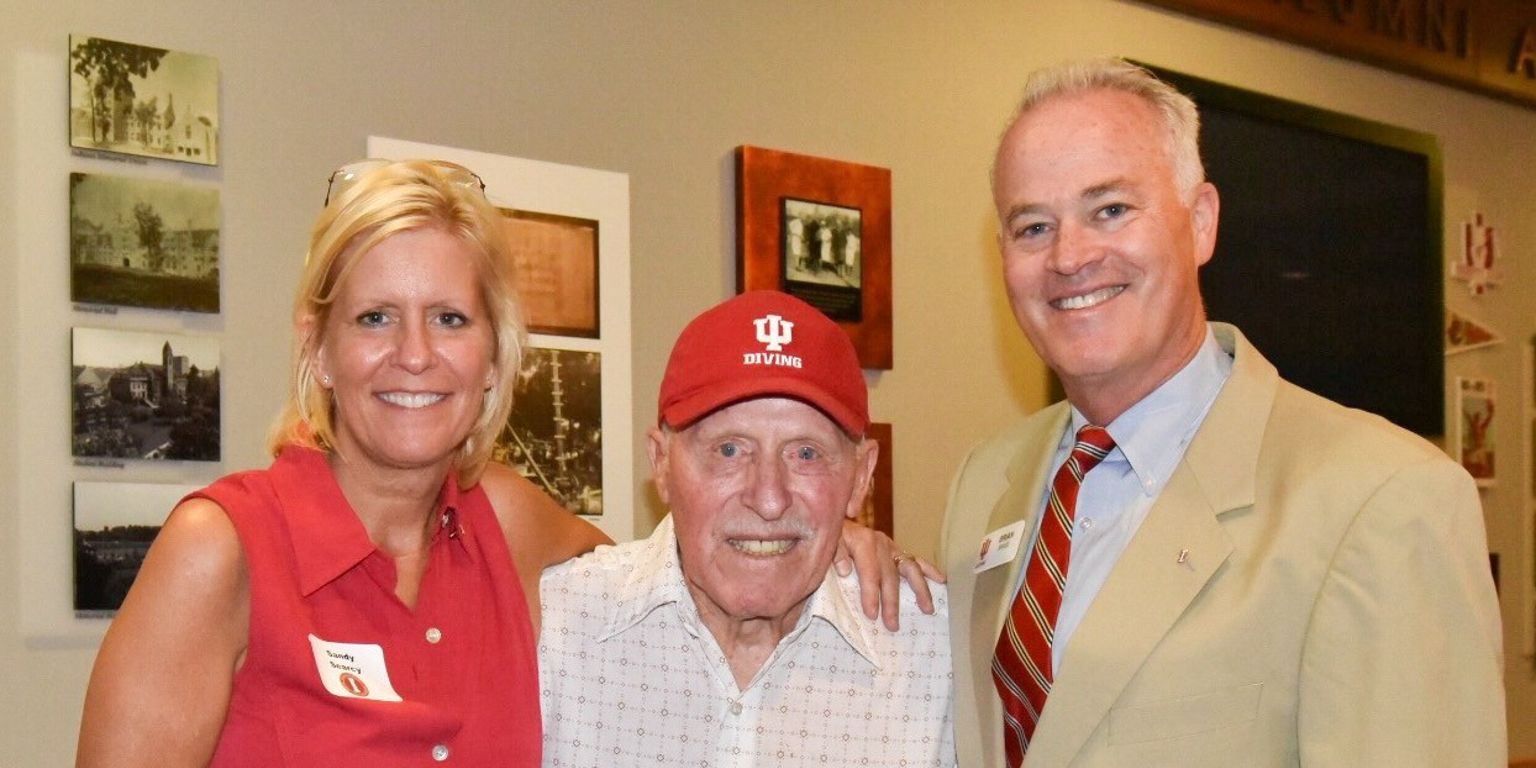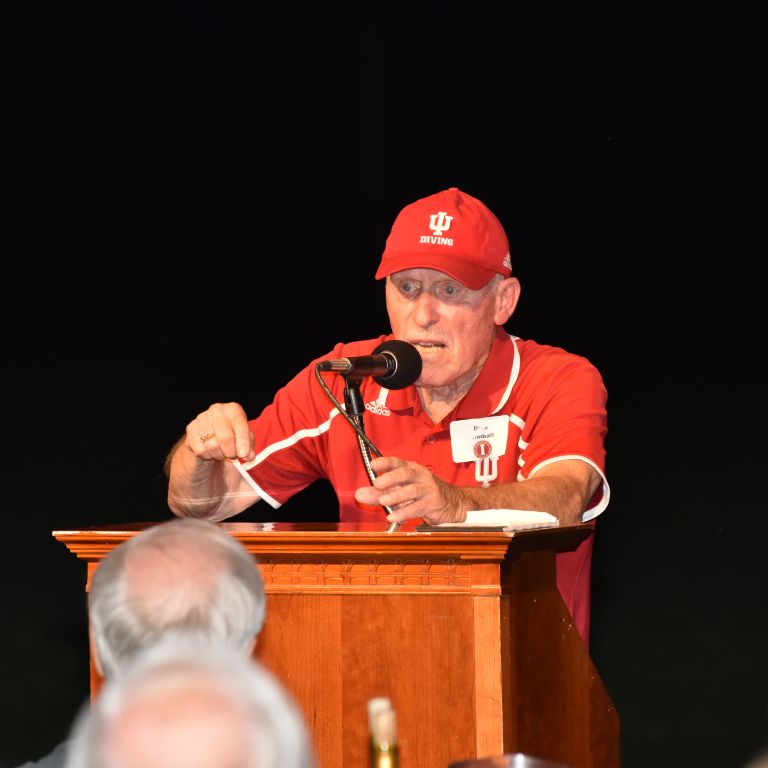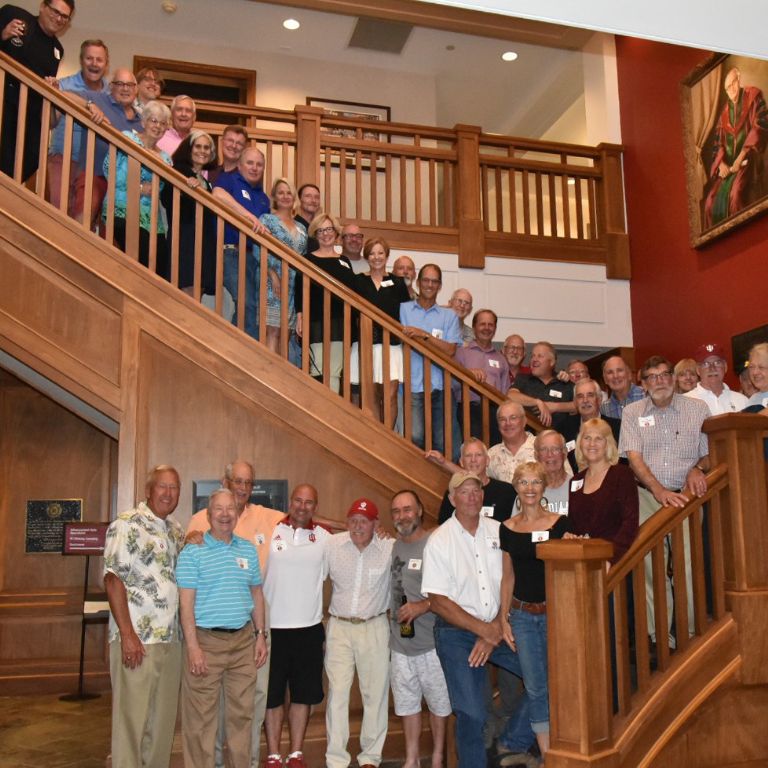 Photos courtesy of the I Association
Sandy Searcy, the director of sports for the National Federation of State High School Associations and a former IU swimmer, said countless people benefited from Billingsley's contributions to IU. This impact was made evident in a video played during one of the evening receptions that featured former IU divers who went on to become Olympians and world champions.
"It is clear that Hobie's main focus was on the development of his athletes, in both mind and body," Searcy said. "The lessons learned served them for life as it set the foundation for discipline, facing fear, determination and persistency.
"Many consider Hobie as a father figure, which is why they return to celebrate his birthday."
Still vital at 90-years-old, Billingsley enjoyed spending the weekend reminiscing with his former athletes, who he sees as family.
"It's not a birthday party," Billingsley said. "It's a reunion."
These "reunions" centered around his birthday, which is actually in December, have been happening every few years for the past 15 years. And while he said it's a blessing to have so many people return to Bloomington to celebrate their time together and to see the respect everyone has for one another, Billingsley's biggest hope is that the tradition continues long after he's gone.
"I don't have a lot of money," he said. "But I consider myself to be one of the richest men I know because of the friends I have."
Read Hobie's autobiography