During her freshman year as an interior design student, Ryan Clark spent hours in the Teter Quadrangle group study area, fondly referred to by residents as the NST, sketching design plans with her T-square ruler, navigating computer-aided design software used for modeling and collaborating with fellow interior design students.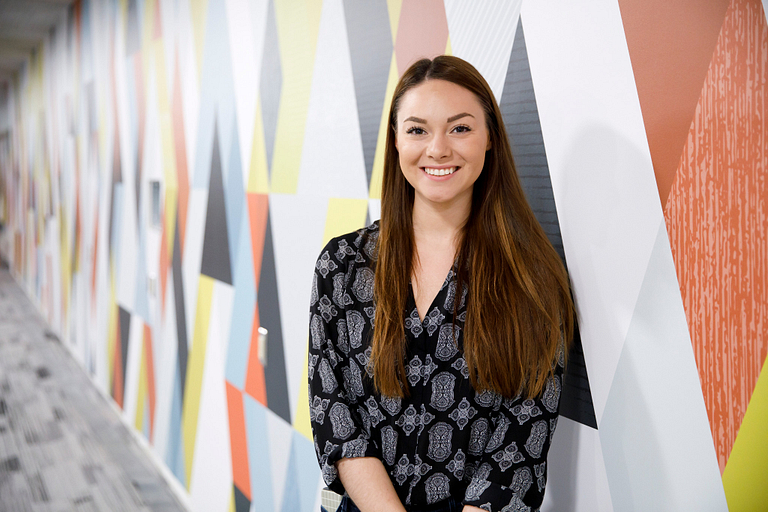 Now as an interior designer for Indiana University's Residential Programs and Services, Clark has spent the last several months redesigning a nearby space in Teter to better serve a more diverse group of students with different types of study habits.
The goal of Clark's Study Hub project, which is a collaboration between RPS and the Learnings Spaces and Technology Services of University Information Technology Services, is to transform three connected hallways near the Academic Support Center in Teter into three different study zones: a collaboration zone, an "alone together" zone and a quiet zone.
The collaboration and "alone together" zones will consist of booth seating and multi-height tables, some equipped with monitors that will have the ability to project laptop screens wirelessly, while the quiet zone features 10 private work stations with desktop computers and a set of seven study pods. These pods are complete with plush chair, swiveling desk, cubby for personal items, footstool, reading lamp, outlets and opaque wrap-around exterior to block out distractions.
"Higher education design has been focusing more and more on student diversity," Clark said. "Students have more study options than ever before, especially with technology, and we want to support students by giving them as many options for space as we can."
Reimaging spaces requires much more than picking a color palette and drafting sketches, according to Clark. From the start of the design phase to the finish, designers meet with clients to establish wants and needs, create budgets for projects, draft schematics, share drawings with contractors, select furnishings, manage the projects as construction progresses and follow up with clients when the project is finished. RPS-employed sign makers, upholsterers, electricians, locksmiths, carpenters, masons, seamstresses, plumbers, movers and maintenance workers all help these designers' visions become a reality.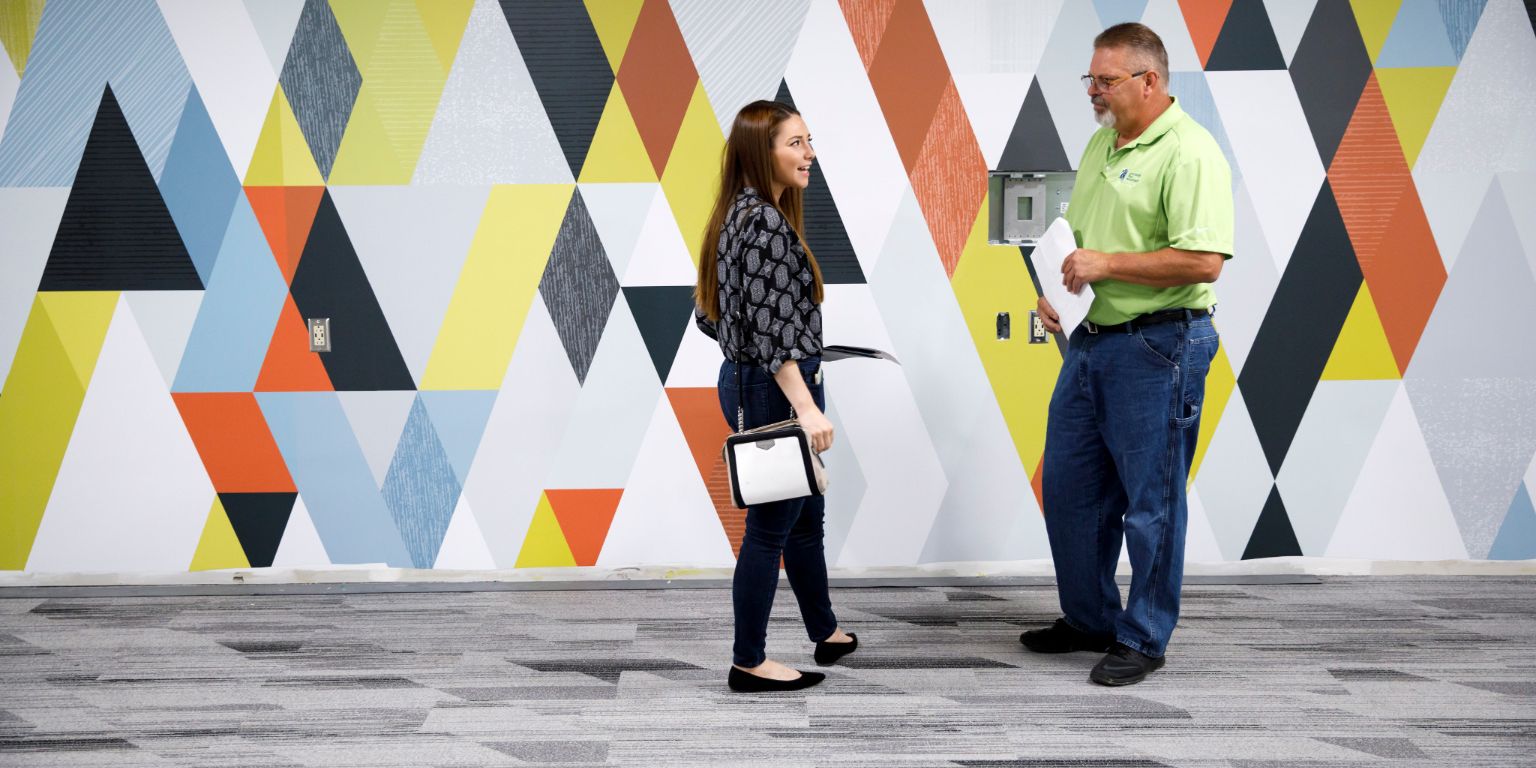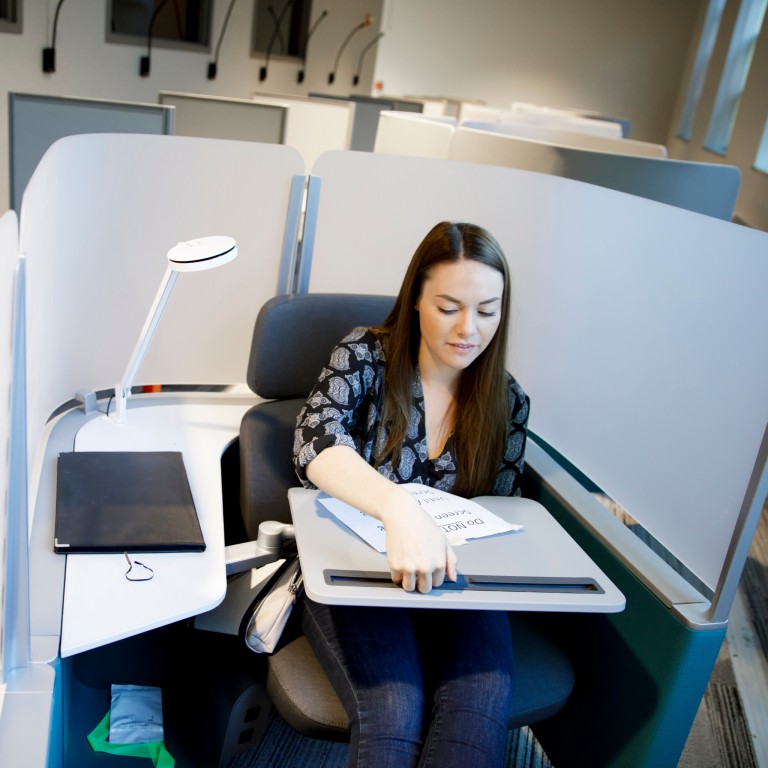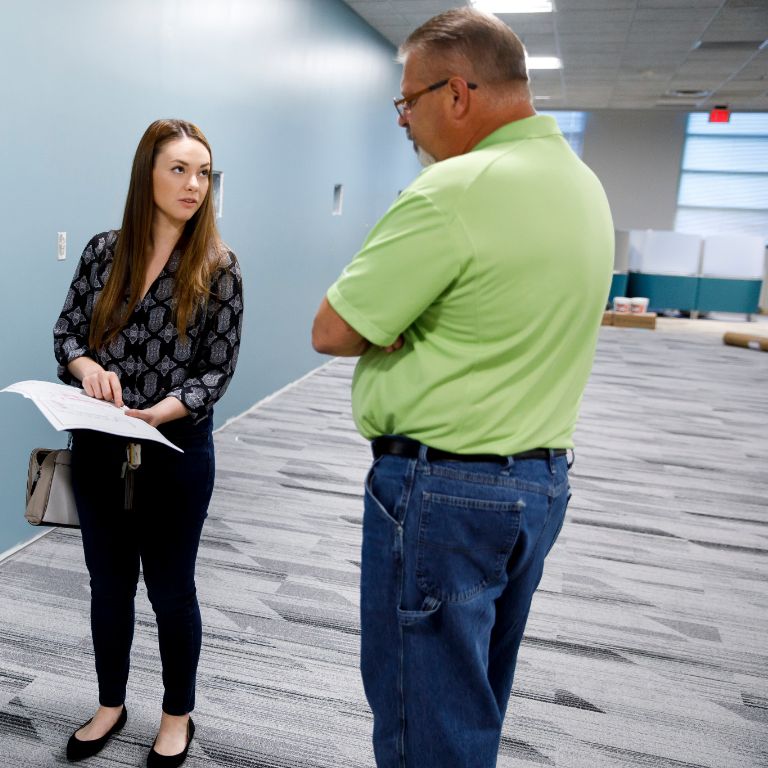 Photos by James Brosher, IU Communications
"A common misconception of my job is that all there is to interior design is shopping, but it's so much more," Clark said. "Though specifying furniture and finishes is exciting, it can also be very stressful to find the products that hit all the parameters that a project demands."
Clark has to consider a product's durability, how students will use it and abuse it and how soon it will need to be replaced when purchasing furniture for a project. How the product will physically fit into the surrounding space and how the design could clash with permanent features of spaces must be considered as well.
Unlike designers who work for firms and often move on to a new client once a project is finished, RPS designers work with residential hall managers and other building supervisors to maintain 22 facilities across campus every day.
"The biggest difference between working for IU and working for a firm is that when you design a space you live with it," Clark said. "You establish relationships with the people you work with, so if you design something irresponsibly, you're the first person to hear about it. And we want to do right by everybody and help serve the students and the people who are trying to serve the students."
Though Clark has served in her role for less than two years, she's been building relationships across campus and familiarizing herself with facilities since she began interning for RPS the summer after her sophomore year. After being promoted to a design assistant, she was able to fill an open full-time position when she graduated from the interior design program, which is now in the School of Art and Design.
"Things really fell into place for me," Clark said.
But according to Maggie Talmage, assistant director of RPS Facilities Management, it was more than good timing that helped Clark land her full-time design gig.
"It usually takes years of experience and several projects to know what works and what doesn't work and what looks good and what doesn't look good, and Ryan has picked it up way faster than most people," Talmage said. "From day one she was able to pick up everything quickly and understand channels of communication and I could just tell this is meant for her."