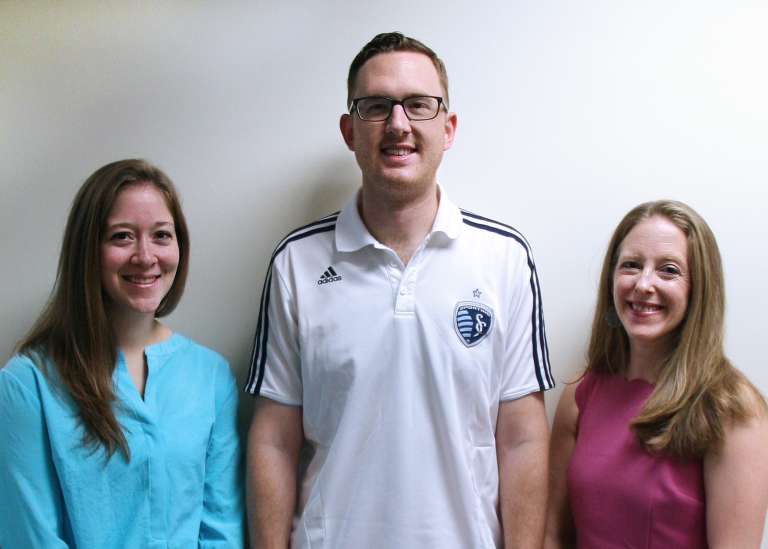 Three Ph.D. students at the Richard M. Fairbanks School of Public Health didn't let the rookie status of the school's chapter of AcademyHealth, the leading organization for health services researchers, stand in the way of winning a student research competition.
The students – Nate Apathy, Casey Balio and Robin Danek – finished first in the competition. Competitors, all student chapter members of AcademyHealth, were challenged to use data from the Health Services Research Projects in Progress database to identify a thought-provoking topic on which there seems to be insufficient research or funding.
The National Information Center for Health Services Research and Health Care Technology of the National Library of Medicine joined AcademyHealth in hosting the competition.
The school's AcademyHealth chapter was formed about three months ago.
AcademyHealth is the leading national organization for health services researchers, policymakers, and health care practitioners and stakeholders. It works to increase the understanding of methods and data used in the field and enhances professional skills of researchers and research users.
The National Information Center on Health Services Research and Health Care Technology focuses on improving the dissemination of health services research results, with special emphasis on the growing body of evidence reports and technology assessments that provide organizations with comprehensive, science-based information on common, costly medical conditions and new health care technologies.
The IUPUI students zeroed in on health information technology studies of accountable care organizations. Their proposal was selected as the top entry by a panel of judges from among five finalists.
Accountable care organizations, or ACOs, are groups of doctors, hospitals and other health care providers who come together voluntarily to give coordinated, high-quality care to the Medicare patients they serve.
The team found a gap in projects focusing on empirical evaluation of health information technology in accountable care organizations. Health information technology has been widely cited as important to the success of those organizations in terms of quality improvement, population health outcomes and cost containment.
The students proposed the creation of a novel data set to fill that gap, contending that accountable care organizations with more mature and integrated health information technology use will achieve better individual and population health outcomes, higher quality, and higher cost savings.
Implementation of the proposal could impact more than 9 million patients who are cared for by accountable care organizations.