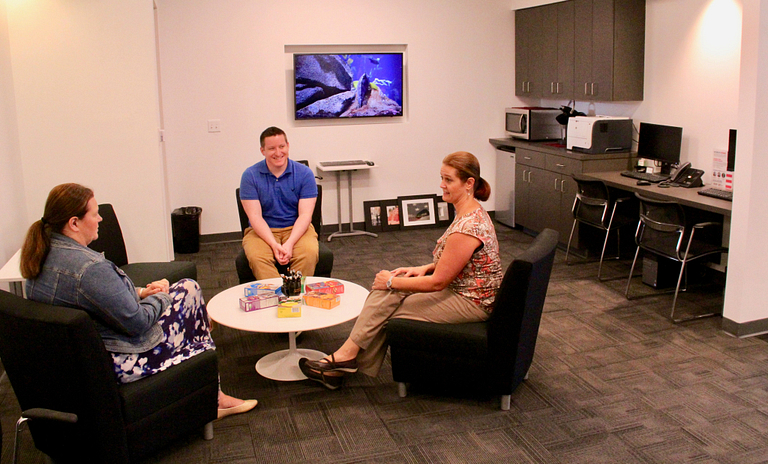 When Pierre Watson visited the new Indiana University-Purdue University Indianapolis Office for Veterans and Military Personnel, he was greeted – as usual – with a helpful smile from Veteran Services specialist Rachell Laucevicius.
As she verified funding for Watson's textbook purchases through his veterans' education benefits, Watson, a Desert Storm Army veteran, appreciated that he was also greeted with a brighter, more open setting.
The new veterans center opened July 17 in Campus Center Room 268, a couple floors up from its previous theater-floor location. The new space impressed Watson and the dozens of other IUPUI student, staff and faculty veterans who came through during the new office's first few days. 
"It's more spacious than downstairs. It was a kind of closed-off down there," Watson said.
An open house introducing the new veterans center will take place from 9 to 11 a.m. Thursday, July 27.
The office is only 100 square feet larger than the previous location, but the layout and natural light from large windows give a fresh vibe to the space, which is a haven for IUPUI vets for studying, meeting, having lunch and taking care of various student paperwork. An English major set to graduate in 2018, Watson predicted the new center will be utilized more by his fellow student veterans: "It's more accessible."
At ease
Behind the front desk, a line of military flags stands in front of a wall of IUPUI challenge coins. The Department of Defense no longer allows its military service seals to be used on university coins, so the old coins have been affixed to the wall, hiding the seals. The small, shiny coins are coveted by U.S. service members, as the tradition of the coins issued for recognition of special achievement goes back generations.
A few steps to the left reveal the student lounge area with comfortable chairs, larger study desks to fit any laptop, desktop computers, a printer, and a 50-inch flat screen that can be used for practicing PowerPoint presentations or simply kicking back to watch some ESPN. The television was purchased thanks to a $500 donation from the American Federation of State, County and Municipal Employees, Local 1477. New appliances – microwave, refrigerator, Keurig – help the veterans feel at home, too.
A couple of office spaces are available to further help student veterans. A focus room is reserved for tutoring or group meetings. Another office is being converted to a space for job recruiters. Soon, student veterans will be able to meet with companies like Microsoft, Rolls-Royce, Eli Lilly and Company, and others that have a history of hiring IUPUI graduates.
Not an 'afterthought'
Jesse Burdine, a recent Veterans Affairs work-study student and longtime user of the previous veterans' center, is thankful for the quieter vibe. The old space's study room was underneath an escalator.
"It was very loud and not easy to study in. This is very much improved compared to that," said Burdine, who served as a Navy corpsman from 2009 to 2015 and is currently a junior studying health information management. "This has always been my home here at IUPUI." 
Kimberly Bloodgood, Air Force veteran and director of the Office for Veterans and Military Personnel at IUPUI, revealed that focus groups helped guide the new center's design, from the layout to the size of the desks. Chancellor Nasser H. Paydar sat in on one meeting where student veterans passionately discussed their needs. Bloodgood remembered one attendee saying he felt like "an afterthought" when utilizing the center in the theater level. On the second floor of the Campus Center, the new space is flanked by the Division of Student Affairs, the registrar's office and the Office of Student Scholarships.
"I am very grateful the chancellor chose to move the Office for Veterans and Military Personnel out of the theater level," Bloodgood said. "He has renewed the school's commitment to our military-related population."