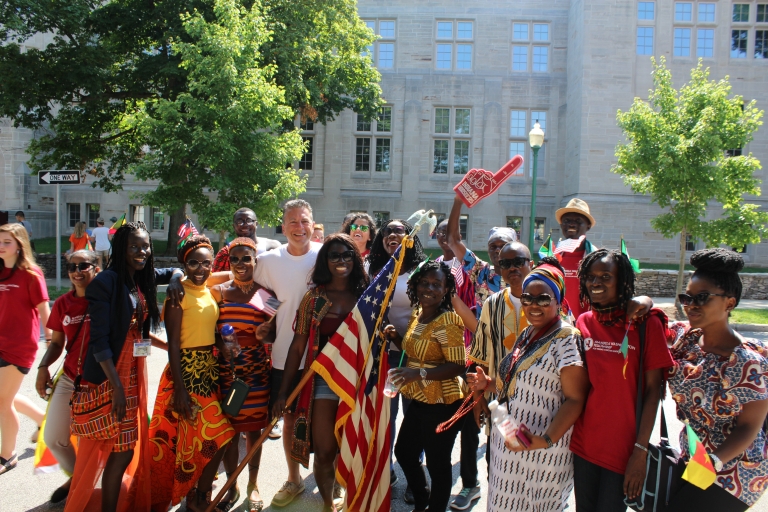 INDIANAPOLIS – For two weeks, Indiana University-Purdue University Indianapolis will host 25 young leaders from 20 countries across sub-Saharan Africa who are participating in the highly competitive Mandela Washington Fellowship program.
The Mandela Washington fellows will engage with Indianapolis officials, nonprofit organizations, businesses and the IUPUI community during their stay, including a "Meet, Mingle and Listen: Getting to Know the 2017 Mandela Washington Fellows" session.
The session will take place from 5:30 to 7:30 p.m. July 19 in the Eskenazi Fine Arts Center, 1401 Indiana Ave. The event is open to the public, but participants are asked to register in advance.
During the event, several fellows will share the personal and professional passions that led them to apply to a program that helps them build on their efforts to promote innovation and positive change at home.
"It's exciting to work with the Mandela Washington fellows during their time in Indianapolis," said Phil Powell, associate dean of academic programs for the IU Kelley School of Business at IUPUI. "These young leaders are enthusiastic about gaining business acumen and knowledge they can bring home to their own businesses. We, too, learn from them new perspectives that help us better innovate in our own markets."
The fellows at IUPUI are from Djibouti, Chad, Kenya, Equatorial Guinea, Liberia, South Sudan, Guinea-Bissau, Gambia, Senegal, Benin, Angola, Ivory Coast, Nigeria, Mozambique, Zimbabwe, South Africa, Cameroon, Malawi, Tanzania and Ethiopia.
Zeinab Abdillahi, of Djibouti, is among the fellows who arrived at IUPUI on July 15. She wants to change her community in Djibouti through sustainable programs and drive positive change that will benefit the development of her country.
Another fellow is Leonce Gamai, of Benin, a journalist, writer and political analyst. After completing the fellowship program, Gamai plans to return home to establish civic education classes to fight against voter bribery.
The Mandela Washington Fellowship for Young African Leaders is the flagship program of the Young African Leaders Initiative. It is for young, accomplished professionals between the ages of 25 and 35 and provides – at a U.S. university or college – academic coursework, leadership training, networking, professional opportunities and support for activities in their communities.
In 2017, the program awarded fellowships to a total of 1,000 young sub-Saharan African leaders from 48 countries.
Through the program, which includes four weeks at Indiana University Bloomington and two weeks at IUPUI, the fellows receive an in-depth overview of civic leadership with a focus on how business, civil society and government work together.
While in Indianapolis, the fellows will participate in sessions with the Lilly Family School of Philanthropy, the School of Public and Environmental Affairs, and the Kelley School of Business.
"We are honored to welcome these impressive emerging leaders to engage with us on the possibilities of global philanthropy," said Amir Pasic, Eugene R. Tempel Dean of the IU Lilly Family School of Philanthropy.
During their stay at IUPUI, the fellows will engage with Indianapolis Deputy Mayor David Hampton, the Indy Eleven, and representatives from Eli Lilly & Co. and the Sagamore Institute, among others, and participate with five local nonprofits for the Mandela Day of Service on July 18, which coincides with Nelson Mandela's birthday.
The nonprofits include the Boys & Girls Club, Second Helpings, Indy Urban Acres, Allisonville Elementary School and The Julian Center.
IU's participation in the program underscores the university's commitment to global engagement. It also aligns with other priorities outlined in the university's Bicentennial Strategic Plan, including celebrating a vibrant and collaborative community of scholars and global engagement.