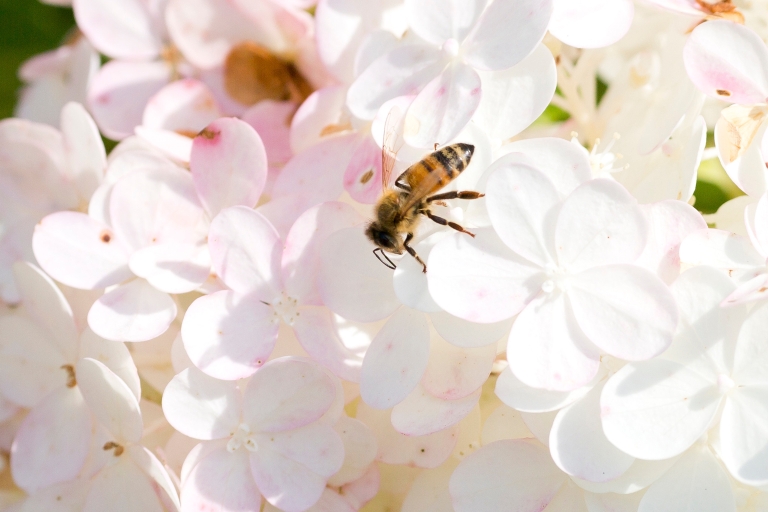 INDIANAPOLIS – Indiana University-Purdue University Indianapolis and Bee Campus USA have announced that IUPUI is the 31st educational institution in the nation to be certified as an affiliate of the Bee Campus USA program, designed to marshal the strengths of educational campuses for the benefit of pollinators.
IUPUI is the first IU campus – and the first state university campus in Indiana – to earn the designation.
With IUPUI's help, Bee Campus USA is making the world safer for pollinators one campus at a time, said Phyllis Stiles, founder and director 
of Bee City USA and Bee Campus USA. Imperiled pollinators are responsible for the reproduction of 90 percent of the world's wild plant and tree species.
Earning the Bee Campus USA designation is a wonderful cap to Pollinator Count Week – July 17-23 this year – in Indianapolis, said Jessica Davis, director of the IUPUI Office of Sustainability.
"This award would not have been possible without the dedication of our campus beekeeper, Steven Blanchard of the IU School of Dentistry," Davis said. "His winning Greening IUPUI grant and ensuing efforts were the driving force behind bringing our first honeybee hives to IUPUI's New York Street Garden and starting a larger conversation about pollinator health on campus.
"We look forward to continuing our work with Dr. Blanchard, the Campus Facility Services grounds crew and university landscape architects to make IUPUI a thriving urban ecosystem."
To become certified, a campus must commit to the following:
Establishing a committee and developing a habitat plan.
Hosting an awareness event.
Sponsoring and tracking student service-learning projects to enhance pollinator habitats.
Offering pollinator-focused courses and/or workshops.
Posting signage to educate the campus – and broader – community.
Maintaining a web presence to share IUPUI Bee Campus USA news and activities.
Among activities connected to the Bee Campus program, IUPUI installed its first beehive in June 2016 in its New York Street Garden. A second hive was installed in May 2017. The campus participated in Keep Indianapolis Beautiful's first Pollinator Count Week last year and participated again this year.
Blanchard and Kathleen Prough taught a course about urban beekeeping and the importance of honeybees to the ecosystem. Blanchard is a professor at the IU School of Dentistry and the beekeeper at the campus's New York Street Garden beehive. Prough is the apiary inspector for the Indiana Department of Natural Resources.
Future activities in support of pollinators include installing a pollinator garden on campus and expanding the engagement programming around the campus gardens and beehives.
"IUPUI believes in the power of transformation," Davis said. "We are committed to providing educational opportunities that transform the lives of our students, our community and the changing world around us."