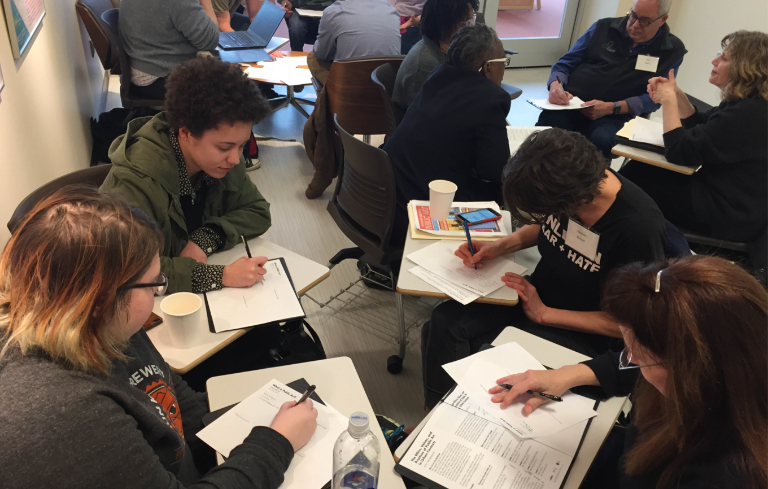 INDIANAPOLIS – The city of Indianapolis, like many big urban cities, has flourishing arts and cultural organizations. But how do they change communities? Do they enhance lives? Can their effects be measured beyond simple metrics such as attendance counts and numbers of art installations?
Students in a new Ph.D. program at Indiana University-Purdue University Indianapolis will strive to find the answers while working directly with community partners.
The IUPUI Arts and Humanities Institute is teaming up with American studies in the School of Liberal Arts to offer a new Ph.D. in American studies, with a track in cultural ecologies, beginning this fall.
Cultural ecologies is an applied program that supports the community by embedding students in cultural organizations while preparing them for jobs in the cultural sector.
"We're in a moment when academia is in a rapid transformation, which presents challenges and opportunities at the same time. The opportunities include new ways to think about how we can create a high-level Ph.D. education," said Jason M. Kelly, director of the institute. "We're focused on creating an applied Ph.D. program from the ground up, one in which our students are preparing for careers outside academia.
"We want this to be a resource for communities – to make Indianapolis a stronger, more vibrant city and to help train the next generation of the city's leaders."
The Ph.D. track has three components: coursework, an internship and a dissertation. The coursework is interdisciplinary and focused on both qualitative and quantitative methods. The centerpiece of the program is a multiyear internship in a Central Indiana cultural organization, where students will help solve a complex problem that the institution faces. This internship experience will provide the core research for the dissertation, a major work of scholarship.
While in the program, students will be affiliated with the IUPUI Arts and Humanities Institute and participate in its Cultural Ecologies Project, which asks the question "How do arts and humanities interventions transform cities?" Working with numerous community partners including the Arts Council of Indianapolis, Musical Family Tree and the House Life Project, this research project examines the impact of the arts and humanities across multiple scales, from the personal to the neighborhood to the city level.
"We have all these organizations doing amazing work, but our understanding of how they're affecting communities across the city is limited," Kelly said. "We might be able to collect basic data like how many people attend events or how the tax base near a cultural institution is changing, but we're not necessarily getting at deeper, long-term changes that are difficult to measure numerically.
"Cultural ecologies can help make Indianapolis a stronger place for arts and culture by providing information to organizations so they can responsively adapt their programming and demonstrate the many ways they benefit communities," he continued. "This program has emerged from years of conversations with cultural partners – broader assessment of impacts are a challenge they all face, especially when many are understaffed and under-resourced."
The Ph.D. program in American studies is one of five new Ph.D. programs at IUPUI approved by the Indiana Commission on Higher Education in 2016. Students with bachelor's degrees are eligible to apply, and those with advanced professional degrees, such as MAs, MBAs, JDs, and Ed.D.s are especially encouraged. To learn more about the project and the Ph.D. track, visit the Cultural Ecologies Project website.