Effective with the fall 2017 official census enrollment counts and report, Indiana University will no longer include high school students taking dual-credit courses in the count.
Including dual-credit students in the enrollment count masks the core changes in the official census; overstates the magnitude of campus and institutional health, capacity and service; and often results in inaccurate data due to the university's reporting deadline.
"The new definition will produce a more realistic and stable view of enrollment trends and more accurately reflect the breadth of the university's programs, resources and presence in our local communities," said Todd Schmitz, assistant vice president and the executive director of University Institutional Research and Reporting.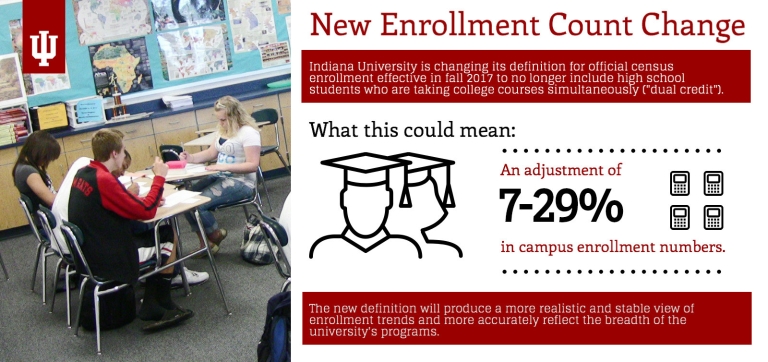 Due to this new definition, Indiana University's fall 2017 enrollment numbers may reflect a significant change over the fall 2016 numbers. Individual campus enrollment numbers for fall 2017 may reflect up to a 29 percent change in enrollments, depending on the campus. For example, in the fall 2016 census count at IU Kokomo, high school students made up 29 percent of its total reported enrollment, while high school students represented about 7 percent of IU Southeast's total enrollment.
IUPUI's enrollment numbers will not be affected by the change, as the campus does not participate in the Advance College Project.
The more realistic enrollment count will be beneficial for the university in a number of ways, such as determining the amount of software licensing agreements to purchase, how many on-campus student services to provide or the number of necessary parking spots.
Dual-credit enrollment numbers will still be recorded, but they will not be included in official census enrollment numbers. This fall's enrollment reports will reflect a re-stating of historical data for consistency and comparability. Aug. 28 is the official census day for the fall 2017 semester.