Tom McMahon's recent stop at popular Bloomington-based sports bar Yogi's before it closed had nothing to do with his hankering for a cheeseburger and buffalo chips.
Instead, he was there to offer his help as Indiana University's new director of talent acquisition. The university plans to purchase the property where the restaurant sits and, rather than move, Yogi's opted to close its doors. McMahon said he believed many employees had already found other work, but he wanted to be sure he'd reached out on behalf of the university.
"We're a family here at IU," he said. "I told them to call me if they've got folks who are still looking, and we will work with them to figure something out. These are dependable workers, and nobody should go without a job."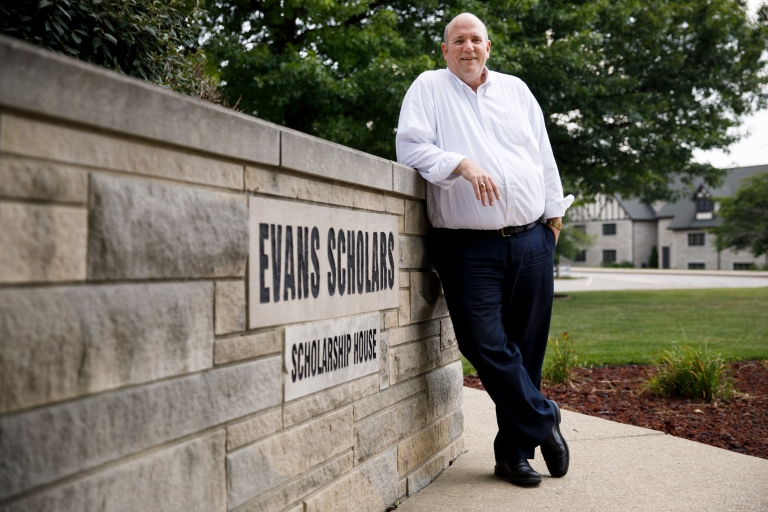 McMahon started working at IU in January. A 1985 graduate of the Kelley School of Business and an Evans Scholar, McMahon said he wasn't looking to move his family from Chicago. But the job at IU kept popping up in his LinkedIn messages, and he couldn't ignore the opportunity. Fast forward a few months, and he's thrilled with his new position, his new hometown and his new side job as co-advisor to current Evans Scholars.
"Thirty-two years after I lived on this campus, to be helping kids through their own college years is really neat," he said. "And to be part of this university, where we're all working together to make a difference for the students who come here and the faculty and staff who work here, is an amazing opportunity."
McMahon has spent his first months on the job at IU focused on a project Human Resources has dubbed "Talent Acquisition Rapid Redesign."
He recently hosted a three-day workshop for both Human Resources and general IU employees from every campus to brainstorm for the project. Goals include creating an efficient, easy-to-understand recruitment program that is consistent across all campuses.
At the end of the workshop, teams created a list of 87 action items. That list includes:
Streamlining the offer process by determining a specific salary range for a job posting so hiring managers will know how much they can offer a specific candidate without circling back to the Budget Office or HR for approval.
Partnering with the university's background check vendor to allow applicants to enter sensitive personal data directly through a secure website.
Developing toolkits for hiring managers to assist them throughout the hiring process, from initiating a post on IU's job website to orienting a new employee.
"So I'm going to be a pretty busy guy," McMahon said. "One of my colleagues, Suzanne Ryan, described it best when she said, 'Everybody talks about how IU is the biggest employer in the state. Well, we want to be known as the best employer in the state.' She's right. We want to be the employer of choice, and we're taking steps to accomplish that for the university."