For nearly 60 years, IU Northwest has been proud to be Indiana University in Northwest Indiana, fulfilling our promise to our students, our alumni and our community.
And, with the opening of the new $45 million Arts and Sciences Building, IU Northwest looks forward to continuing to strengthen and deepen our campus's commitment to the arts, humanities, sciences and culture.
This building is a wonderful addition to our campus and the community, and we are very proud to be partnering with Ivy Tech Community College.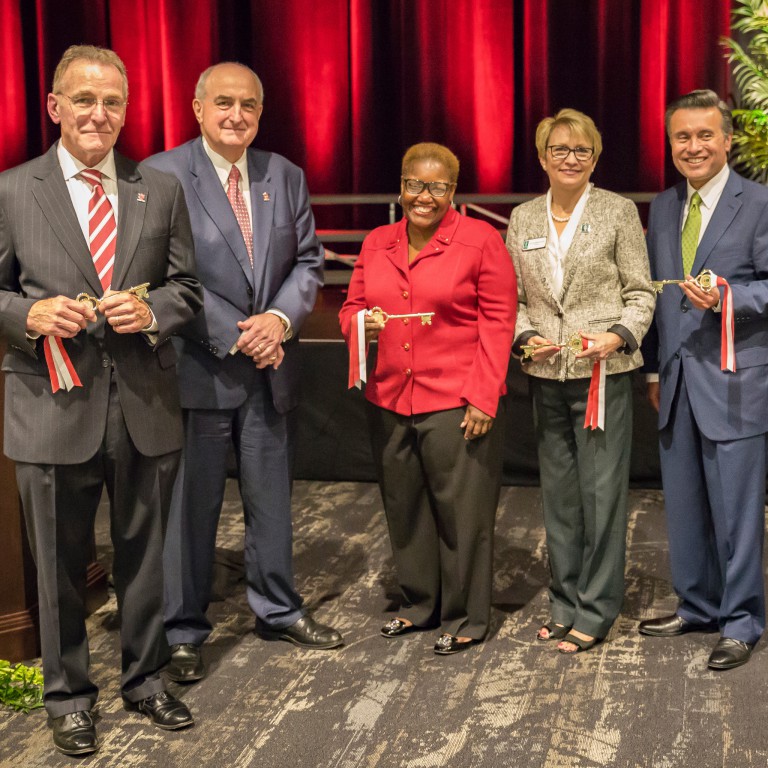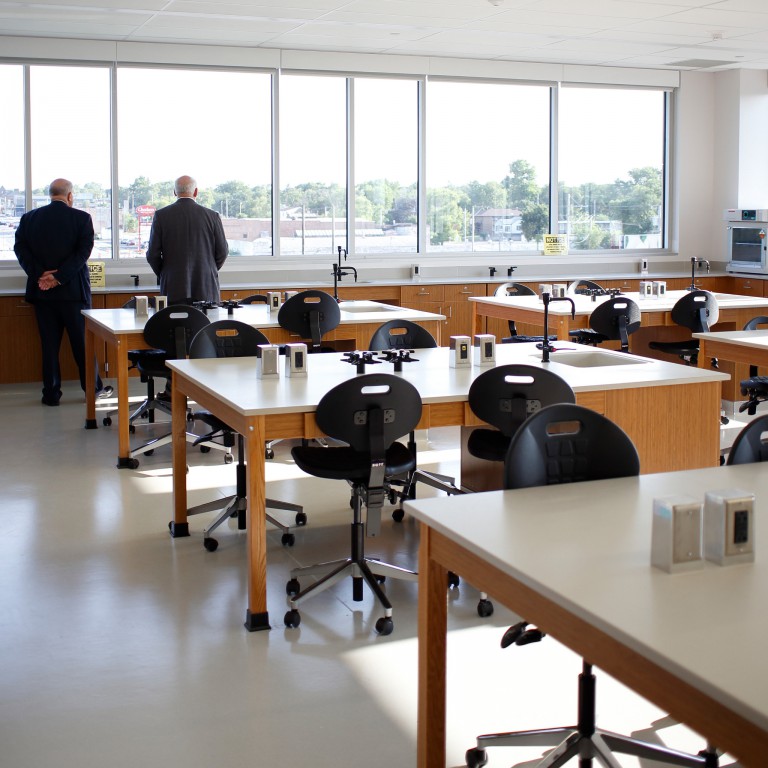 Photos by Eric Rudd, IU Communications, and Tome Trajkovski, IU Northwest
Serving as a creative cornerstone, the Arts and Sciences Building will provide innovative, state-of-the-art facilities for teaching and learning, and a place for IU Northwest and Ivy Tech students to collaborate and pursue their passions.
For IU Northwest theater student Elizabeth Ramos, this building represents the possibilities of what she can discover, imagine and achieve.
Beyond the 126,000-square-foot building, the 500-seat, fully professional theater and the 45 classrooms and other informal instructional and collaboration spaces, Elizabeth also sees opportunity and innovation. Most importantly, within this new creative space, Elizabeth can envision her future career as a professional actress – a dream she intends to fulfill by bringing her talents to the theaters of Broadway, from the theater in the new building on Broadway (in Gary, Indiana).
As a first-generation college student, Elizabeth is thankful that her educational journey, a path that led her to two other institutions before IU Northwest, has now placed her in a richly engaged and creative environment.
An anchor
It is not difficult to see what this investment means to IU Northwest and Ivy Tech students. But beyond our campuses, all of Northwest Indiana will benefit.
The Arts and Sciences Building serves as a tangible symbol of IU's and IU Northwest's commitment to our region, representing growth, economic development, increased access to arts and culture, and a very real investment in delivering on our mission.
Essentially, the Arts and Sciences Building epitomizes the role of a regional university in serving and providing for the entire community.
Even before ground was broken in 2015, the building's long-term positive impacts on the region were visible.
Identified as an anchor for the University Park East Neighborhood, the City of Gary rallied behind this project, recognizing that the new building's presence alone invited increased economic growth and development. It is a signature piece of the city's University Park Plan, and there is already evidence that it is having an effect. As the Arts and Sciences Building took shape, other positive local efforts were kick-started, including Gary receiving the Choice Neighborhoods Planning Grant from the U.S. Department of Housing and Urban Development, as well as recent investments in the Gary/Chicago International Airport.
In the past 50 years, there have been only a handful of investments in Gary that come close to this magnitude. As the $45 million directly invested in this building turns over in the regional economy, it may be multiplied to as much as $70 million to $80 million, and ultimately far more, as it helps attract new development, all while helping to graduate more bachelor's degree holders. Not only a hub to encourage new commercial growth and residential development, the Arts and Sciences Building is also a cultural center that increases public access to arts and culture via the many performances, lectures and gallery exhibits featuring work by both students and professional artists.
We have many to thank in helping us to secure this building, including Indiana University, the Northwest Indiana legislative delegation, Mayor Karen Freeman-Wilson's administration, the Indiana General Assembly and the governor. This building demonstrates the power of partnership and collaboration between institutions, municipalities and the state to create change. It is my hope that the Arts and Sciences Building signals an era of new development in the City of Gary.
At a period when higher education institutions and other publicly supported enterprises are experiencing challenging times, we are proud that IU is investing in Northwest Indiana. The Arts and Sciences Building is an investment that impacts our regional future in multiple ways. It is, first of all, an investment in high-quality educational opportunity and experiences for IU Northwest and Ivy Tech students that will prepare them for professional success, community leadership and satisfying adult lives. But it is also a very visible expression of confidence in the future of the city and Northwest Indiana that invites commercial and residential development that can affect the quality of life for the entire region.
William J. Lowe is chancellor of Indiana University Northwest in Gary. This From the Desk column is part of a series featuring regional Indiana University leaders.