IU launches Experts Database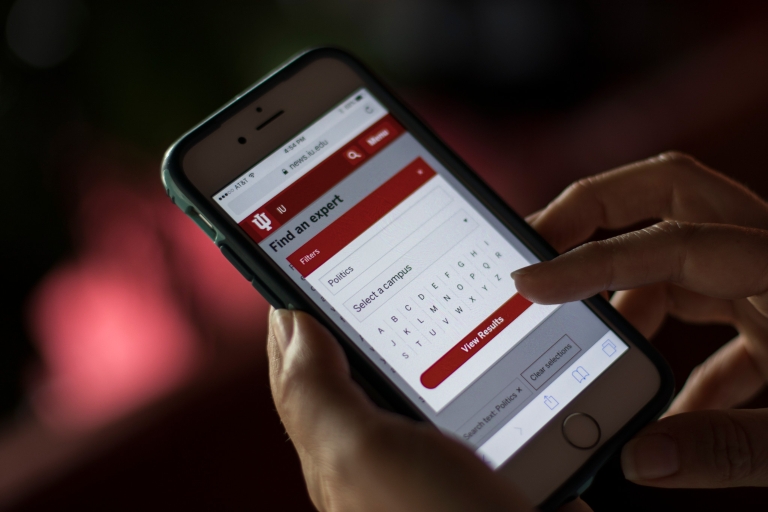 Indiana University experts are now accessible with the click of a button.
The universitywide IU Experts Database brings faculty and staff experts from all of IU's campuses across the state into one simple, searchable web page.
The system allows members of the media and public to more efficiently connect with subject-matter experts across the university as well as increase IU's media presence.
The experts database, news.iu.edu/iu-experts, continually accepts new submissions of faculty and staff experts. Profiles are created by the subject-matter expert to highlight the work and areas of expertise they want to be made public, including contact information so that members of the media, alumni and general public may reach out based on their areas of subject-matter expertise.
IU Programs Involving Children policy has been updated
The university updated its Programs Involving Children policy this month. The PIC policy, established in 2012, applies to all IU employees, students and volunteers, as well as external organizations that use IU facilities for programs designed for children.
The policy's main requirements remain in place:
Anyone suspecting the abuse or neglect of a minor must immediately report to the Indiana Department of Child Services by calling 800-800-5556 or to local law enforcement, including the IU Police Department. In addition, reports must be made to the IU superintendent of public safety at 812-855-4296.
Anyone who works with children must have a criminal background check, including a sex offender registry check, performed within the last five years.
Units sponsoring programs involving children or those that are responsible for facilities used by programs including children must ensure that programs are registered with the University Superintendent of Public Safety via a link in the policy or through One.IU.
Programs that serve children must have procedures in place for situations that apply to their program, such as transportation, weather emergencies, access to and supervision of children, and first-aid and medical treatment.
Policy updates include:
Allowing units to have a trained PIC liaison to coordinate programs and background checks for the unit.
Requiring IU employees, students and volunteers who work with children to promptly notify the university of any criminal convictions, felony charges or substantiated reports of child abuse or neglect.
Adding a definition for "PIC positions" for positions working with children, including requiring a current employee moving into a PIC position to have an updated background check.
Clarifying that departments that work with children every day – such as child care or pediatrics – do not have to register their activities but must follow other policy requirements.
Requiring external organizations using IU facilities to notify the university in case of suspected abuse, neglect or other crime reports.
Additional information about the policy, including frequently asked questions and examples of program procedures, can be found at protect.iu.edu. Additional questions can be sent to iupic@iu.edu.
ICYMI: Universitywide photo gallery from recent eclipse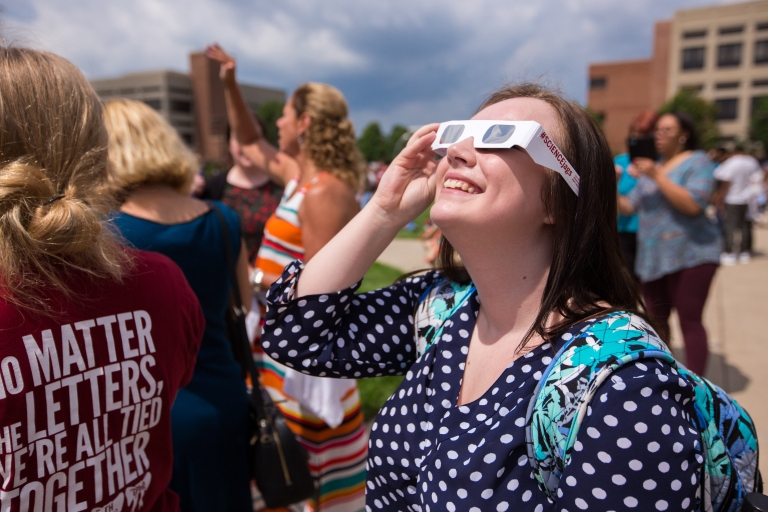 Missed last week's total solar eclipse? Check out scenes from a photo gallery to see how the recent celestial event was celebrated across IU's campuses.
All campuses were just outside the "path of totality," or the path where a total eclipse of the sun was visible as it swept across the United States. The next total solar eclipse visible in the U.S. will occur in 2024; Bloomington will be in the path of totality.
Employees encouraged to familiarize themselves with university's surplus items policies
Did you know the university has specific policies on how, why and when employees can get rid of unneeded items, from old power cords to high-end scientific microscopes?
Two policies govern this type of activity: Disposal and Redistribution of University Property and Sale of Computing Equipment.
Here's the gist: University Procurement Services will first attempt to redistribute an unneeded item within the university. If it's not needed by another department, school or unit, it may then be able to be sold or traded outside the university through the appropriate processes. Departments do not have the authority to sell, trade or donate items purchased with university funds, including research funds.
But sometimes things can get complicated. That's why you should call the Office of Procurement Services to ensure you're handling the process properly.
Got questions? Contact the Office of Procurement Services at 812-855-5646 or purhelp@iu.edu.
'Game of Thrones' fans will love university's new social media video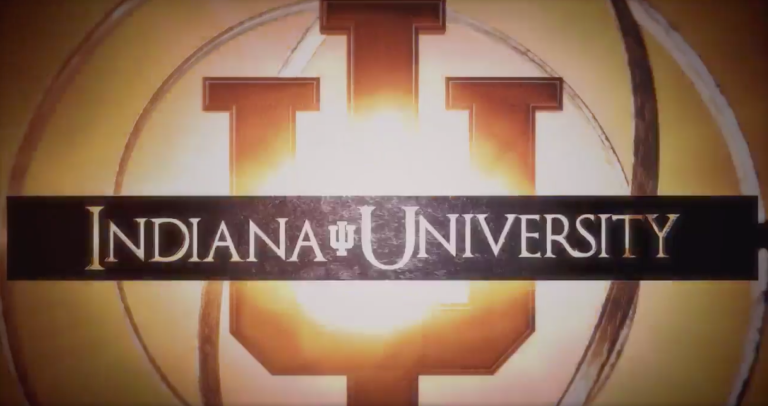 Are you a big fan of the hit HBO show "Game of Thrones"? If so, you might recognize something similar in the university's new social media video, which highlights IU campuses across the state.
Check out the "Game of Campuses" video on YouTube.
University policies website has a new look
If you've looked up a university policy in the past month, you may have noticed a new way to search on policies.iu.edu.
IU's Office of Policy Administration worked with IU Communications over the past year to redesign the website. The site, which has had more than 1.5 million page views since its launch in 2012 and 120,000 users per year, has several improved features. Those include:
All search options are available on the homepage, meaning users can search for a specific policy by category, alphabetical order, search term or any combination.
The search function narrows the results from the more than 400 policies with each selection.
The website now complies with ADA requirements, improving the user experience for those with disabilities.
Shorter URLs to assist university units who link to individual policies on the site.
Back-end export capabilities to help university units manage and review their policies and work to keep information current.
Users can still see policies that are under review, new or recently revised, or print a PDF of any policy. For questions or comments, click on the Provide Feedback tab.
Recent summit brought IU communicators, marketers together to talk social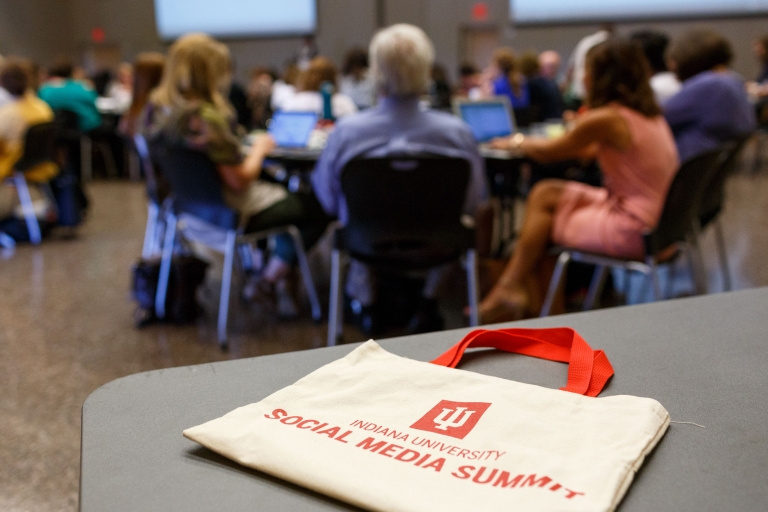 Selfie sticks and live-tweeting filled the Campus Center at IUPUI on Aug. 7, when more than 200 IU communicators and marketers attended IU Communications' second annual IU Social Media Summit.
The sold-out event, which had an increased attendance limit due to high demand from last year's summit, gave school communicators the rare opportunity to network with colleagues from other IU campuses and learn how to better weave social media efforts into their marketing and communication strategies.
Next year's Social Media Summit has already been scheduled for June 22, 2018, at IU Bloomington's Indiana Memorial Union. For the first time, the summit will be open to communicators and marketing professionals outside Indiana University.
Staff, faculty honored, promoted, hired
Read about recent IU staff and faculty honors, promotions, hires and grants, including:
Amber Denney, a journalist with two decades of experience in Indiana and an adjunct faculty member at IUPUI, has joined IU Communications as the assistant director of strategic communications for Indianapolis.
Michael A. Weiss has been chosen to fill a dual role of chair of the Department of Biochemistry and Molecular Biology and director of chemical biology and biotherapeutics for the Indiana University Precision Health Initiative.
Doug Buysse has been named the head men's basketball coach at IU South Bend. A South Bend native, Buysse takes over the Titan baseball program after serving as the head coach at South Bend Washington for four years.
Adam Maksl, assistant professor of journalism at IU Southeast, has won the Ginger Rudeseal Carter Miller Teacher of the Year award from the Small Programs Interest Group of the Association for Education in Journalism and Mass Communication.
Find your best self with Healthy IU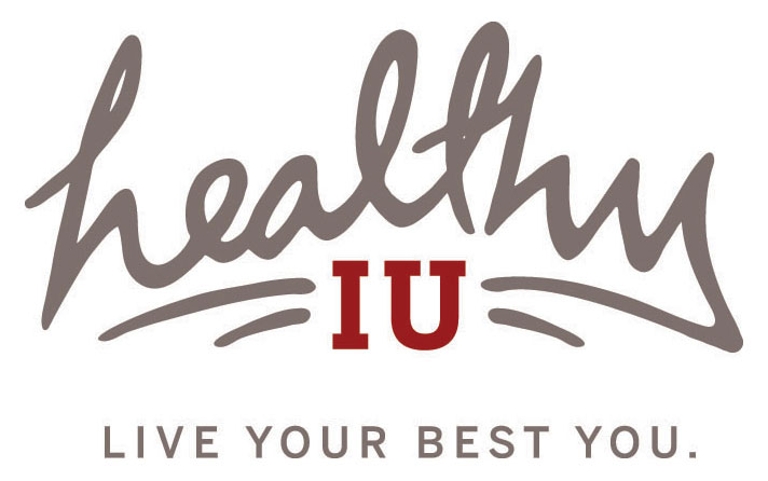 Want to lose weight, practice being more mindful or just walk more during your workday? Learn more about Healthy IU's fall program lineup on your campus.
The list of programs and services is broken down by campus. Want more? Follow @HealthyIU on Twitter or like Healthy IU on Facebook.
Campus Commute shuttle on the road again
Heads up, road warriors: The Campus Commute shuttle that travels between the IU Bloomington and IUPUI campuses returned from its summer hiatus Aug. 21.
Additional details about the shuttle service are available from Campus Commute.