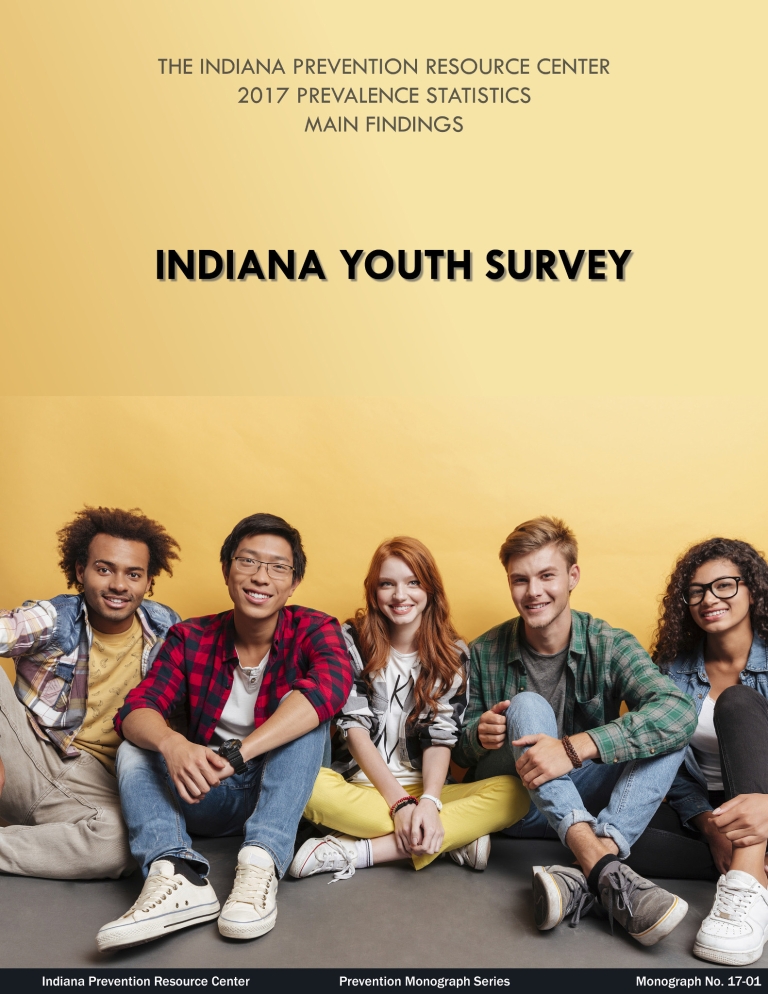 The Indiana Prevention Resource Center at Indiana University's School of Public Health-Bloomington has released the 27th Indiana Youth Survey. Highlights from the 2017 survey include e-cigarette and tobacco use, alcohol use, marijuana use, methamphetamine use, prescription drug abuse, gambling, mental health, parental military deployment, parental incarceration, and risk and protective factors.
Tobacco
Tobacco use, as contrasted with vapor product use, continues to decline in all categories, including cigarettes (ninth, 11th and 12th grades only), smokeless tobacco, cigars (11th and 12th grades only), pipe and electronic vapor products. The highest percentage of those smoking cigarettes were 12th-graders at a rate of 12.8 percent. This is statistically significantly lower than 2016's level of 14.9 percent.
The next highest percentage of those smoking cigarettes were 11th-graders at 10 percent, lower than 2016's 11.4 percent. Other forms of tobacco were much less popular, with only 6.1 percent of high school seniors using smokeless tobacco, 8.9 percent smoking cigars and 5.5 percent smoking pipes.
Synthetic marijuana
Synthetic marijuana ("spice," "fake weed") is not a safe alternative to natural marijuana. It is usually synthetic cannabinoids that have been sprayed onto plant matter and is smoked or vaporized. Sixth-grade students are not asked about their use of synthetic marijuana.
Tenth- and 12th-graders used synthetic marijuana at a rate of 0.3 percent, and eighth- and ninth-grade students used spice at a rate of 0.2 percent. National figures were 0.3 percent for eighth- and 12th-graders and 0.2 percent for 10th-graders. U.S. rates are only available for eighth-, 10th- and 12th-graders.
Heroin
Although Indiana experiences problems with adult abuse of heroin and other opioid drugs, children in school are unlikely to use heroin, with a rate of less than 1 percent, or less than one in 100 students, for all grades. The highest amount of use last year was 12th-graders at 0.5 percent; this year the rate was reduced to 0.2 percent, which is the same as the national rate.
Methamphetamine
Monthly methamphetamine use was lower for 11th- and 12th-graders this year than last. Other grades reported use at similar rates to last year. The U.S. rate for seniors was 0.3 percent, which is the same for Indiana seniors. The rate for 10th-graders was insignificantly higher than the U.S. rate at 0.3 percent versus 0.2 percent.
Prescription and over-the-counter drugs
Most Indiana youth are not abusing prescription drugs, according to the survey. The highest use rate was 12th-graders at 4.6 percent, a reduction from 2016's rate of 6 percent. The same students reported that 2.8 percent misused over-the-counter drugs. Eighth-grade students reported the most misuse of over-the-counter drugs at 3.8 percent, with only 2.5 percent of them misusing prescription drugs.
Marijuana
This year's marijuana use rates were similar to the rates in 2016. Monthly use was reported at 1.3 percent for sixth-grade students, 2.9 percent for seventh-graders, 6.4 percent for eighth-graders and 10.6 percent for ninth-graders.
The use rate increases with age, with 14.1 percent of 10th-graders, 16.4 percent of 11th-graders and 19.5 percent of 12th-graders. The national rate for 12th-graders is higher than the state rate at 22.5 percent.
Alcohol and binge drinking
Alcohol is an easily available drug that students say they most often obtain from their parents or guardians. Sixth-grade students were asked about alcohol use and reported a 4.2 percent consumption rate in the past 30 days. They were not asked about binge drinking.
A high of 32.2 percent of 12th-grade students reported using alcohol over the past 30 days, with 25.4 percent for 11th-graders and 22.4 percent for 10th-graders. Alcohol use declined for students in 11th and 12th grades, and binge drinking (five or more drinks at a time) significantly decreased for students in ninth grade (7.8 percent to 7.1 percent), 11th grade (12.2 to 10.8 percent) and 12th grade (17.5 to 14.8 percent) from 2016.
Gender
Five substances had higher prevalence rates among female users in Grades 8 through 11, with the majority of instances observed in eighth-graders. These substances were cigarettes, prescription drugs, over-the-counter drugs, marijuana and alcohol (including binge drinking).
From seventh through 12th grade, males reported higher prevalence of cigar smoking and smokeless tobacco use than females.
Gambling 
Youth were asked whether they had gambled in the previous 12 months, including playing card games, the lottery, bingo, online gambling and sports betting. These rates are not compared with national figures because there is no yearly national survey.
Students in the eighth grade gambled at higher levels than 10th- and 11th-graders in the categories of card games, personal games of skill, sports betting, bingo, online gambling, personal challenges and other forms of gambling. Eighth-grade students engaged in sports betting at a higher rate than seniors at 20.9 percent versus 16.9 percent.
Eighth-graders reported playing the lottery at a rate of 10.4 percent in the past year, whereas 19.5 percent of 12th-graders purchased lottery tickets. Lottery ticket purchase is legal for 18-year-olds.
Students were also asked about consequences brought about by gambling, including problems with friends and family, losing money or possessions, academic problems, issues with the legal system and feeling bad about gambling. Nearly a quarter of all seniors reported that they had suffered all of the consequences listed.
"Monitoring the prevalence of gambling activities among youth is important for planning prevention efforts," said Mary Lay, project manager of the Indiana Problem Gambling Awareness Program. "Gambling can be a recreational outlet for adults, but casinos are only for those 21 years or older, and the lottery is not legal for anyone under 18."
Mental health
Research has shown relationships between adolescent depression, suicidal behavior and substance abuse. As a result, Indiana is trying to better understand the prevalence of mental health concerns among Indiana's youth.
The prevalence rates for having felt sad or hopeless for two or more weeks were higher for Indiana youth in ninth and 10th grades than for U.S. students in the same grades. The rates for youth having considered attempting suicide was lower for Indiana students in 11th grade than U.S. students in the same grade.
Parental incarceration
Parental incarceration increases youth and adolescent risk for substance abuse and mental health problems. The percentage of youth who reported that a parent served time in jail at any time in their life ranged across grade levels from a high of 24.4 percent in sixth and eighth grade to a low of 18.4 percent in 12th grade. The high rates of youth that experience parental incarceration reflect in part a 41 percent increase between 2000 and 2008 in the growth of Indiana's prison population.
Parent serving in war zone
Research has demonstrated that parental military deployment places youth at increased risk for substance abuse and mental health issues. The percentage of youth who reported that one or more of their parents served in the military and in a war zone were highest in Grade 6 (13.1 percent) and Grade 7 (11.7 percent) and thereafter declined to Grade 12 (6.4 percent).
Access the complete 2017 Indiana Youth Survey results