On a sunny day in July, the pool at Bradford Woods was lined with snorkels, scuba tanks, fins and wheelchairs.
Jacob Turner, a camper at Bradford Woods, was hanging onto the side of the pool, adjusting his scuba mask. The instructor next to him in the water said, "We'll swim to the other end when you're ready."
Turner didn't hesitate before replying, "Let's go!"
You wouldn't know from watching him take off down the length of the pool that Turner has spina bifida, a congenital disorder that occurs when the spinal cord doesn't form properly.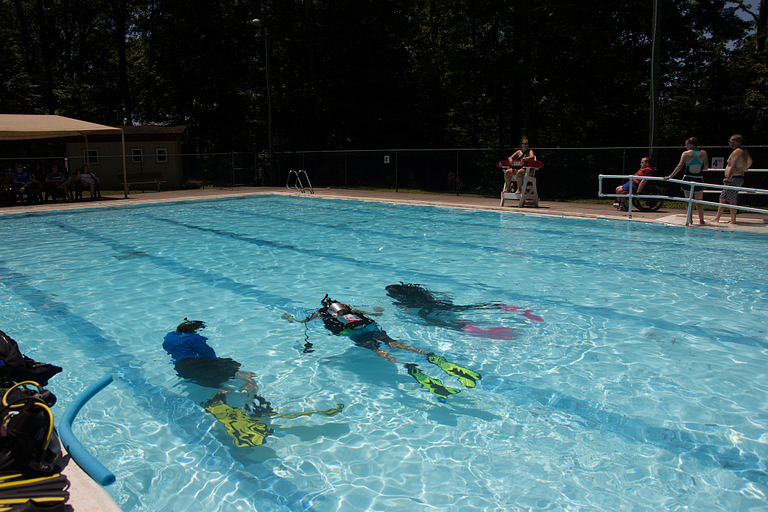 When Bob Kessler, an academic specialist in the Department of Kinesiology's Academic Diving Program within the School of Public Health-Bloomington, met with Shay Dawson, the director of Bradford Woods, to discuss an adaptive scuba summer program, this moment is exactly what he had in mind.
"Water is the ultimate equalizer when it comes to mobility issues," Kessler said.
Each summer, Bradford Woods hosts multiple therapeutic camps – including Camp Riley – for children and young adults with various chronic illnesses and disabilities. This year, adaptive scuba training was added as an activity for campers, led by six IU Department of Kinesiology faculty members.
But it wasn't something that happened overnight, Kessler said; it's been in the making for nearly two years. Once it was determined that it was possible, the prep took a full year to complete.
Mylana Haydu, IU's diving safety officer, pored over paperwork to determine which camps this training would work for and what type of training the instructors, lifeguards and counselors would need to undergo to prepare.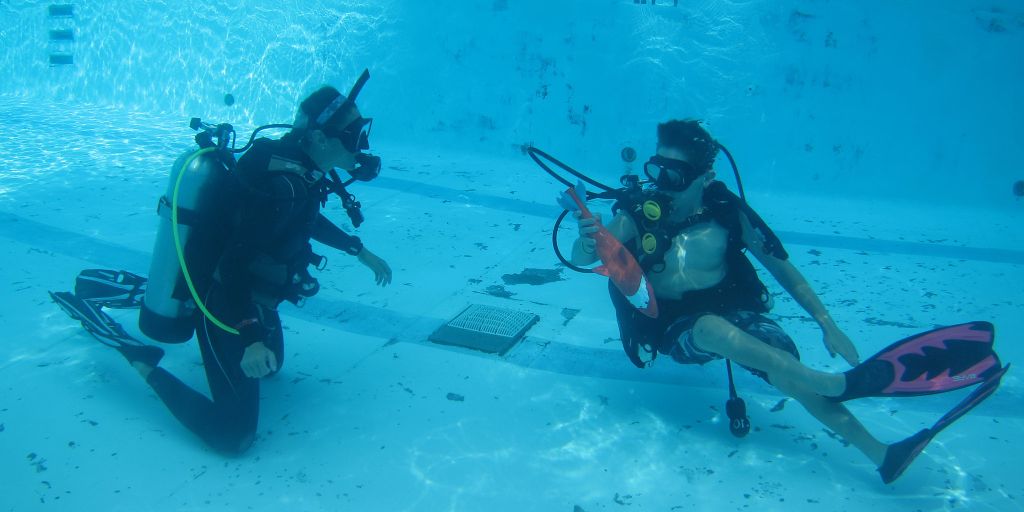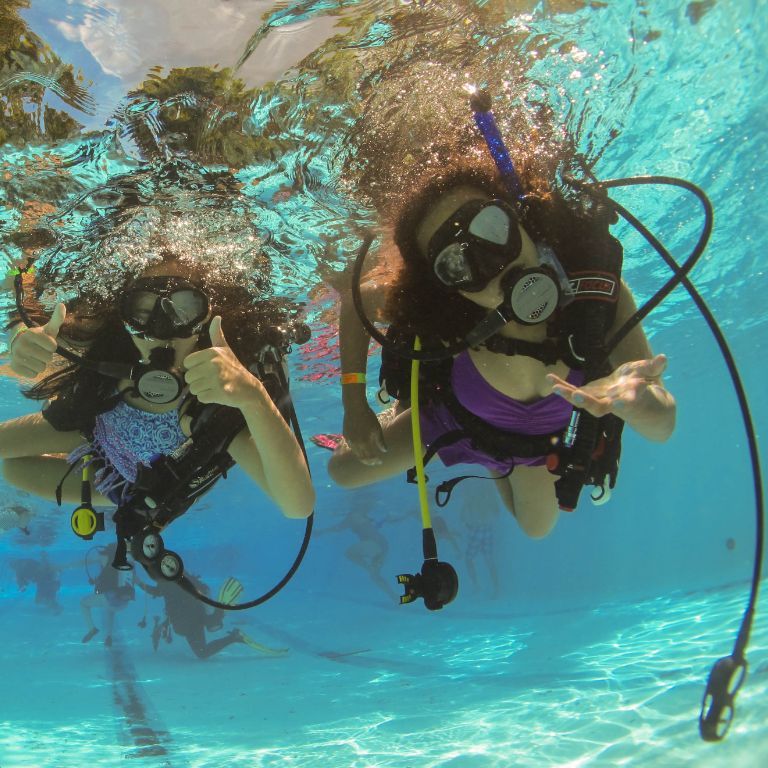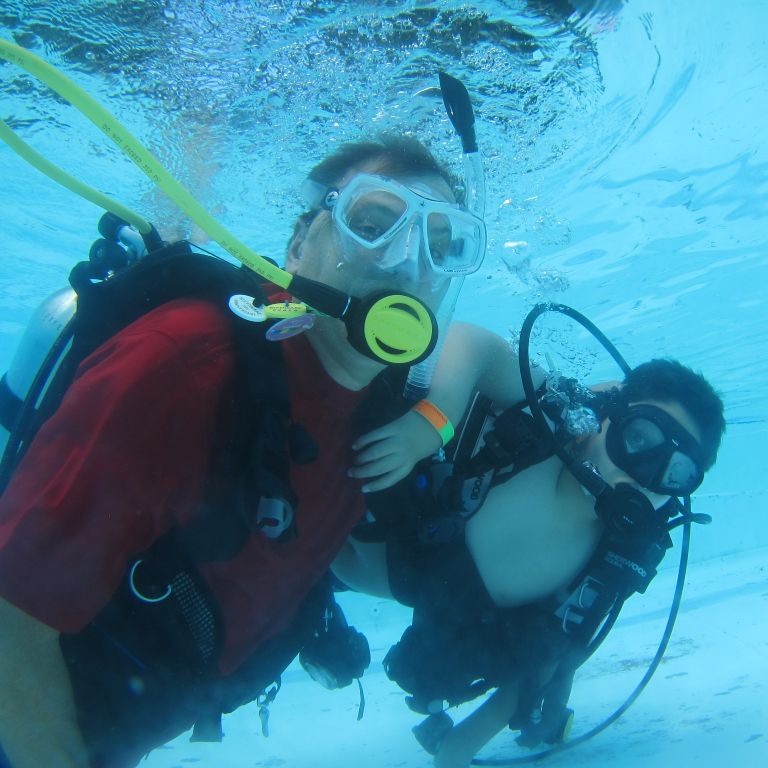 Photos courtesy of Ian Kessler
The six IU scuba instructors, including Kessler and Haydu, were already trained through the Professional Association of Diving Instructors, but they completed additional training with Disabled Divers International to bridge the gap and learn adaptive techniques.
The groups also received funding through IU's Wynn F. Updyke Center for Physical Activity to purchase adaptive scuba equipment; the Riley Children's Foundation to offer adaptive scuba at the Camp Riley programs and the Committee on Centers and Institutes at the School of Public Health-Bloomington.
And even though it took a lot of time, energy and planning, this partnership was exactly what Kessler and his team have been dreaming about over the past year.
They came together with the common goal of accessibility. Lisa Elder, the director of recreational therapy at Bradford Woods, said the recreational therapy camp's goal is to provide campers with resources and "plant the seed" of what they can do. Charles Beeker, the director of the School of Public Health's Center for Underwater Science, said they love making diving available to as many people as possible.
"We are different areas and departments within IU, but we were able to combine our interests and our needs to create something really important," Elder said.
Elder said many of the campers think it's impossible at first.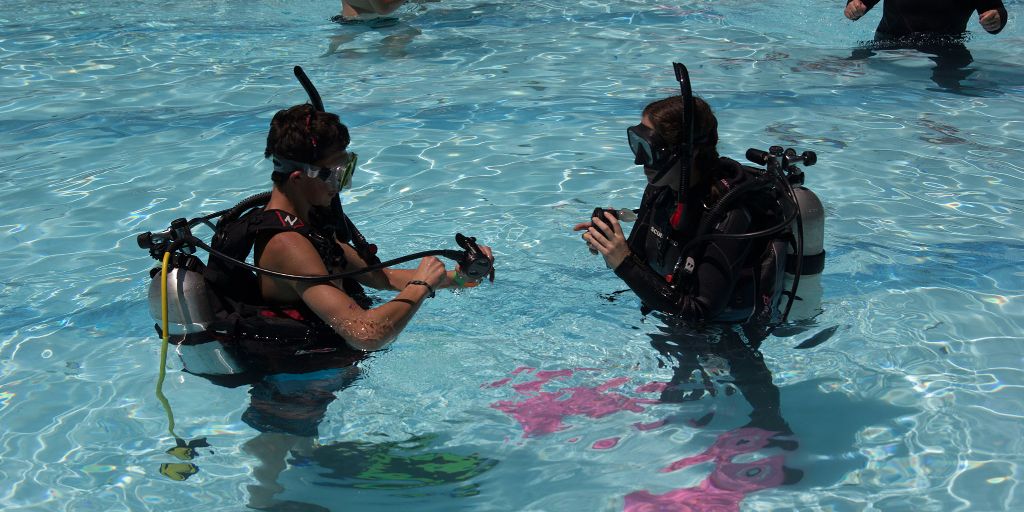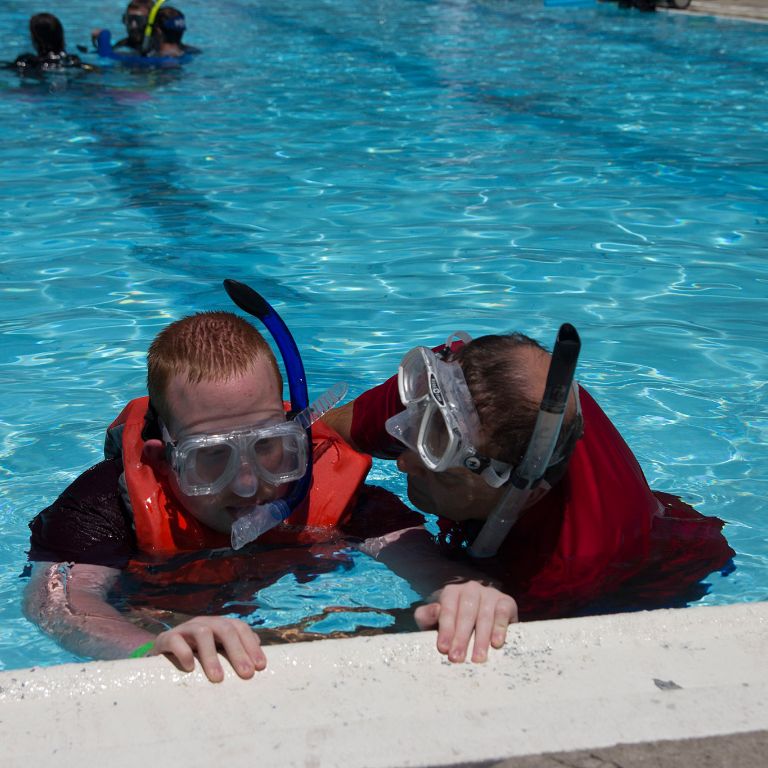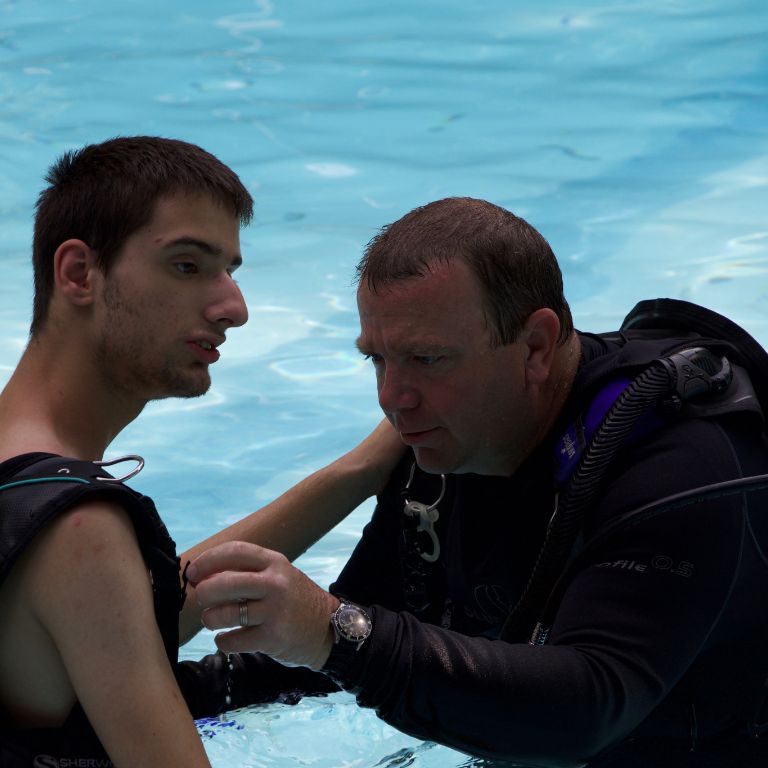 Photos courtesy of Bailey Briscoe and Ian Kessler
"They're constantly being told what they can't do," she said. "We show them they don't have to exclude themselves and that they just have to adapt it to work for them."
"It's all about that excitement when they take their first breath underwater," Beeker said. "You can see the smiles on the students' and the instructors' faces."
Jack Sullivan, attending Camp Riley, said he was not scared or nervous to take his first underwater breath. In fact, that was his favorite part.
Sam Turner, Jacob's identical twin, said his favorite part was taking a breath from a regulator, which delivers air to a diver's lungs.
"It makes me sound like Darth Vader!" he said.
Because every camper had a different need and ability level, the training was highly individualized. The IU diving instructors were often working one on one with the campers to be sure they were progressing during the one-hour session. But no matter what level the campers were at or which aspect was their favorite, they all agreed on one thing: It was fun.
The scuba training was offered for four camps this summer. Instructors adapted the course for nearly 100 individuals with craniofacial anomalies, such as cleft lip and palate; cancer; sickle cell anemia and other blood disorders; and various physical disabilities.
Bradford Woods, the Academic Diving Program and the Center for Underwater Science hope to expand the training to more camps next year.
"We want to keep blowing a lot of bubbles," Beeker said.