A "Welcome home, Hoosiers" sign and welcome booth at Indianapolis International Airport greeted international students traveling to Indiana University Bloomington to begin their fall semester.
This is the fourth year IU has provided an airport welcome booth as a resource to incoming international students, but this year they were able to staff the booth for more hours and post welcome signs across the airport. The booth was staffed by student workers from IU's Office of International Services and a student organization, IU Chinese Students and Scholars Association, with support from the Office of the Provost and the Office of First Year Experience.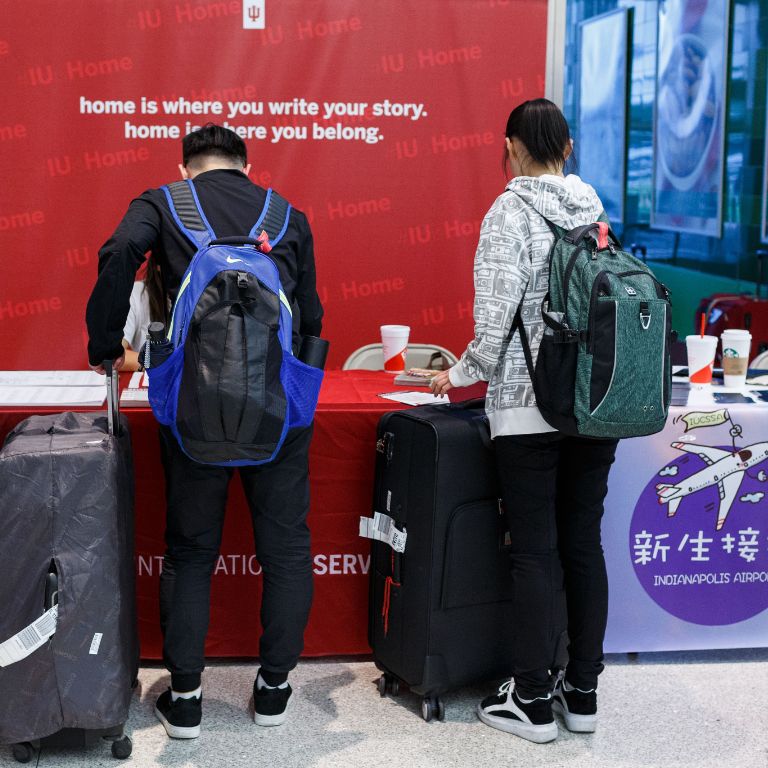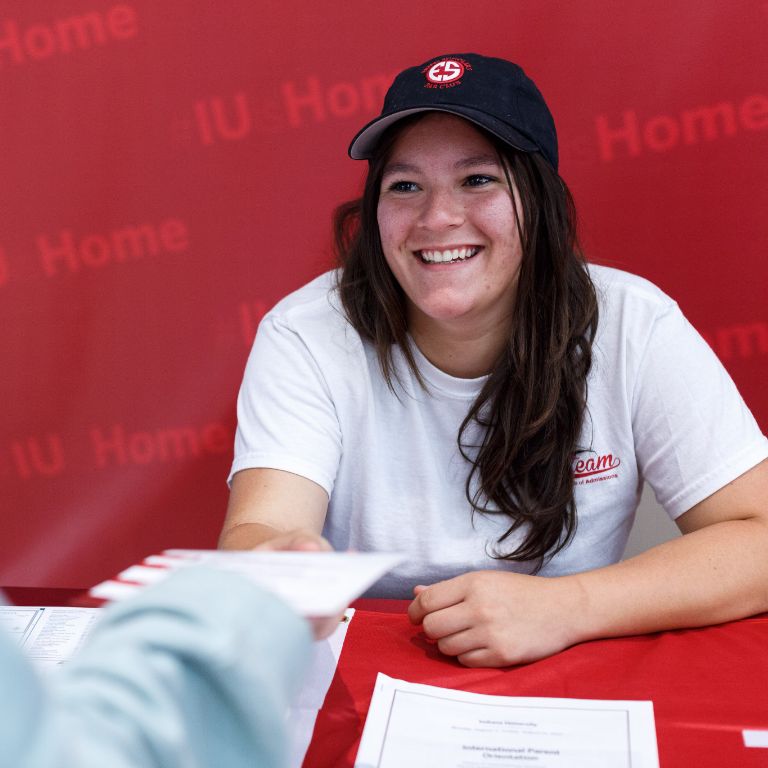 "The students have been full of gratitude," said IU sophomore Jessica Joppich, one of the students stationed at the airport booth. "They don't know much about Indiana; all they know is that they want to be at IU. So they are really happy to have us here to tell them their next steps."
Joppich and the other student workers will staff the booth from 6 a.m. to midnight through Aug. 11, working six-hour shifts each. When the international students arrive at the airport, someone at the booth will tell them where to catch the shuttle to Bloomington, how to check into their residence hall, where to eat, dates and times for orientation, and any other information they might need to make their transition to IU easier.
"When you are young, traveling alone for perhaps the first time and exhausted from a long flight, a friendly face and confirmation that you are in the right place means a lot," said Rendy Schrader, the director of student and scholar advising for the Office of International Services.
For incoming student Dorit Yang, this resource is exactly what she needed after her nearly 25-hour flight from China. "The booklets and information they give us is so useful, and it's great to know the next steps to do," Yang said. "You look at these people sitting here and you feel at home."
While some of the students travel with their parents, some travel alone. Yang befriended another IU student, Sherry Kuang, whom she met while looking over brochures at the booth while waiting for their shuttle.
Brandon Zhong said the booth was simply reassuring for him.
"I know that I can find my way with their help," he said.
The booth serves as a welcome wagon and a way for incoming students to mingle with one another, but mostly it gives them a good first impression of IU.
"We want them to feel welcome and proud that they chose a university that cares," Schrader said.