Indiana University Police Department Sgt. Brian Oliger studied at IU to teach art, but his career path has led him to a different kind of classroom experience. With more than 20 years of police work under his belt, Oliger organizes safety training, special programming and officer outreach for IUPD.
Oliger, an Indiana native, began working part time with IUPD while he was student teaching and felt he'd found his true calling.
"I fell in love with law enforcement. It's what I knew I wanted to do," he said.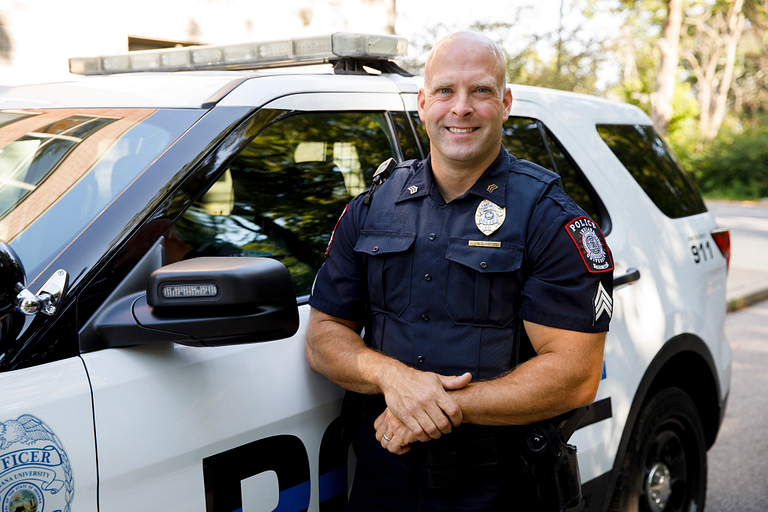 Oliger was working full time with IUPD and pursuing a master's degree in information science when he dropped everything to join the U.S. Army following the 9/11 attacks, chasing a call to serve his country.
"I always wanted to join, and I thought, 'I'm going to miss out on this opportunity – I have to do it,'" he said. "It was one of the best choices I've made. That experience has only benefited me."
He returned to work for the IU Police Department and now, in addition to normal duties, he's in charge of scheduling and special programming duties for IUPD officers, such as working sporting events on campus that require extra police presence. He also puts his teaching experience to work sharing information about personal safety with units across campus, such as academic departments and sorority houses.
These trainings can be reactionary or preventive. One example is a recent partnership with the Office of International Services to help students who are new to the country feel comfortable approaching police officers for help.
Safety trainings through IUPD are created specifically for the needs of the department or organization. There's no standard script, and Oliger said that trainings often involve question-and-answer sessions.
"We're trying to find ways to show up at events and have officers present to say 'Hey, if you have any problems, you can contact us.' We're very approachable," he said of IUPD's efforts to be present on campus. "It's all about community policing with us. We're trying to do what we can to make an impact across campus and with outreach into the community."
When Oliger isn't on the clock, he still paints and pursues his love of fine arts. He also has developed a far more unexpected hobby: collecting pre-Columbian pottery. IU organizations, students, departments or units interested in scheduling a safety training session should contact Oliger at 812-855-4275.