Indiana University Bloomington faculty members switched roles this summer and entered the classroom to learn innovative ways to better serve students.
The Center for Innovative Teaching and Learning hosted a two-day-long Flipped Classroom Institute. Faculty members participated in activities to help them redesign a class of their choosing, moving from a traditional model to a flipped classroom model.
The flipped classroom model reverses the typical lecture and homework elements of a college course. Students perform simpler mental activities on their own time and more advanced tasks in class, where the instructor is present to help students.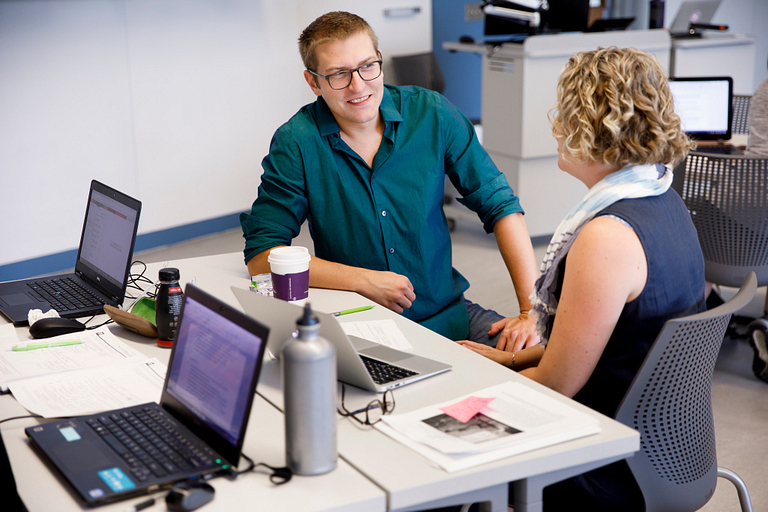 "A flipped classroom model isn't about moving the lecture entirely outside of the defined classroom time, but it focuses on opening up that in-class time for engaging activities revolved around more complex levels of thinking," said Matt Barton, an instructional consultant and media specialist at IU's Center for Innovative Teaching and Learning and the host of the workshop.
Over the course of the two days, faculty participated in the flipped classroom model. They completed basic tasks at home, such as reading over research, and came into class ready to discuss and apply what they learned to their own course.
As part of the discussion, they defined how the flipped classroom method can promote active, collaborative learning and increase student preparation.
Barton, who specializes in multimedia learning, said some of the research behind the flipped classroom model centers on the fact that individuals have different learning paces, and that attention spans are shorter than you might think.
He said that in a traditional lecture, students begin to lose interest in the first five minutes. By the 10- to 12-minute mark, retention rates have dropped significantly. This is only compounded when students are never asked to do anything more than passively listen to a speaker, he said.
A flipped classroom model makes strides to address these issues and give students more control over their learning, Barton said.
"Self-regulated learning is important for students," he said. "They need to discover what strategies help them learn best and know how to manage that."
While Barton doesn't recommend trying to flip an entire course at once, the goal for participants was that they would walk away with a detailed plan to flip one of their class sessions for the upcoming semester.
Richelle Brown, a lecturer in the College of Arts and Sciences, chose a particular class that is her personal favorite but that always seems to pose the biggest challenge for her students.
In her personal development course, she has students complete various assessments and gather data about their values, interests, personality preferences and strengths. Then they use that data to plot a mind map that identifies their "top" in each core area. Once they have their mind map completed, they work on connecting and analyzing their findings to learn more about how these discoveries can aid their search for their "best" career fit.
Previously, they would spend most of their class-time doing this basic work and lose focus on the reasoning behind it, but after learning about the flipped classroom model, Brown discovered a simple way to improve her students' learning and understanding of the topic.
Now, her students will view a video lecture and complete the basic data collection for the mind-mapping activity as homework prior to class-time, where they will focus on an in-depth analysis discussion of what their data means.  
"By having them do the activity on their own and come into class with the foundation, we will be able to use the class time to actually go deeper into the application of connecting and analyzing," Brown said.
Exploring new tools
Brown plans to use the Faculty Media Production Space – an on-campus resource Barton introduced to the seminar participants – to create an instructional video to walk her students through the activities she expects them to complete outside the classroom.
Located in the Wells Library, the space offers faculty the equipment and staff to produce dynamic and professional-quality video presentations without having any prior technical knowledge. Faculty can use equipment like a LightBoard, a clear "whiteboard" that allows you to write on a surface while facing the camera; a green screen; HD cameras; and a SMART podium to enhance their video lectures.
For a flipped, hybrid or online course, faculty members could use the space to create short lectures, demonstrations or lesson introductions for students to watch for homework and thus free up in-class time for hands-on projects and activities.
Drawing lines
The Flipped Classroom Institute participants walked away with ideas, knowledge of new resources and a solid action plan, but Brown said she developed a new way of looking at teaching that she might not have come to on her own.
"I had a tendency to think about objectives and outcomes for the entire course rather than for each session," she said. "Now I'm exploring how I can draw the lines between basic and advanced concepts for each class session to identify the areas that can be flipped in order to reach that higher application level.
"Most students want to dive deeper, so I want to create an environment where that's possible."
For more information on the flipped classroom model or steps to flip a course of your own, contact Barton at 812-855-6748 or mattbart@indiana.edu.