When Richard Lewis made the decision to attend Indiana University, he decided based on more than the reputation of the Jacobs School of Music.
"I auditioned at three schools, and IU Bloomington's campus was the greenest of all of them," he said.
Lewis, who currently works as an executive administrative assistant in the IU Office of the Vice President for Capital Planning and Facilities, graduated from the Jacobs School of Music and went on to have a professional singing career spanning more than 20 years as a baritone in opera companies across the country. Some of his most notable experiences include dramatic roles in "La Traviata" and "Carmen" and comedic roles in "Pirates of Penzance" and "Barber of Seville."
He said it's hard to pick a favorite role.
"It's always the role you're currently working on, or at least you hope," Lewis said. For now, that role is making connections, bringing together experiences from his past and using his professional skills to help to create a brighter future for his community.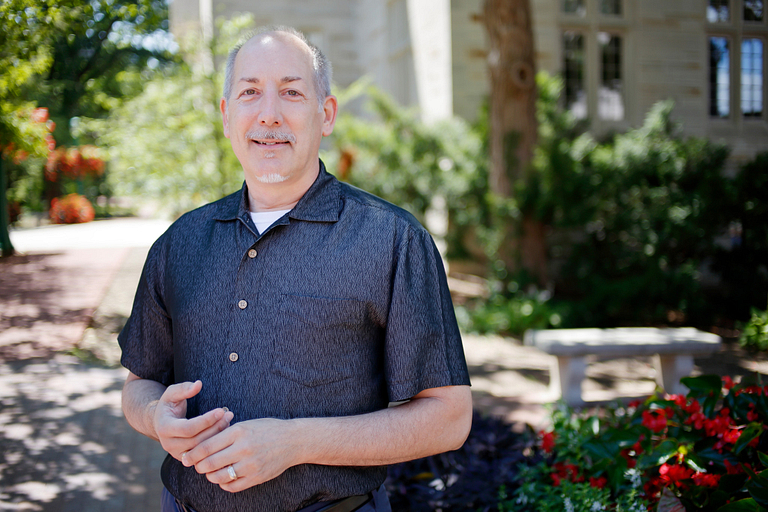 For the seventh year in a row, Lewis has organized a community concert in Bloomington that gives audiences the opportunity to support Fairview Elementary School's literacy and Artful Learning programs.
The concert originally benefited the Boys and Girls Club, but the connection to Fairview Elementary School's programs came from the concert's venue, Fairview Methodist Church, and its close proximity to the school.
As a Bloomington resident, Lewis was aware of the necessity of the school's literacy program. As a singer, he appreciated their implementation of Artful Learning, a teaching method that focuses on incorporating artistic expression into core subjects.
Lewis, an Ohio native, remembered learning to read with his parents and enjoying school as a child.
"I started to think what it would be like not to have this legacy of literacy in your home, and working with Fairview came from that," Lewis said.
After its first year, the concert switched its focus to helping Fairview Elementary, and it has done so ever since. Each concert has a theme around which songs, and sometimes scenes, are chosen. This year the concert is titled "All the World's a Stage: The Show-within-a-Show in Broadway and Opera." Featured singers include soprano Anna Singer, mezzo-soprano Hilerie Klein Rensi, tenor Robert Chafin and pianist Michael Borowitz, in addition to Lewis himself.
Lewis said that gathering colleagues from his professional years became a maze of lasting connections and mutual friends, all of whom travel to Bloomington from their respective locales interested in sharing their talents and passion for the good of the community.
Lewis' own return to Bloomington came after more than two decades performing professionally and moving around constantly from his base in New York.
"I always knew I wanted to come back to Bloomington," Lewis said.
Now back and settled in a job with the university, Lewis shares his affection for Bloomington's small-town culture, gardening and HGTV shows with his husband.
As for continuing to perform after making the decision to stop doing so professionally, Lewis said it feels good to perform for a cause and for the sake of performing itself.
"It's more freeing performing in this concert; I don't have to worry about where the next gig is going to be," Lewis said.
"All the World's a Stage: The Show-within-a-Show in Broadway in Opera" is a free concert, and donations will be accepted to benefit Fairview Elementary School's literacy and Artful Learning programs. The concert will be held at 2 p.m. Aug. 27 at Fairview Methodist Church, 600 W. Sixth St. in Bloomington.
Lewis said that Solution Tree and the City of Bloomington Arts Commission's Arts Project and Grant Program both help make the concert possible.
More information about the event can be found on their Facebook event page.