Even though School of Art, Architecture and Design freshman Olivia Kalish has only called the state of Indiana home for two years, she said she feels like a member of the Hoosier family after spending a few short weeks at Indiana University Bloomington.
Kalish, whose family has lived in Alaska, California, Colorado and Scotland before landing in Madison, Indiana, said the welcoming feel of IU ultimately led her to choose it as her home for the next four years. The studio art major applied and was accepted to art schools across the country, but as she started to visit these schools she said something was missing.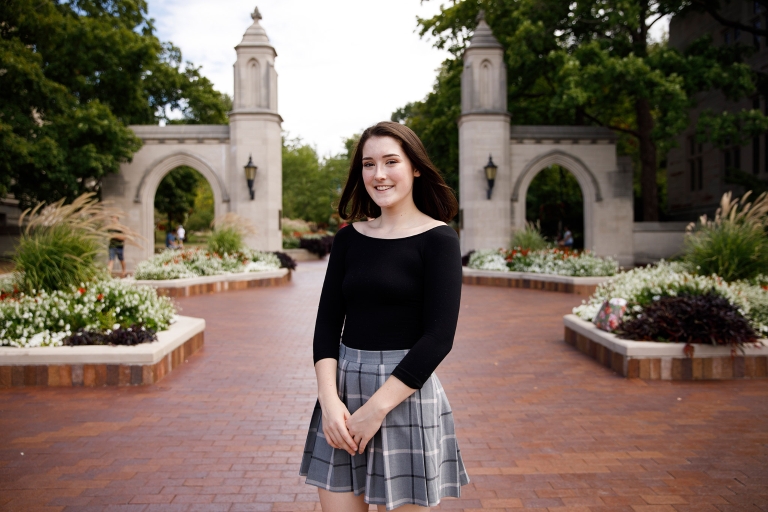 "A lot of the schools I was looking at were city schools, and I found out they were not for me," Kalish said. "I love the city, but something just didn't feel right. I was much more impressed with the facilities at IU, and there's definitely a loving and open community here that is hard to find anywhere else."
Kalish said she knew she had made the right decision shortly after she arrived on campus for her Intensive Freshman Seminar course at the end of July. The rigorous two-week course, focusing on the history and evolution of clothing and earning her three academic credits before the beginning of the semester, gave Kalish a jumpstart to her college career.
"As soon as I stepped on campus I felt at home," Kalish said. "IFS helped me meet so many students and staff who've made me feel comfortable, and it's pushed me to explore all the resources here on campus. IU feels five times smaller than it did the day I arrived."
Now, as the regular semester beings, Kalish said she's excited to be more involved in another community: the Collins Living Learning Center. She plans to join the Collins Arts Council and get involved with the learning center's Sustainable Food Committee.
"I love the idea of farm-to-table eating, and learning about what's sustainable for the environment and what's not," Kalish said. "I'm vegan, so these issues are really important to me."
Following her passions is no doubt part of Kalish's plan for her four years at IU, but she also plans to push herself out of her comfort zone, whether by joining an intramural badminton team, studying abroad in France or experimenting with new artistic media. She said that momentum from the creation of the new School of Art, Architecture and Design will allow her to push boundaries.
"A huge appeal of IU was the new school and new programs and facilities that came along with it" Kalish said. "I really want to learn more about modern forms of art and how technology is changing the way art is made. I know I'll be able to do that at IU."
For now, Kalish plans to focus on graphic design within her studio art major and possibly pursue minors in French and marketing so she can follow her dreams of becoming an illustrator for fashion magazines and advertisements. While she knows plans and majors can change and is open to those possibilities, she's sure that she will leave IU a different artist and person than she is today.
"Up to this point, I've pretty much focused on what I wanted to focus on artistically, so I haven't really explored a broad range of media," she said. "I'm so excited to push myself and grow not only as an artist but as a person too."