Kosali Simon decided as a child that education and hard work would help her achieve what she wanted. She was right: Years later, Simon is enjoying life as an economist in the Indiana University School of Public and Environmental Affairs, a nationally known expert on health policy – and a mother of six.
And she is still working hard, getting more done than colleagues can imagine is possible.
"We often joke that there must be three of her," said Alex Hollingsworth, a SPEA assistant professor who has collaborated with Simon on research. "She's so productive."
Also a dedicated teacher and a supportive mentor of newer faculty members, Simon was recognized by IU last year when she became only the third person to be named a Class of 1948 Herman B Wells Professor. She plays down the idea that she's deserving of recognition, or all that productive.
"I don't think I do enough work. The list of things I didn't manage to do today is like this and is continually growing," she said, extending her arms during an interview at her SPEA office.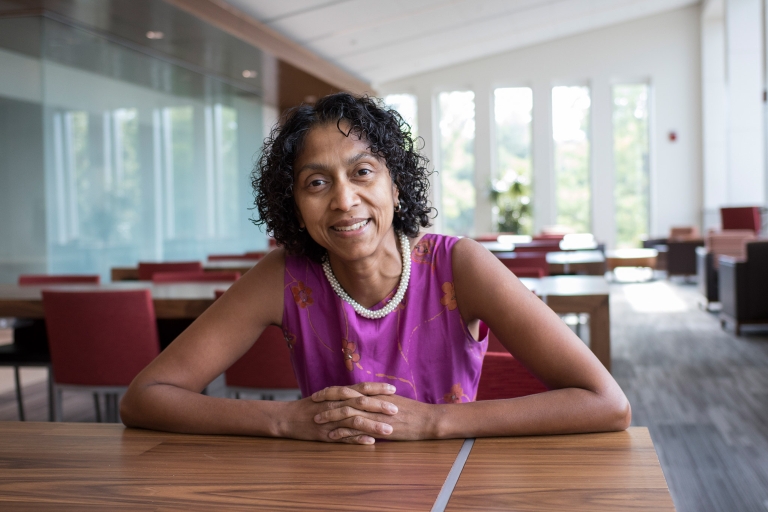 Simon is from Sri Lanka, and she spent what she refers to as a difficult childhood there and in Zambia. But a window of opportunity opened when she began to attend an English-language international school where her mother worked. There, her teachers and counselor told her about American higher education and the financial aid available to motivated students.
She applied to several colleges and chose Hamilton College, a small liberal arts school in upstate New York, where she majored in economics and German and discovered research.
"I loved the college experience. I started working with whichever professors were looking for research assistants," she said.
Simon credits a postgraduate research fellowship from the Thomas Watson Foundation with helping her develop self-reliance and initiative. She spent a year interviewing factory managers in Eastern Europe soon after the collapse of the Soviet Bloc, then returned to the U.S. for graduate school and earned a Ph.D. in economics from the University of Maryland in 1999.
She met her husband, SPEA associate professor and strategic management researcher Daniel Simon, in graduate school. They navigated a dual career path before coming to IU Bloomington together in 2010.
Simon may seem to work all the time, but colleagues know it's not all she does. The Simons have six children, ranging in age from 14 to 2. They're stopping at six.
"My husband and I say, 'The minivan is full,'" she said.
In addition to conducting research and teaching graduate students and undergraduates, Simon serves on the governing body of the Association for Public Policy Analysis and Management, helped lead the American Economic Association's Committee on the Status of Women in Economics in its national mentoring program for female assistant professors and serves in editorial roles at several journals.
But it's her research in the timely and contested field of health policy that gets the most attention. She and her collaborators have published dozens of articles in respected academic journals, many of them examining the successes and failures of the Affordable Care Act.
Among the findings: The law increased access to preventive care. It dramatically boosted the number of young adults on parents' insurance plans. It didn't cause a shift from full-time to part-time employment. And its Medicaid expansion could reduce other government spending.
But the Affordable Care Act is so politically toxic that Simon has grown frustrated about the limited impact that research has on policy discussions. Supporters of the law don't feel the time is right for studies into potential flaws, and opponents refuse to admit the law has done any good.
She also finds it odd that the public debate has focused on the federal insurance marketplace and not on the law's Medicaid expansion, which extended coverage to many more people. The main way the Medicaid expansion did not reach full potential she said, is that while all states provide health insurance subsidies to eligible families over the poverty level, many states rejected the Medicaid expansion, which was intended for their poorest citizens.
"It's surprising to me more people were not upset about this discrepancy," she said. "It means that in 18 states, childless adults living on as little as $5 a day are not getting any help, while counterparts who earn quite a bit more may qualify for marketplace subsidies."
If she's frustrated with the limits of Affordable Care Act studies, Simon is passionate about a new area of research: the nation's opioid drug crisis. She has spent the past six months diving into the literature and coming up with new questions about medication and drug misuse and how it can be affected by policy decisions.
"Researchers ask themselves, where can their work have an impact," she said. "With the rampant rise in opioid misuse, I feel like we're at the early stages and still catching up in terms of economic and policy research."
Simon and Hollingsworth recently had a paper on opioid use and economic trends accepted by the Journal of Health Economics. Given her past record, it's a safe guess that more articles will be coming soon – and that scholars will be following her work on this new topic for years to come.