In one of the biggest season openers in IU football history, the Hoosiers will kick off the 2017 season at 8 p.m. on Aug. 31 against No. 2-ranked Ohio State.
In addition to alternate uniforms that will debut later this season, new security policies, end zone construction and continued traffic on State Road 37 are a few things for fans to be aware of as they gear up to cheer on the Hoosiers this season.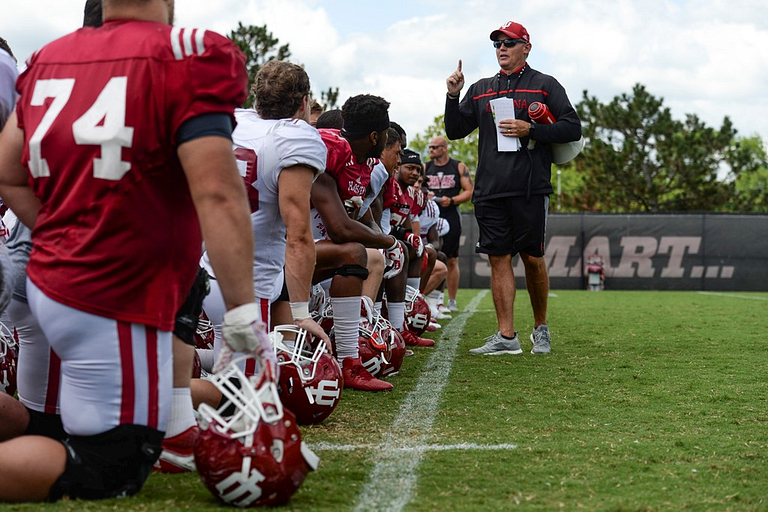 Bag and metal detector policy
Indiana University Athletics has implemented new security policies, including a clear bag policy for all home football – and basketball – games this year. Upon entering Memorial Stadium, fans will also be required to walk through metal detectors.
According to the new bag policy, all items fans wish to bring into the venue must fit in either a clear plastic bag that does not exceed 12 by 6 by 12 inches, a one-gallon clear plastic freezer bag – Ziploc or similar – and/or a small clutch bag that does not exceed 4.5 by 6.5 inches (approximately the size of a hand). The small clutch bag does not have to be clear, and each patron is allowed one small clutch bag in addition to one clear plastic bag that meets the above requirements. Diaper bags and medical bags are also permitted upon inspection at gates E1 and W3. Details on the full clear bag policy can be found online.
Enter to win
Members of the ROTC, IU Athletics staff and other auxiliary groups will be handing out appropriate complimentary clear plastic bags in parking lots 2, 4, 8, 9, 10, 11, 12 and 14 before the start of the Aug. 31 game. 
The walk-through metal detectors are meant to be less intrusive, more effective and less time-consuming than the previously utilized wand metal detectors. But IU Athletics is still urging fans to arrive early for the first game of the season. A limited number of gates will open at 5:30 p.m., and the amount of game-day staff will be increased for the Aug. 31 game, but it is expected to be a sold-out crowd.
Similar security policies have recently been implemented by other Big Ten athletic departments as well as other college and professional athletic venues across the country. These added security measures are being adopted as part of recommendations made by MSA Security, a firm hired by the Big Ten to assess security at conference competition venues; IU Superintendent of Public Safety Ben Hunter; and game-day security provider ESG.
End zone construction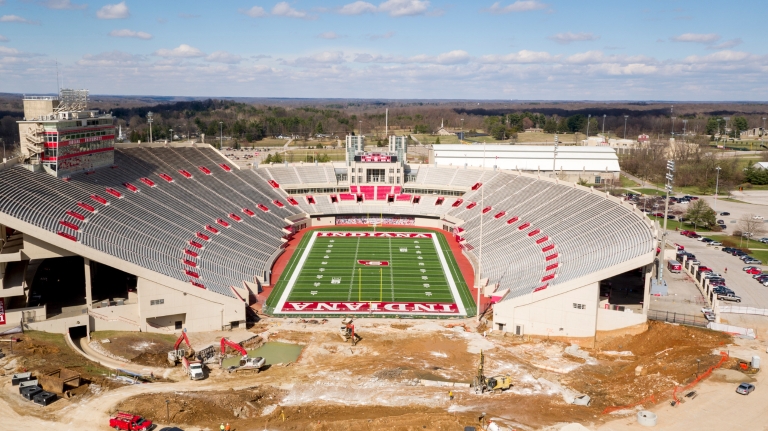 Work on the $53 million Memorial Stadium Excellence Academy project began in December 2016 and will continue through the 2017 season. The two-story, nearly 100,000-square-foot space, which will enclose the south end zone of the stadium, will house various student athlete services, including rehabilitation and treatment, wellness, and leadership and life skills. Also included will be a dining facility and event suite, as well as various accessibility upgrades and other renovations to the existing stadium.
To enhance fan experience, a new, state-of-the-art, 20-by-68-foot Panasonic video board will debut this season on top of the north end zone complex of Memorial Stadium.
Due to the construction, Knothole Park will be temporarily closed for the duration of the season but will resume activities next season. In addition, the cannon, which is fired after IU scored, will also get a new home this season.
The project's completion is slated for August 2018.
Traffic hurdles
IU Athletics emphasizes the importance of arriving early to games this season, due to the new security measures and traffic concerns.
This year, IU Athletics is working closely with INDOT to ensure game-day traffic goes as smoothly as possible. INDOT has committed to limiting lane restrictions on State Road 37 and to extending the timing for green lights near Martinsville on game days.
However, the construction can still significantly increase the time it takes to travel from Indianapolis – and points farther north – to Memorial Stadium. Fans are encouraged to take one of the following alternate routes from Indianapolis:
State Road 67 south to Spencer, then State Road 46 east into Bloomington (estimated travel time: one hour and 20 minutes)
I-65 south toward Columbus to State Road 46 west into Bloomington (even with construction on I-65 from mile markers 105 to 107, estimated travel time: one hour and 20 minutes)
I-70 west to U.S. 231 South and then State Highway 46 east into Bloomington (estimated travel time: one hour and 30 minutes)
Fans are also encouraged to download Waze, a community-based traffic and navigation app, for real-time updates regarding game-day traffic patterns. The app will automatically update to the football pre- and postgame traffic pattern as they go into effect and offer visitors the best route to their destination.
To receive text alerts from IU Athletics, fans can text IUFB to 313131 for pertinent information surrounding travel, traffic, weather and emergency situations.
New leader
Tom Allen, who was promoted last year after Kevin Wilson resigned, will lead his first game as head coach on Aug. 31. Inside IU caught up with him to chat about the big season opener, his hopes for the season and the outlook for the IU football team this year.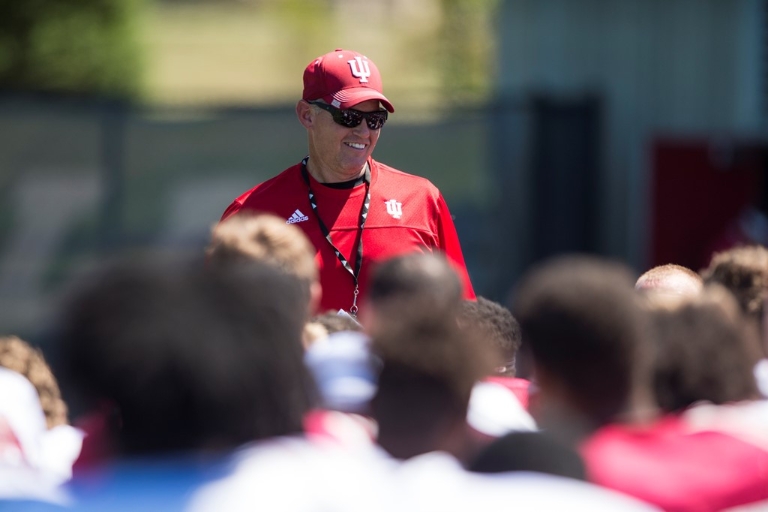 Q: Being an Indiana native, how does it feel to take the reins of the Indiana Hoosiers football team?
A: It is a tremendous honor and a privilege to be able to lead the team that represents your home state. I have many connections – both family and friends – that love Indiana and love our university. It means so much to me to be a part of that.
Q: What do you hope to change or bring to the program?
A: I feel like we have started to create change the last few years. There have been a lot of great men who have coached here, but it has been tough to consistently win. We have spiked at times but have been unable to maintain that. Our goal is to build a consistent winner, to the point that we are competing for championships each year and to be a team that is relevant in that conversation each November. That is the goal that I have, to be consistently playing at that level, recruiting at that level and putting a team on the field that brings tremendous pride to Indiana.
Q: What do you want the fans to know going into this season?
A: I want the fans to understand how much this team really cares about one another and how hard they play for each other and for the people they represent. We have impressive and quality young men in our program, and they represent our alumni and our fans well. They are fun to coach, and they are fun to be around. That means something to me.
Q: How do you feel about opening with a home game against Ohio State on a Thursday evening and ESPN's College GameDay being here?
A: It is unbelievable how all of that has come together. It has been so long since we have even had a conference opponent in the opener, let alone it being on a Thursday night, an ESPN primetime game and College GameDay. So it keeps building and building. Then you add in the fact that we are facing Ohio State. Who could have ever drawn that up? As I said before, the good Lord has a sense of humor to have all of these things come together. To me, that all equals a great opportunity for the Hoosiers.
Q: What do you and your family like to do in Bloomington when you have free time?
A: We love Lake Monroe and the state parks. We enjoy going for hikes and enjoy going to the lake. My kids are on me about getting a boat, so that we can enjoy the lake without renting one every time. I also like being home, enjoying the wooded area behind us. Enjoying the beauty of this part of the state is something that we really like to do.