BLOOMINGTON, Ind. – Indiana University Bloomington is welcoming a record 7,995 beginning students who will be enrolled when classes begin Aug. 21. That's a 1.5 percent increase from the previous record of 7,875 set in the fall of 2015.
Based on current projections, nearly 4,400 Indiana high school graduates are in the 2017-18 class of first-year students, the largest group of Indiana high school graduates beginning their college career on any college campus.
They are part of a large, diverse and accomplished class that includes students from across the United States and around the globe.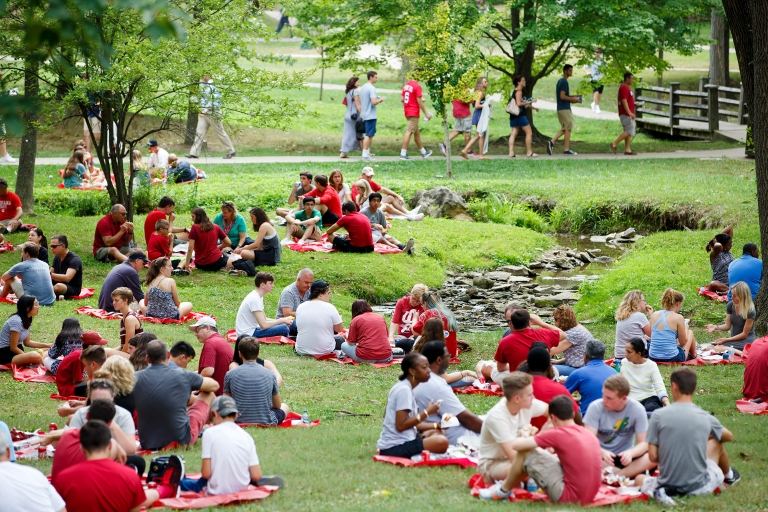 "We are delighted to welcome this very talented and diverse cohort of new students," said David B. Johnson, IU Bloomington vice provost for enrollment management. "We are especially proud to enroll more first-year college students from Indiana than any other four-year institution.
"The numbers reflect the tremendous strength of the campus's academic offerings, the appeal of its vibrant campus life and the success of Indiana University's efforts to keep college affordable and accessible to Indiana residents while welcoming students from across the United States and around the world."
The first-year students set new marks for academic achievement. They earned an average score of 1295 on the SAT/ACT, up 9 points from the previous record set last year. Their median grade-point average was 3.83, an increase of .04 from last year's mark.
Regarding diversity, IU Bloomington will enroll a record number of first-year students from underrepresented groups. The number is projected at 1,243, a 4.8 percent increase from last year.
International students in the Class of 2021 hail from 37 countries on all six inhabited continents. U.S. students are from 46 states.
IU Bloomington was the only university in the United States to implement both the Common Application and the Coalition Application in August 2016, a development that boosted applications by 21 percent. The Common Application allows students to apply to over 700 institutions via one platform. The Coalition Application is a new application tool focused on student access, success and affordability. Students can apply via the Common Application, Coalition Application or IU's own Apply IU.
First-year students began moving into residence halls Aug. 13, with early arrivals taking part in Experience IU, a new program to welcome freshmen with speakers, campus tours, a campus connections scavenger hunt, a "choose your own activity" event and a competition for setting a record for most s'mores being made at one time.
Aug. 16 was official Move-In Day, kicking off Welcome Week activities for new students. Those include freshman induction ceremonies and picnics for students and parents on Wednesday, CultureFest at the IU Auditorium and various academic meetings today, introductions to campus recreation, safety and health resources Friday, a "Traditions and Spirit of IU" celebration Friday night and a campus block party and concert Saturday.
Official enrollment figures for all Indiana University campuses will be compiled the week of Aug. 28.