BLOOMINGTON, Ind. – The 27th Indiana Youth Survey, conducted by the Indiana Prevention Resource Center at Indiana University's School of Public Health-Bloomington, highlights a significant decrease in the use of e-cigarettes and vapor products among students in all grades except Grade 7. Yet e-cigarettes remain the primary form of nicotine consumption for Indiana youth.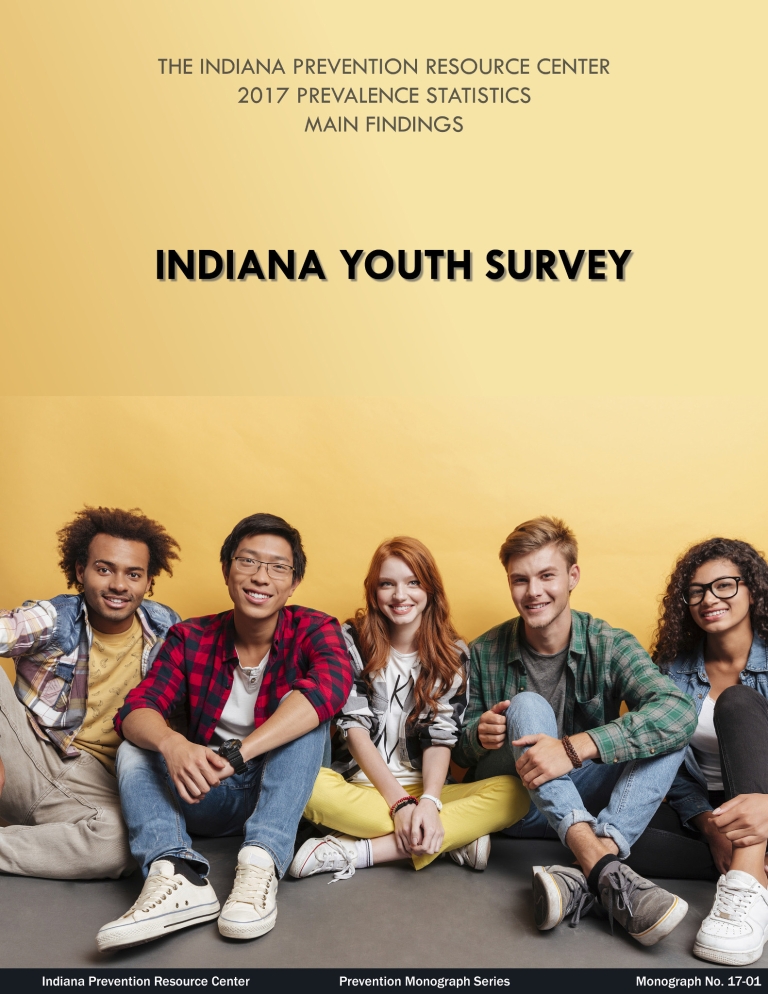 "Even with a decline in use, we are concerned by the numbers of youth using electronic vapor products, as well as traditional tobacco products, such as cigarettes," said Ruth Gassman, executive director of the Indiana Prevention Resource Center. "All tobacco or nicotine-based products have health risks."
This is the third year the survey has asked about use of electronic vapor products. Key findings include:
In 2017, 5 percent of seventh-graders, 8.6 percent of eighth-graders, 14 percent of 10th-graders, 15.8 percent of 11th-graders and 19.7 percent of 12th-graders have used electronic vapor products during the past 30 days.
Electronic cigarettes or vape pens were the most popular nicotine-containing substance used by youth in the month before the survey was administered.
In contrast to 11.8 percent of seventh- to 12th-graders using electronic vapor products, only 6.9 percent of these students used cigarettes, 3.2 percent used smokeless tobacco, 3.4 percent smoked cigars and 2.6 percent smoked pipes.
Also notable was the near absence of heroin and prescription drug abuse among students in Grades 6 to 12, despite the abuse of these substances among adults representing a serious health public crisis in Indiana. The highest use rate for heroin was 12th-graders at 0.2 percent, the same as the national rate. The abuse rate for all prescription drugs was 4.6 percent in 12th-graders, down 1.4 percent compared to 2016.
"Youth use of heroin and prescription drugs in Indiana is not following adult trends," Gassman said. "We hope that continuing efforts by health educators, families and communities lower the rates even further."
The 2017 survey was administered from January to April to students in Grade 6 to 12 at 409 schools throughout Indiana. A total of 134,664 youth from both public and nonpublic schools completed surveys that asked about their use of various drugs, their age of first use of various drugs, and risk and protective factors. This process resulted in 126,269 usable surveys.
This year's survey was a convenience sample of schools and school corporations that wanted to participate. A convenience sample refers to people who are easy to reach. Every other year a random sample will also be taken.
In addition to data from Indiana, the report contains national prevalence estimates reported by Monitoring the Future and the U.S. Centers for Disease Control and Prevention's Youth Risk Behavior Survey to facilitate comparison with the United States as a whole.
The survey's findings address the following issues: e-cigarette and tobacco use, alcohol use, marijuana use, methamphetamine use, prescription drug abuse, gambling, mental health, parental military deployment, parental incarceration, and risk and protective factors.
Explore survey highlights for each of these issues
Survey participation and schools
Participation in the survey provides schools and community coalitions with data to use for prevention planning and for applying for grants from the state or federal government.
"The data that we receive from the annual Indiana Youth Survey is vital to our organization," said Kim Linkel, director for the Coalition for a Drug Free Batesville. "Not only do we review the data annually and see how it changes from year to year, we use it to adjust our strategies and focuses for the upcoming year based on the survey results. Additionally, the Indiana Youth Survey results are a portion of the required data sets that we are required to submit as part of our Drug Free Communities Support Program Grant."
Contacts, sponsor and funding information
The 2017 Indiana Youth Survey was coordinated by the Indiana Prevention Resource Center and funded by the Indiana Family and Social Services Administration's Division of Mental Health and Addiction.
For general questions, contact Carole Nowicke at 812-855-1237 or cnowicke@indiana.edu. Indiana Prevention Resource Center executive director Ruth Gassman can be reached at 812-855-1237 or rgassman@indiana.edu. For youth gambling information, contact Mary Lay at maholtsc@indiana.edu or 812-855-1237. For more information on participating in the school survey or interpretation of statistical results, contact Mikyoung Jun at mkjun@indiana.edu or Susan Samuel at samuels@indiana.edu or 812-855-1237.