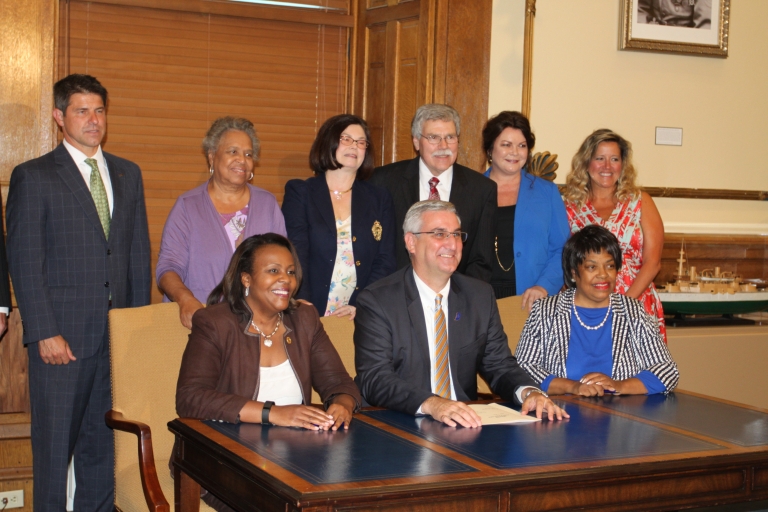 The death of their son Christopher in 2014 was hard enough for Lisa and Michael Patchner. But what happened after his death added to that heartache.
The Patchners had spent nearly 31 years providing love and care for their son, who had severe developmental disabilities. They became his legal guardians when Christopher turned 18 years old. And then they were shocked to discover their guardianship died the moment Christopher did. Agencies they had been dealing with would no longer talk to them about their son because they were legally unable to do so due to the unforeseen limitations under state guardianship law.
"It was as if he had died a second time," Lisa Patchner recalled of the awful experience. 
The Patchners could have chosen to throw up their hands in disgust or walk away in despair. They did neither. As social workers, they knew they had to change the law.
"Part of it was for our son. Part of it was for other parents," said Michael Patchner, dean of the Indiana University School of Social Work. "No parent should have to experience what we experienced. Your son dies, and then all at once, you have no status. Nothing. I mean, you gave your life and soul to this child, and you went to court to become a guardian, and then you cannot even finish needed affairs on his behalf."
The couple championed Senate Bill 516, which would give guardians 60 days after a loved one dies to obtain health records. For the Patchners, two years of lobbying efforts culminated in the bill's passage. The 60-day extension became law July 1, 2017.
It was a fitting legacy for Christopher's life. The Patchners adopted him when he was 9 days old. They knew there was a possibility he might have cognitive difficulties, but there was no way they could have anticipated the severity of his disability. "We accepted by faith that this child was meant for our family," Lisa Patchner said.
They spent more than 30 years advocating for Christopher to ensure he received the special care he needed, even if it meant spending days and nights in hospital rooms with their son. They learned over the years that mistakes in administering his medication could – and would – happen.
Prior to Christopher's death, Lisa Patchner had been talking with a staff person at a public advocacy agency about their concerns involving medication errors at a nursing facility where he resided. In the days leading up to Christopher's death, that staff person told Lisa that she needed to be with Christopher, and they could talk after his death.
Following Christopher's death, Lisa called the advocacy agency to continue their conversation. The disability advocate informed Lisa that her office had told her she could no longer speak to the Patchners because their guardianship had ended with Christopher's death.
"They could not speak to us; they could not show us documentation they had collected," Lisa Patchner said. Getting his records was something they felt was needed for them to heal following Christopher's death. "You know what? We just wanted closure," Lisa said.
The Patchners realized that there must be other people who faced a similar situation but felt there was little they could do about it. The Patchners decided to set out to have the law changed.
They turned to Indiana Sen. Jean Breaux, whom Michael Patchner had worked with on other issues related to social work. After listening to their concerns, Breaux asked Tracy Woolbright, a legislative assistant, to see if they could get health records from the Indiana Department of Health and some information from the Indiana Attorney General's office.
They, too, discovered that the state law at the time prevented getting the information because the Patchners had been guardians and that there was no estate. The Patchners said there was no reason to have an estate because Christopher had no assets.
If they had pursued a legal case against an institution, they probably could have obtained Christopher's records. "That was not the route they wanted to take. They just wanted to have access to his medical and other records after his death," Woolbright noted.
Breaux then decided to introduce legislation that would extend guardianship beyond death. A bill was introduced during the 2016 legislative session, but it never received a hearing because the chair of the committee to which the bill was assigned had concerns over whether the change would tie up the probate courts.
Woolbright and Breaux continued to research the impact the change might have. They contacted a number of agencies that represent the disabled and the elderly and found there was no objection to it. "The judicial side of it was for it, and they thought it would be a good thing," Woolbright said.
The bill was reintroduced this year. Even though it seemed no one was opposed to the measure, the Patchners stood watch over it as it made its way through the legislature. As Indiana Sen. Rodric Bray, who supported the bill, said, "There is only one way for a bill to pass, but a million ways it can die."
As for their vigilance and determination to see the bill through, Lisa Patchner explained: "You take a stand, you don't give up and you do a lot of praying. I am just very pleased we got this through, and we hope it will help other families."
Rob Schneider is the coordinator of external affairs for the School of Social Work.