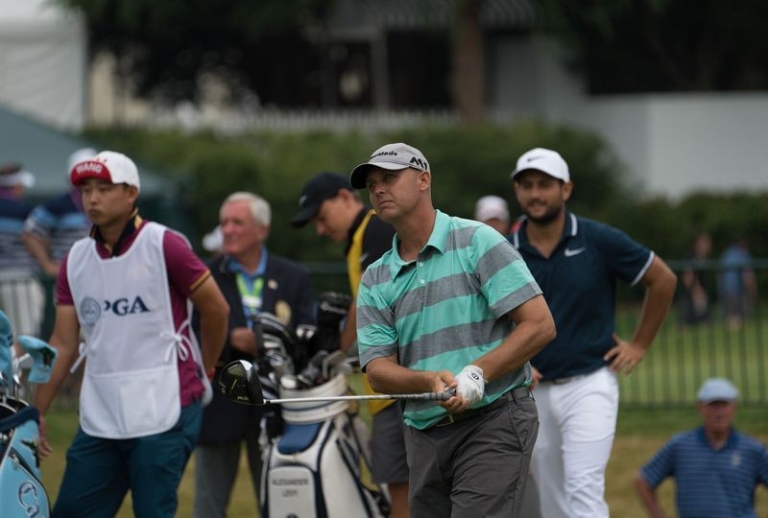 On July 17, Indiana University-Purdue University Indianapolis Athletics welcomed Jamie Broce as its new men's and women's golf coach. Three weeks later, he teed it up at Quail Hollow Club in Charlotte, North Carolina, in the PGA Championship. Broce, a former full-time touring pro before becoming a college coach, qualified for the event by virtue of a top-five finish in the PGA Professional Championship. The 40-year-old missed the cut after rounds of 79 and 78, but he came home with renewed appreciation for golf's highest level and some perspective to share with his new Jaguar teams. The Indianapolis native sat down with IU Communications earlier this week, still not a month into his new job but gearing up for the school year.
Q: Not too many college golf coaches get to take a summer field trip like that. How special was it?
JB: You like to think it's a once-in-a-lifetime opportunity, but I've been able to do it twice now. (He also played in the 2014 PGA Championship.) I missed the cut by three shots in 2014, when I needed to make a birdie on the last few holes and instead made a couple of bogeys. This year it was really funny; I've never felt so close to being able to win, and yet so far away. My whole game was really good, but I putted it just that poorly, and it was one of those situations where the golf course really started once you got to the greens. It was a good experience, helping me to realize that, if I want to compete at that level again, where you really have to be to do that.
Q: Was there more or less pressure playing in a major championship the second time around?
JB: The first time, I was very, very nervous. I prepared the whole week for what I would do on the first tee – I was afraid I'd miss the ball. This year I felt more prepared. I was super-calm, and the crowds didn't bother me one bit – and they were enormous. That part of it was just fun; I felt comfortable. I played a practice round with Zach Johnson. I played a lot with him in the beginnings of our professional careers, so it gave us the chance to reminisce and catch up on things. We talked about this job, about my kids – and the guy had just won a million bucks the week before. (Johnson won $1.045 million with a runner-up finish at the World Golf Championships-Bridgestone Invitational in Akron, Ohio.)
I was able to play my game; it just wasn't good enough (laughs). The situation didn't dictate to me how I was going to play any shot down there, which I thought was pretty neat.
Q: Are there still little things you pick up every time you play with the game's best?
JB: You pick up how quick they are at decision-making, how quick they are with their routines, how quick they are with hitting difficult shots and making them look easy. Then you realize you haven't practiced that shot for a long time. Little things like that. For club pro guys, if you really want to try to compete, you have to realize how good your course management would have to be, how good your thinking would have to be. You can definitely tell where the pros' thoughts are. They're being aggressive all over the place. They're trying to knock down pins from 220 yards while we're playing more for the front of the green. You can tell little nuances here and there, where they're different than we are.
Q: Were there any "wow" moments?
JB: I was hitting balls next to Rory McIlroy one day. You just have to see it (laughs) – you can't not watch it a little bit. Then there are certain guys – Dustin Johnson when he walks by, oh my goodness. Phil Mickelson, he's a specimen. They're huge. Jim Furyk, Steve Stricker, they're big people and they're in really good shape. But then Rory, he can't be much more than 5-foot-8, and he's hitting a 3-wood just as far as anyone on the planet can hit a driver. It's pretty amazing.
Q: Are there tips from the week that you can relay to your players here?
JB: There are a lot of lessons you can kind of pick up and share with individuals, especially when times come up in tournament situations. About having a game plan before you even get out there, because once you start playing, things go too fast. You can't make too many adjustments on the fly; you have to have a good game plan from the start. Do a lot of work on your short game – it doesn't matter how good you ball-strike it, you're still going to have to be able to get the ball in the hole quickly. Take advantage of good opportunities and eliminate mistakes on holes where you're not in play. How do you handle yourself, how do you go around a golf course, there are a lot of different things you can take as far as that goes.
Most of the time, what I realize is that the pros are just normal dudes. They're not Superman. They hit bad shots. Like Zach – I'm pretty sure I beat him on the nine holes we played, but what happened in the tournament? He was the same guy making the same 8-footers every time, but I turned around and missed them. That's what it's about. When the pressure is on, that's when you want to be at your best, and that's what separates those guys from the rest of the world.
Q: For a new coach, getting to know entirely new teams, this has to give you great credibility.
JB: I hope so. A few years ago when I played the PGA, it definitely helped. I made some new friends and new contacts when it came to recruiting. When it comes to going to college, when you're going to send your child somewhere to go to school, you want somebody who either knows what they're doing or you trust, and in that situation, golfers seem to be trustworthy. But when you make some good friends and you make some good connections, it helps.
Q: And you still haven't met all of your Jaguars yet?
JB: I've met some of the men and have played a couple rounds with a few of them. Definitely good guys. I have not been able to meet with many of the women yet. Our international players are coming in this week, and our first team meeting is on Sunday, so I will get to meet some of them for the first time and start building those relationships.