Blowing bubbles in the summer sun is a time-honored tradition.
But when you gather dozens of future engineers, blowing bubbles no longer requires lungs. Why use your hand to hold the bubble wand when you can just build your own solar tower, attach a small motor to a photovoltaic cell and rig the machine to a pipe cleaner so it can spin through a bath of bubble soap? 
The 76 high school girls who comprised the 12th annual Indiana University-Purdue University Indianapolis Preparing Outstanding Women for Engineering Roles Summer Camp at the School of Engineering and Technology spent July 16-22 conducting experiments and completing projects that showcased the many engineering fields.  
The solar-powered bubble-blowing machines highlighted energy engineering, a newer program than mainstays like mechanical, civic and electrical. This arm of engineering focuses on energy efficiency, energy services, facility management, environmental compliance and alternative energy technologies like solar. The young women took their machines outside to test them under the bright blue sky. The project helped open their eyes to a fun concept within the new, growing field of engineering.
"I didn't know energy engineering was a thing before this camp," said Madison Lindfeldt, a junior at Carmel High School. "It's cool that you can help the environment and be an engineer."
Like at many IUPUI summer camps, students led the experiments. Lilian Nguyen is an energy engineering senior. She saw major potential in her campers, as female students' interest in STEM fields continues to rise.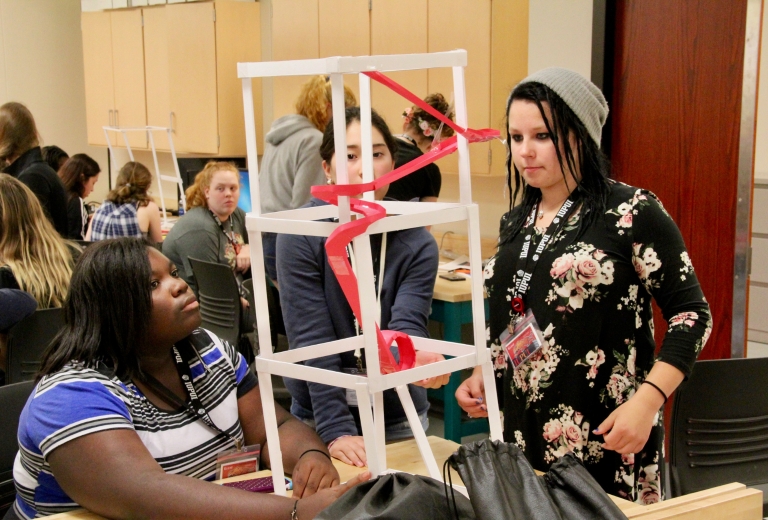 "A lot of girls are stepping out into engineering," Nguyen said. "When I was a freshman, I was usually one of maybe two girls in my classes. Now, I'm one of maybe five.
"In high school, I didn't have guest speakers come talk about technical fields or engineering fields. I didn't get much encouragement to become an engineer. My school didn't have any engineering classes I could take, but things have definitely changed."
Efforts to ramp up female numbers in engineering enrollment nationwide appear to be working, albeit at a slow pace. According to the American Society of Engineering Education, 18 percent of bachelor's degrees in 2008 went to female students. In 2014, that number grew to 19.9 percent.
Female enrollment at IUPUI's engineering program has increased by 52 percent since 2012, according to Terri Talbert-Hatch. She is the associate dean for recruitment, retention and student services for the School of Engineering and Technology.
"When I was in my classes," Nguyen said, "I would feel like I was by myself – so many men and very few girls. This is making it more open." 
The campers came from all over the nation, with some students from as far away as Puerto Rico, California and Texas. Sarah Schellhase drove with her family and friends from Overland Park, Kansas, combining education with a summer family road trip. The daughter of an engineer, she said POWER was worth the 1,000-mile roundtrip.
"I like buildings and bridges; I'd like to go into civil engineering," said Schellhase, a junior in high school. "My school has a lot of the math side of engineering but none of the projects like these here. They've taken a lot of thinking, and I think that will help me come up with out-of-the-box ideas in my classes."
The projects saw trios of students working together all week. Teamwork was built along with solar-powered machines, mini roller coasters and 3-D printed items.
Another aspect of POWER is the opportunity for the young women to tour multiple local companies. During the week, they interacted with professional engineers from Cummins, Rolls-Royce, MISO and Raytheon and saw the inner workings of corporations that some of them were already familiar with. Could they be on the other side of those engineer safety goggles 10 years from now? Will they introduce the possibilities of a career in engineering to girls just like them someday?
"If you look into the room, the enthusiasm is rocking," Nguyen said. "They're willing to learn, and that's what you look for in a camp like this."