The Indiana University Melvin and Bren Simon Cancer Center's 2017 William J. Wright Scholarship has been awarded to three promising future cancer researchers: Indiana University School of Medicine students Ciersten Burks, Teresa Easwaran and Anna Filley.
The scholarship carries with it a $6,000 financial reward and also the expectation that the recipient will devote at least two months to a cancer-related project during the school year. Such projects can range from lab experiments to health outcomes research and cancer awareness programs.
This year's Wright winners represent a wide variety of backgrounds, scholarly interests and motivations for pursuing a career in medicine, ranging from a former captain of the IU women's soccer team to a classically trained cellist to a Purdue University graduate who originally aspired to become an engineer.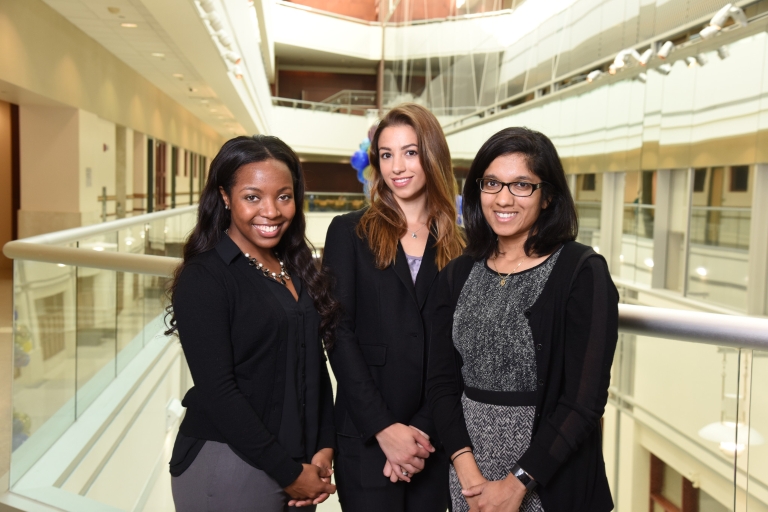 Burks is the soccer player. Or was. Hobbies and recreational interests tend to fall by the wayside when one is in medical school, she said.
"It's been a while, but I'm hoping to play again this summer," she said. "The last time I played was last summer, but I grew up playing the game. I started playing when I was 4 and played all the way through my senior year of college.
"Now I just play recreationally. I still love it. It brought me so much more than just playing the game, including many of my close friendships."
Burks is on track to finish her medical degree in May and plans to make otolaryngology – the treatment of disorders related to the head and neck, including the ear, nose and throat – the focus of her career in medicine.
Otolaryngology, Burks said, "involves a great deal of variety, from head and neck cancer to voice disorders to otology and everything in between. I enjoy it all. I had an uncle who was born deaf, so that has always been of interest to me, especially being able to provide children with cochlear implants."
During the 2016-17 academic year, Burks was a research fellow in the medical school's otolaryngology department, working under the tutelage of Charles Yates, Marion Couch and D. Wade Clapp. She conducted research on neurofibromatosis types 1 and 2, cancer predisposition syndromes of the nervous system that can lead to hearing loss, among other ailments.
"It has been exciting to pair my interest in otolaryngology directly with the research that I've been doing for this past year," she said. She plans to continue to study neurofibromatosis during her fourth year at the medical school.
Easwaran is the music aficionado of the 2017 Wright scholars group. She graduated from IU in 2012 with a biology degree as well as a degree in cello performance from the Jacobs School of Music. Music seemed destined to be her future until her father was diagnosed with stage 4 non-Hodgkin's lymphoma.
"His suffering not only brought me to medical school, but it has kept me motivated in medical school," she wrote in the personal statement that accompanied her application for the Wright scholarship. "Because of my dad's personal battle, I decided I must do something to serve others who are suffering – and I believe that research is critical in my pursuit."
Easwaran's passion for research is evident in the fact that she's done two stints (in the summer of 2015 and then the entire 2016-17 academic year) studying developmental neuroscience in the lab of Alex Kolodkin at Johns Hopkins University School of Medicine in Baltimore. To help facilitate those efforts, Easwaran twice received fellowships from the Howard Hughes Medical Institute, a highly competitive award program.
"Cancer and development are very intertwined because a lot of cancer is like regression back to development, but in some sort of malformed way," she said, explaining her interest in developmental biology. "You can't really understand physiology and cell biology unless you understand development."
Like Burks, Easwaran wishes she had more time for her other interests, particularly cello, but is content to narrow her focus. "My mom always says, 'Oh, you should practice your cello for stress relief.' I tell her it's actually stress-inducing because I know what I used to sound like, and now I don't sound like that anymore."
Easwaran manages to find time to help others, however, through volunteering with the Special Olympics and Down Syndrome Indiana. Her brother has Lennox-Gastaut syndrome, a form of epilepsy characterized by treatment-resistant seizures and intellectual impairment, which spurred her interest in developmental biology research as well as her desire to dedicate time to organizations that aid people with developmental disorders.
Easwaran, who plans to pursue neurosurgery, said the Wright scholarship will be a boon to her long-term goals because of the opportunities it presents to further her research. "Ultimately, I want to be a surgeon-scientist, so having more exposure to learning how to ask the right question and how to answer it is very helpful."
The third 2017 Wright scholarship recipient, Anna Filley, also took a rather unique, circuitous route to the IU School of Medicine and oncology research. She grew up in West Lafayette, Indiana, the daughter of faculty members at Purdue University, and was a Boilermaker as an undergraduate. Filley said Purdue was the most logical choice for her not only because of her familial connections but because of her strong interest in engineering and tackling complex problems and questions.
"I liked engineering in general," she said. "I really liked problem-solving; I always have. It was a logical choice. Obviously their engineering program is fantastic, so I felt very confident when I picked that."
But Filley discovered she actually wasn't interested in pursuing a career in engineering. "I really didn't want to do it," she recalled. "Which was such a bummer to me because I really loved the theory behind it, and I loved what engineers do. I just didn't want to be one."
Fortunately, she chose to major in biomedical engineering, which led her to realize that "medicine, in general, is just one giant problem. Treating people is problem-solving – that's really what you're doing. Someone comes to you and says, 'I have all of these symptoms,' and you have to sift out what's important, you have to ask the right questions, you have to run the right tests, you have to interpret them. And that's fun."
Filley, who expects to receive her medical degree in May, said she has her sights set on a career in neurosurgery. During her time at the IU School of Medicine, she has been doing research in the lab of her mentor Mahua Dey that focuses on glioblastoma, a highly aggressive form of cancer that originates in the brain.
"I find glioblastoma research fascinating because people diagnosed with it have such a poor prognosis," Filley said. "That's one of the things that really got me interested in this field – that there's seemingly little you can do to extend life for a long period.
"When I learned that, I just thought, 'Wow, that's terrifying.' It's really tragic. And that's something that I hope changes, that I get to help change in my lifetime. Hopefully, as with all of the forms of cancers, we will put ourselves out of the job – that's the ultimate goal."
Filley said she intends to make neuro-oncology research and treatment a big part of her career because of the importance of the brain and central nervous system to the overall health and functional abilities of the body.
"I'm biased, but I think it's the most important organ in the body," she explained. "It's what makes people people; it's what allows them to respond to their environment; it's what gives you your thoughts, your feelings; it's what gives your life purpose – I guess, what gives everybody's life purpose. That's why injuries to the nervous system are just so devastating. And so, if I'm a doctor, this seems like a good way to really make a big impact on someone's life and to really give them their life back.
"Also, the more I learned about neurosurgery, the more I learned that there's so much more left to be discovered, there's so much that we're starting to be able to do, but we could do a lot better. And that really intrigues me. I love the idea that you can discover something new, and it seems like a really perfect fit here."
Burks, Easwaran and Filley are all perfect fits for the Wright scholarship, and Filley's reaction to winning the award sums up what it means for all three of them:
"I was really surprised, thankful and excited. I honestly love the research that I've been doing, and I feel really lucky to have found it in general. This is kind of the icing on the cake, and just one more reason to follow my dreams. I feel really lucky."
Brian Hartz, an Indiana University graduate and a Hoosier native, is a seasoned journalist and writer who has lived in Bloomington as well as Auckland, New Zealand; Toronto, Ontario; and Victoria, British Columbia. Brian now lives in St. Petersburg, Florida.