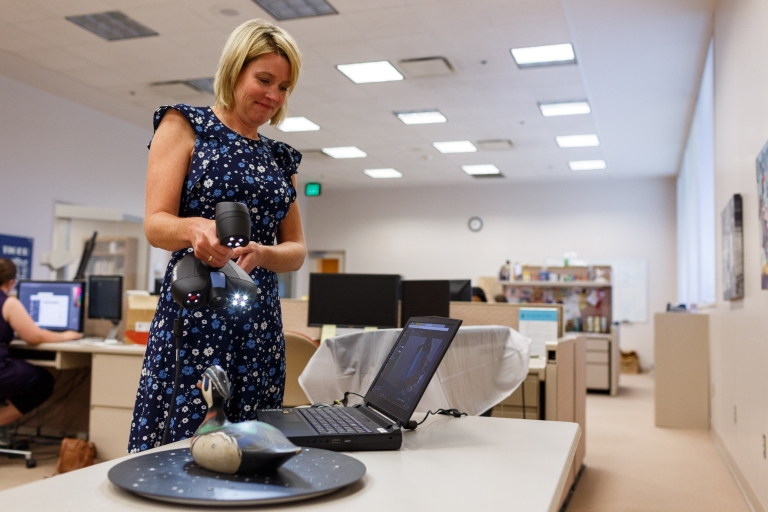 The handheld scanner looks like an old-school video game controller, a clunky throwback to the early days of Atari. But these mobile 3-D scanners used by the staff in the Indiana University-Purdue University Indianapolis University Library Center for Digital Scholarship are actually very advanced technology, and they are changing the way we record recent history, ancient history and even the future.
"About two years ago, we decided to explore 3-D technology and what scanning could look like," said Jenny Johnson, head of digitization services for the Center for Digital Scholarship. "Every community and cultural heritage institution that we work with has 3-D objects. As the technology has gotten better, computer processing has gotten better, and because costs have been reduced a little bit with the technology, we decided to dive into the specifics and see what we could do. The Benjamin Harrison team was really interested in this, and they've got an eCollection initiative to document more of their items."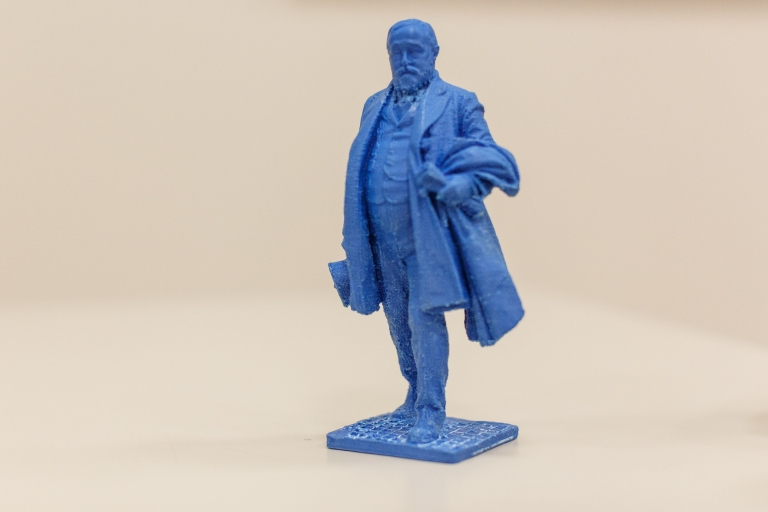 Benjamin Harrison Presidential Site
The Benjamin Harrison Presidential Site, former home of U.S. President Benjamin Harrison, keeps only about 10 percent of its entire collection on display at any given time. Its eCollection initiative, in partnership with the Center for Digital Scholarship, will allow staff to digitally record the physical data of objects not on display, such as furniture, pottery, silver, plates and dresses.
The Benjamin Harrison Presidential Site eCollection initiative is planned to go online around November. One of the things that will set this digital collection apart from most online collections is that users will be welcome to download the digital files and, with a 3-D printer, print their own version of the items.
Want your own reproduction of a Benjamin Harrison statue, or maybe a piece of china? All you need is patience – and a 3-D digital printer.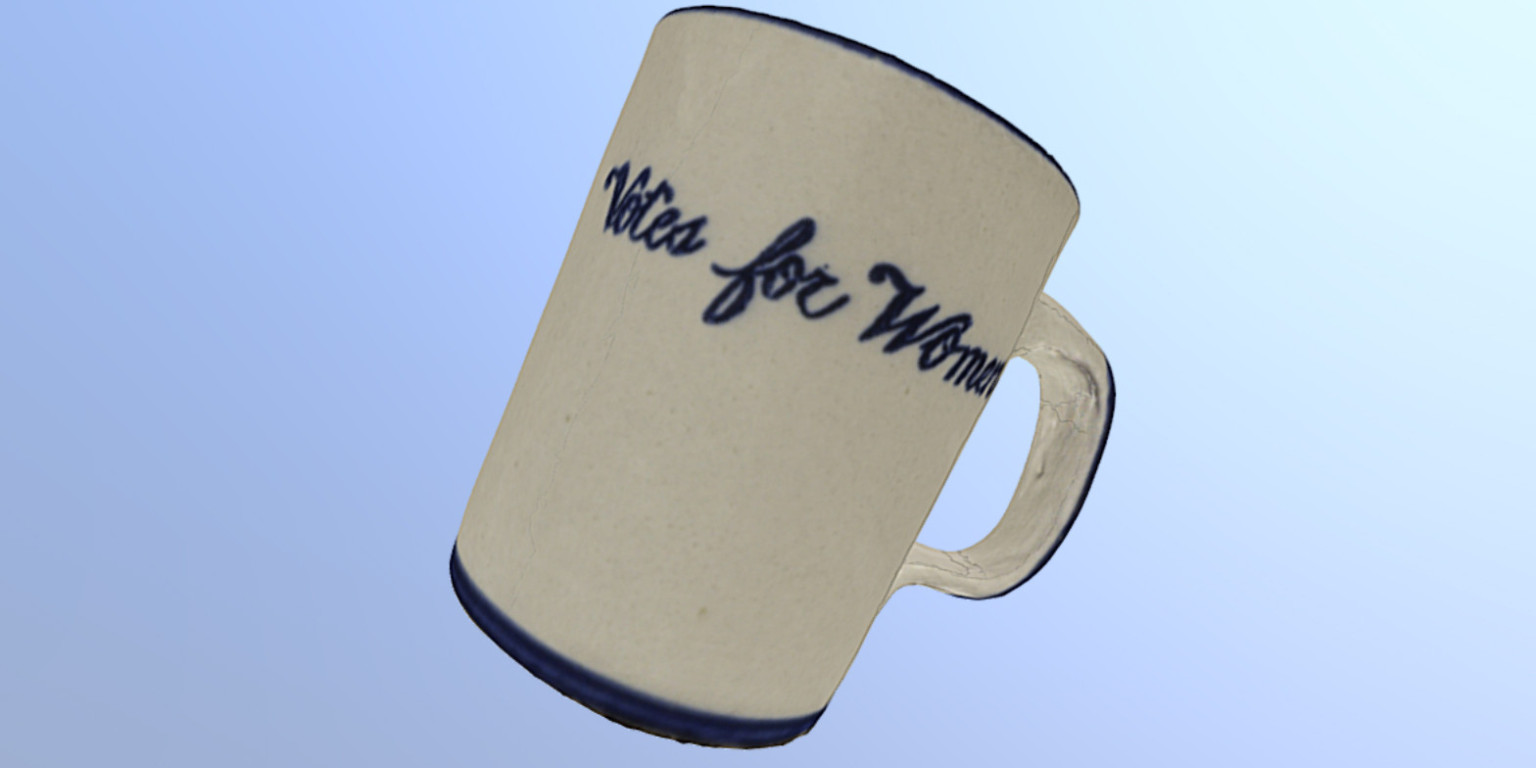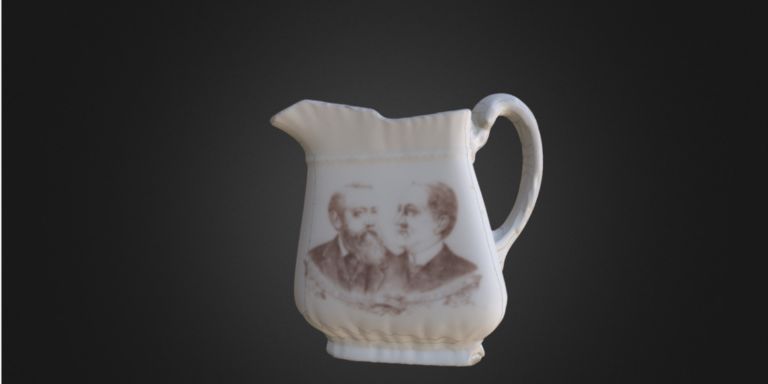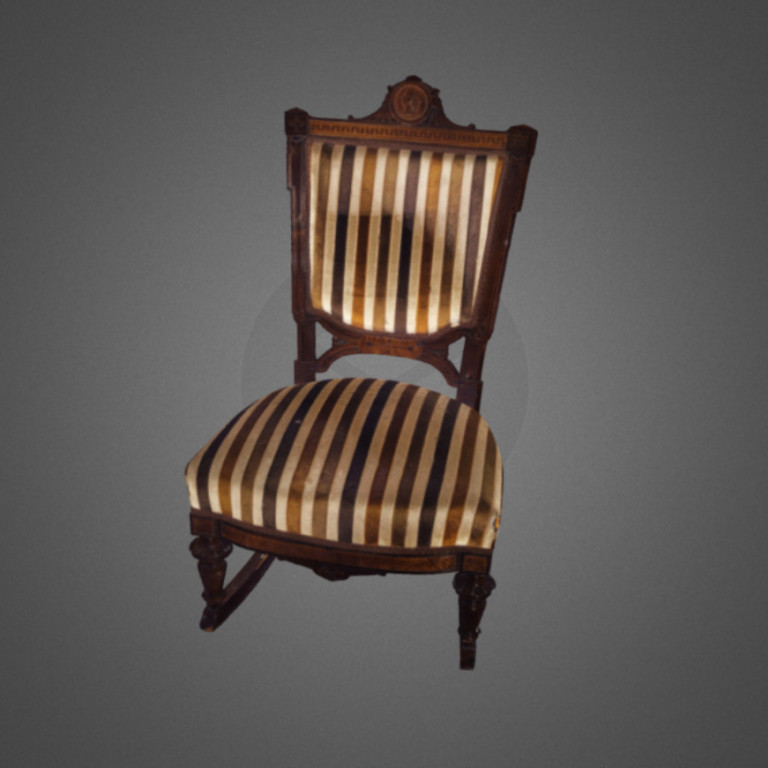 Images courtesy of IUPUI's Center for Digital Scholarship's Sketchfab collection
Lawrenz Gun Club
It's a strange name for an archaeological site. Lawrenz Gun Club is a Mississippian Period fortified Native American village and mound complex in the central Illinois River Valley, active between the years 1150 and 1425. Jeremy Wilson, associate professor of anthropology at IUPUI, studies it; he and his team have been working on the site since 2010. He works with the IUPUI 3-D digital archivists to record what they have found.
"Archaeological sites are finite," Wilson said. "So if you want to do research on them, one of the best ways you can do it, even remotely, is through the 3-D scanning of the objects that we recover. That way, fewer hands touch the artifacts and endanger them over the long term."
Wilson's ultimate goal, in partnership with associate professor Dan Johnson from the geography department (who is also Jenny Johnson's husband), is to build a virtual representation of the site and how the village changed over time.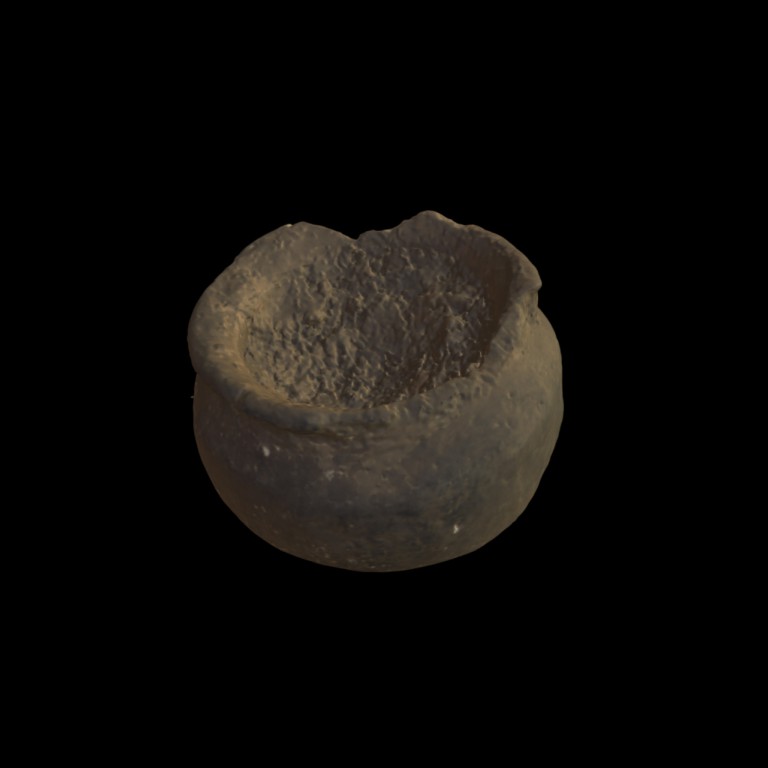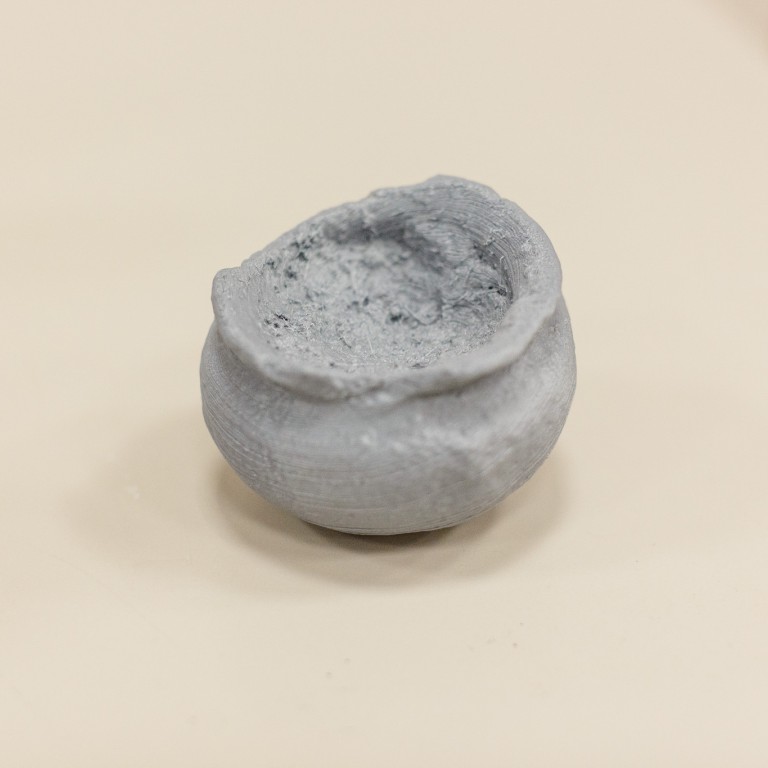 Photos by Liz Kaye, IU Communications, and Jeremy Wilson
"The cool thing that we're doing with Jenny's team and others is building a virtual village," Wilson said. "We're reconstructing from the artifacts and other material remains we've recovered from the site. Basically, we're trying to rebuild the village, what it looked like at certain points in time, and, ultimately, how it evolved and how the village changed from one century to the next."
Community outreach is also a very important factor in recording these villages, Wilson added: "We want to do outreach to local communities so they understand the archaeological resources that are underneath their feet and how to protect and manage them. We also want to reach out to these descendant Native American communities. This is their heritage more than it's our collective heritage, and we recognize that as professionals."
And beyond
Other past and present partners of the Center for Digital Scholarship at University Library include the Indianapolis Motor Speedway Museum, Conner Prairie, the American Red Cross of Indiana and the Ryan White exhibit at the Children's Museum of Indianapolis.
Proving its place at the front of the 3-D digital archiving crowd, the Center for Digital Scholarship recently received a grant from LYRASIS – a nonprofit organization for information professionals – to develop standards for how digital archives are recorded.
Johnson explained: "I'm in a group with several other universities having conversations about best practices, such as file-naming conventions, file formats, formats for augmented virtual reality – information about the object. We are trying to figure out what metadata we need to capture so we can get the most information to whoever needs to research it or use it. "
Do it yourself
This grant could well establish the standards by which future scholarly 3-D digital scholarship objects will be judged.
"To be at the forefront of this important work is a feather in the cap of not only IUPUI University Library, but of IUPUI as a whole," says David Lewis, dean of IUPUI University Library. "This grant will allow us to set standards for the use of these new images, which should last in perpetuity. Jennifer and her team are working to ensure the permanence and accessibility of these important objects."
Any IUPUI faculty member or Indianapolis community organization interested in pursuing 3-D technologies is invited to reach out to the Center for Digital Scholarship at digschol@iupui.edu.