Urban school systems are at a crossroads in many major U.S. cities, fighting declining enrollments and struggling to attract and retain top teachers.
Indianapolis is no different, with consolidation reshaping the face of some districts and educators trying to find solid footing in the shifting landscapes. With these changes come new challenges and opportunities, and the School of Education at Indiana University-Purdue University Indianapolis is poised to strengthen partnerships with local school districts. 
IUPUI's unit, a part of the Indiana University School of Education for its entire history, will formally separate from IU Bloomington next summer. Earlier this month, the IU Board of Trustees endorsed a recommendation to create two separate schools on the Bloomington and Indianapolis campuses.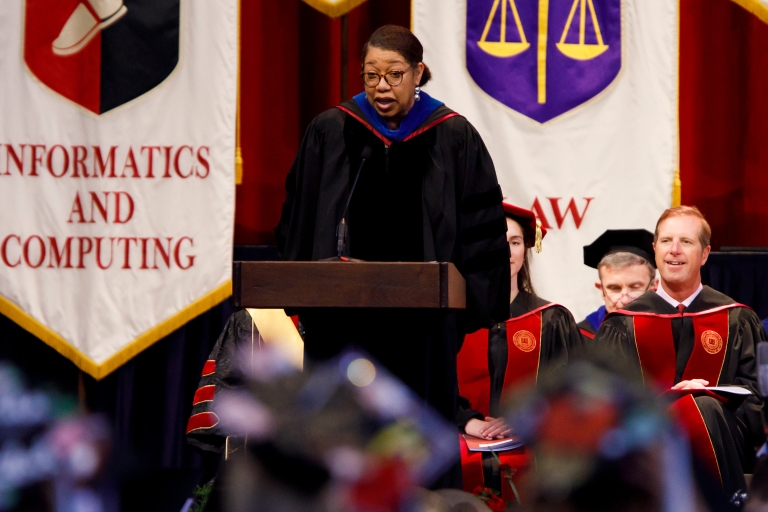 With the move, the School of Education at IUPUI will seek to enhance its programming and reputation in the area of urban education, focusing on Indianapolis Public Schools and other partner school districts. That means providing pathways for individuals from underrepresented groups to gain the education necessary to become classroom teachers as well as continuing to expand efforts related to, among other areas, school administration, teacher and counselor training, curriculum development, and educational technology. The School of Education has more than 40 tenure-track and clinical faculty members. 
"We are perfectly positioned, by geography and by our curriculum, to focus on Indianapolis Public Schools as well as on the evolving needs of urban schools everywhere," said Robin Hughes, executive associate dean for the School of Education at IUPUI. "We will continue to train the next generation of teachers and school administrators and look forward to seeing the impact they'll make in young lives, just as IUPUI's School of Education alumni have done for decades."
The formation of two independent schools reflects one of the top priorities of IU's Bicentennial Strategic Plan, which calls for the university to reimagine its approach to education, with particular attention to trends in teacher education and education research as well as how to best serve the critical educational challenges that the state and nation will face in the coming decades.
"These changes will enable IUPUI to further the strong impact it has had on improving urban education and position the new school as one of the premier schools of education with a focus on the issues and challenges presented by urban environments," Nasser H. Paydar, IU executive vice president and IUPUI chancellor, said in an Aug. 11 press release.