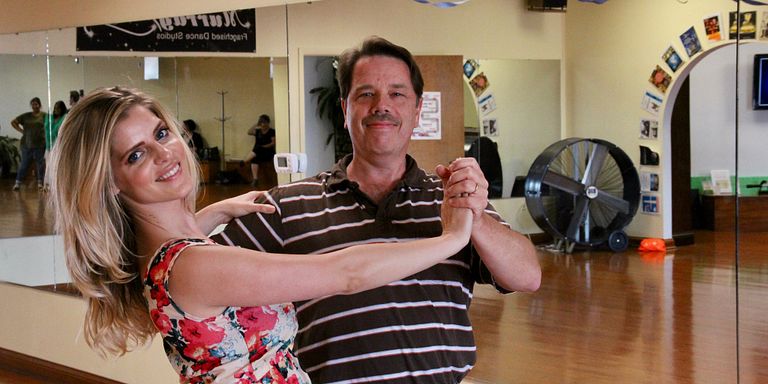 When he's not making CD4 regulatory and follicular helper T cells dance under the microscope, Alexander L. Dent does some moving himself. 
The professor of immunology and microbiology at Indiana University-Purdue University Indianapolis has been pursuing a passion for ballroom dancing for the past five years. He has been a student at the Avon location of Arthur Murray Dance Studio and has performed around Indiana. From swing to tango, Dent has danced them all. 
"It's a wild ride," said Dent before a recent rehearsal in Avon. "It's better than anything you can do at an amusement park, I think. Once you have a routine and you can run through it, it's super-fun. It's a lot of adrenaline."
Dent first laced up his dance shoes after shepherding then-9-year-old daughter, Anjani, to her own ballroom dance lessons. It looked like fun, so he gave ballroom a go. Wife Lakshmi joined in, and now the family rehearses together and has performed together in showcases.
Description of the following video:
Video transcript
IUPUI Professor is the king of swing, immunology and microbiology video on https://www.youtube.com/watch?v=8z7dd7Uz-Yc
[Words appear: IUPUI presents]
[Video: Alexander Dent dances with instructor]
[Alexander Dent speaks: It's just something I never really did before. I never really appreciated dance before, but once I started doing it, I liked it a lot. It's a good brain activity as well as reasonably good activity and there's studies that say it's good for you and that sort of thing.]
[It's neat, because it's better than anything that you could do at an amusement park, I think. Once you have a routine and you can run through it, it's just super fun to go through the whole thing. It's just a great ride and just a lot of adrenaline. Once you get into the more advanced dance, there's a lot of technique and a lot of careful things you have to think about.]
[I'm not naturally very, physically talented or anything like that. I'm a little clumsy, I guess, so it's probably harder for me to learn this than other people but I think it's still really good, and I feel like I've grown into it.]
[Words appear: IUPUI Fulfilling the Promise]
[End of transcript]
In his immunology lab nestled in the Indiana University School of Medicine's R2 Research building, Dent is in charge of School of Science graduate students as he pursues research to help humans resist disease and allergies. He also instructs America's future physicians in immunology classes at the medical school.
With ballroom dance, he was reminded that learning never stops. There is always the next level to attain, whether it's science or salsa dancing.
"It's a good combination of exercise and mental activity," Dent said. "I never appreciated dance before, but once I started doing it, I liked it a lot. A routine goes by in a second. I don't think I even take a breath the whole time." 
Immunology to a T
Dent's work with regulatory T cells, which modulate the immune system while maintaining tolerance to self-antigens in hopes of preventing autoimmune or inflammatory disease, has been growing since his arrival to Indianapolis in 1998. His research looks to understand and eventually improve the responses of lymphocytes that help produce antibodies. His research on follicular helper cells, which are found in the spleen and lymph nodes and protect us from germs, aims to better control cellular response. His work can lead to better vaccines, and one ultimate goal is developing an effective HIV vaccine.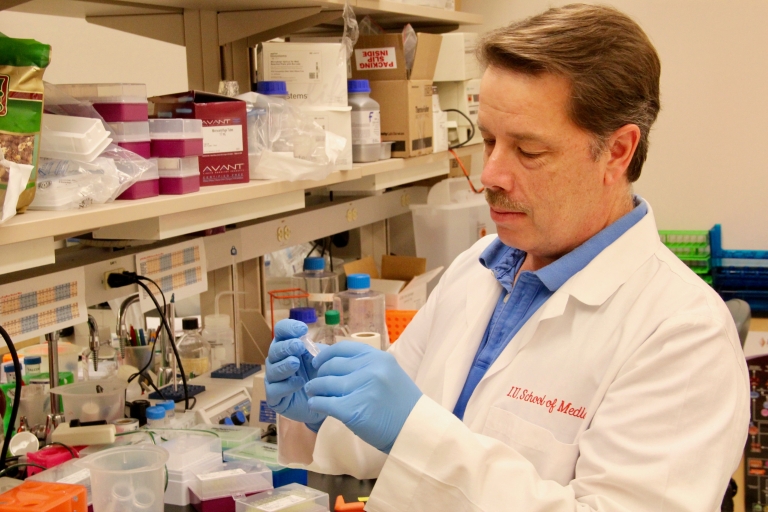 Testing on mice, Dent developed a model for transcription factor BCL6, which is critical for both Tfh cell differentiation and the differentiation of germinal center B cells and antibody-secreting plasma cells. The mouse model has been distributed worldwide and helps guide other immunologists as they dig into work with T cells. 
Utilizing the training he received in the University of California system, Dent's current research digs deeper into finding ways to make our immune system stronger. His work also explores tumorigenesis via the BCL6 gene, which can initiate the cancer process when it is mutated.
"It's a very complicated factor in terms of it not having a straightforward pathway to how it's regulated and how it acts," Dent explained. "It turns off genes rather than turning them on, so that makes things a little trickier to look at. But we've found that it's a really important regulator that actually represses inflammatory genes." 
Science on the dance floor 
Dent never claimed to be a natural ballroom dancer, but his love for music – as a classically trained pianist and devourer of tunes, from heavy metal to jazz – helped pique his interest in the activity. But most importantly, he saw the fun that young Anjani was having at her lessons, and he recognized dance's physical and mental positives. It also helped strengthen the family bond. When the Dents showed up for a recent rehearsal at Arthur Murray, the studio's staff lit up. The Dent family has become a staple in Avon.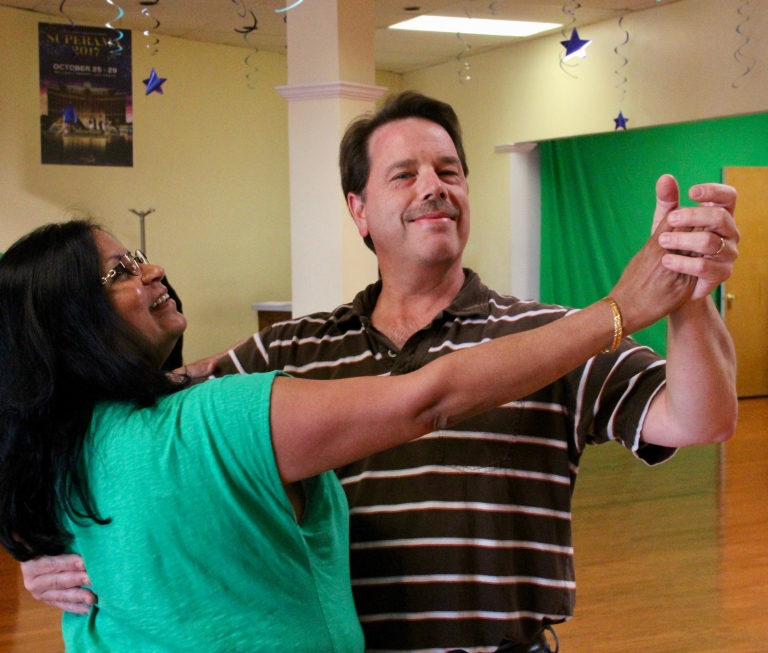 "He has progressed so much," said Lollie Henshilwood, an Arthur Murray instructor who has worked with Dent for the past four years. "He's one of my favorite students to teach because he is so creative. There are so many different layers to him."
Henshilwood agreed that there is a science to ballroom dance.
"We could all just get out there and flop like fish, or instead, you can learn how your body moves," she explained. "You can learn from the feet up. It is a science, and he's almost mastered it. I'm very proud of him."
Back in the lab, Markus Xie, one of Dent's Ph.D. students, was familiar with his professor's dance pursuits almost as much as his breakthroughs in T cell research.
"I think outside activities help us relax," said Xie, an avid golfer. "Sometimes we also relax in the lab, but it's better to get some balance in life."
That balance has helped Xie take Dent's foundational work and apply it to some "very promising" food allergy research, namely how and why some humans suffer from peanut allergies. Xie said the work can have some future ramifications for food allergy sufferers. 
While Dent doesn't plan on turning into a professional ballroom dancer, he does find the new hobby helpful. The cellular research he choreographs actually gets a boost from his artistic side.
"Once you get into the more advanced dancing, there's a lot of technique and lot of careful things you have to think about," he said. "I feel like I've grown into it."