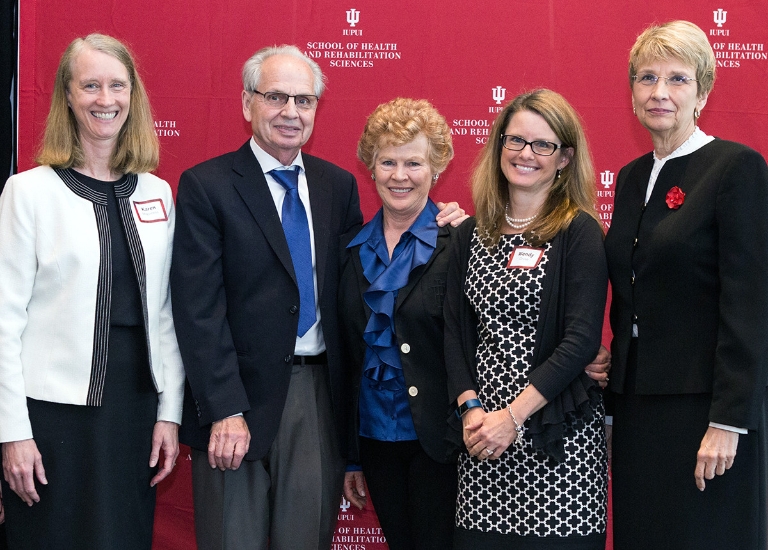 INDIANAPOLIS – Wendy Cruse and Karen Maguiness, clinical pediatric dietitian/nutrition specialists at Riley Hospital for Children, have been awarded the 2017 Rickard Leadership in Pediatric Nutrition Award by the Indiana University School of Health and Rehabilitation Sciences at Indiana University-Purdue University Indianapolis.
The Rickard Award was established by Professor Emerita Karyl Rickard and her husband, Eugene Rickard. The annual award is presented to alumni or graduate students who have made significant contributions to or demonstrated leadership in the field of pediatric nutrition.
Cruse's leadership accomplishments as an author, a speaker and a clinical dietitian in the areas of neonatal intensive care, organ transplantation and short bowel syndrome have left a national mark.
In 1990, Cruse completed a neonatal/pediatric nutrition fellowship at Riley Hospital, and later she earned a Master of Medical Science degree from the IU School of Medicine. She spent several years as a pediatric clinical dietitian specialist in a variety of settings throughout Riley Hospital.
Currently, Cruse provides the highest level of nutritional expertise for vulnerable infants in the neonatal intensive care unit at Riley as well as for children who receive transplantation. She authored nationally recognized chapters in the Surgery Handbook and in the American Society for Parenteral and Enteral Pediatric Nutrition Support Core Curriculum. 
"Wendy is a leader and master clinician who is sought locally, regionally and nationally by the elite – surgeons, physicians and nutritionists – for her expertise, primarily because of the good nutritional and neurocognitive outcomes of extremely high-risk infants and children that she treats," Karyl Rickard said.
Maguiness is nationally recognized as an author, a speaker and a clinician for her nutritional expertise in caring for children with cystic fibrosis. In 1985, she completed a pediatric nutrition fellowship at Riley after receiving a Master of Science degree from the Institute of Health Professions at Massachusetts General Hospital. She then served as a pediatric clinical dietitian specialist for more than 30 years, primarily in the area of cystic fibrosis, at Riley Hospital. 
As a dietitian/nutrition leader at the Cystic Fibrosis Foundation, Maguiness participated in developing national clinical care guidelines, nutrition education materials and research that documented improved pulmonary outcomes.  She has also received regional and national awards for her leadership in the field of nutrition and cystic fibrosis. 
"Through Karen's pioneering spirit, team spirit and leadership contributions at the national level, she has improved the lives of many thousands of infants and children with CF. She is uniquely positioned to continue to make significant contributions in this area," Rickard said.