INDIANAPOLIS – The Indiana University-Purdue University Indianapolis Upward Bound program has received a grant renewal for more than $2.8 million over five years from the U.S. Department of Education. The funds will enable the campus to continue providing college-readiness programming to low-income high school students in Indianapolis.
IUPUI will receive $570,221 annually for Upward Bound, one of eight federal TRIO programs that are designed to identify and provide services for individuals from disadvantaged backgrounds. The grants – one for each of two target locations – help IUPUI target six local high schools with traditionally underserved populations and first-generation college families.
"Our population is very diverse. We work with Indianapolis Public Schools and Warren Central High School. About 70 percent is African-American, 20 percent is Hispanic, and 10 percent is white or multicultural," said Roxanne Gregg, director of IUPUI's Upward Bound, which is housed in University College within the Division of Undergraduate Education. "We work not only with students, but also with families and the communities where the families reside. A lot of times, people don't understand what it takes to go to college, all the little hidden languages that are involved. What we do is unpack that."
As part of their enrollment in the program, students receive assistance in college planning and preparation, and they tour colleges throughout the state during the academic year. During the summer, they live at IUPUI, take courses – 24 of 75 students taking classes this summer earned college credit and an average GPA of 3.6 – and receive mentoring and internship opportunities on campus.
IUPUI also hosted a statewide "Olympiad" for more than 300 Upward Bound participants this summer. Students from across the state competed in physical and academic challenges over two days to further reinforce the college experience and provide exposure to IUPUI's campus.
"The program is a place where we try to expose the student holistically, not only in a strong academic sense," Gregg said. "We want to expose them to experiences similar to their peers who are able to have other opportunities."
The hope is also that the impact on students will have a trickle-down – and trickle-up – effect throughout families and communities.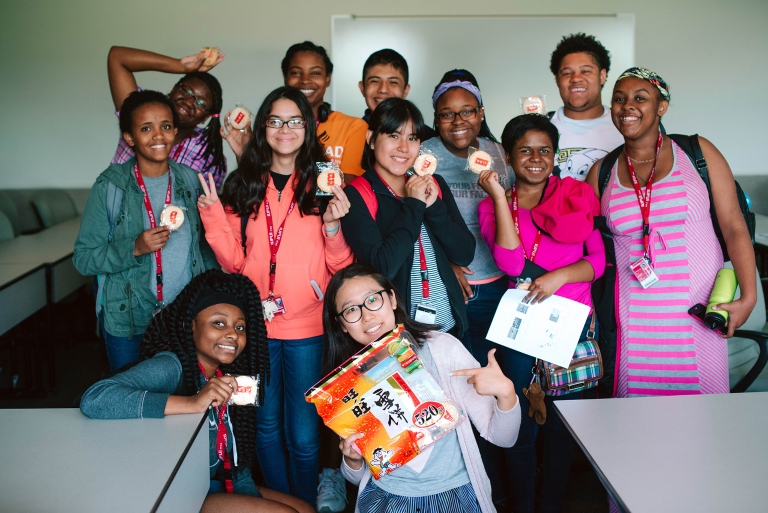 "Having these experiences will allow outreach to their siblings, and it flows over to their parents," Gregg said. "A lot of times when students go to college, I will see parents enter college because of the experience they have going through the process with their student in the program."
While the Upward Bound program sees the benefit of bringing students to IUPUI specifically, its primary goal is to prepare students for any college experience.
"Of course I want them to come to IUPUI, but my goal is for them to go to the college where they're going to best succeed. Sometimes it's IU, sometimes it's Ball State, sometimes it's Indiana State and sometimes it's Ivy Tech," Gregg said. "We have about 20 on average who graduate through our program each year. Usually, you'll see three to four matriculate back to IUPUI. And often, you see them circle back a year later.
"In the same way, I have a lot of students from different colleges that host Upward Bound who seek us out and come to IUPUI. So they find a home. They're like, 'I was an Upward Bound student at Notre Dame, but I'm coming here.'"
Upward Bound has served the IUPUI community since 1995. It currently works with Arlington Community High School, Arsenal Technical High School, Broad Ripple Magnet High School for the Arts and Humanities, Emmerich Manual High School, Northwest Community High School, and Warren Central High School/Walker Career Center.