INDIANAPOLIS – The freshman class that began studies this week at Indiana University-Purdue University Indianapolis is the biggest, brightest and most diverse in the campus's 49-year history.
With the fall semester just getting underway at IUPUI, the latest figures project 4,115 beginning freshmen having enrolled, up 2.8 percent from last year and greater than the previous largest entering class, which was in 2014.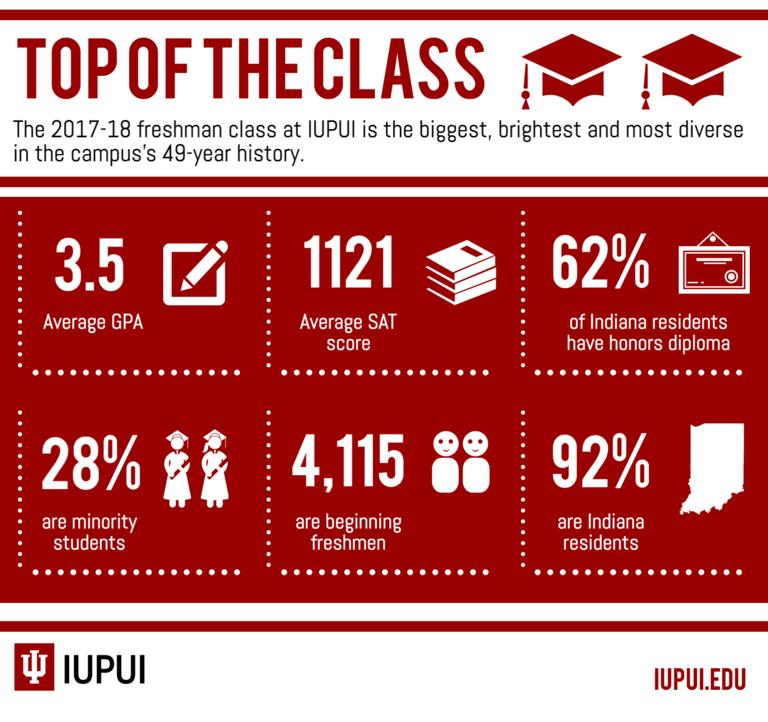 "As we welcome this large, talented, diverse group of new students to IUPUI, we look forward to all that they will contribute to our school and our state," Chancellor Nasser H. Paydar said. "We strive to help all students succeed at IUPUI, and I'm inspired to see that this class arrives on campus with a history of high achievement."
Minority students constitute 28.3 percent of the freshman class in Indianapolis, up from 24.7 percent in 2015. Hispanic/Latino students make up the largest minority group, at 9.8 percent, while African-American/black students compose 8.2 percent of the class.
The average GPA of this year's freshman class is 3.5. The class's average SAT score is a record-high 1121. Also, 62 percent of Indiana-resident freshmen at IUPUI have an honors diploma.
"We are extremely excited for the incoming class of Jaguars, who bring new energy to IUPUI," said Boyd Bradshaw, associate vice chancellor for enrollment management. "Their educational accomplishments mark significant milestones for our campus, and their diverse perspectives and ideas will strengthen education across the board."
IUPUI as a whole continues to enroll the highest number of Indiana residents among the state's educational institutions. In-state students make up 92.2 percent of the freshman class, joining the 2.3 percent who are international and the 5.5 percent who hail from another U.S. state.