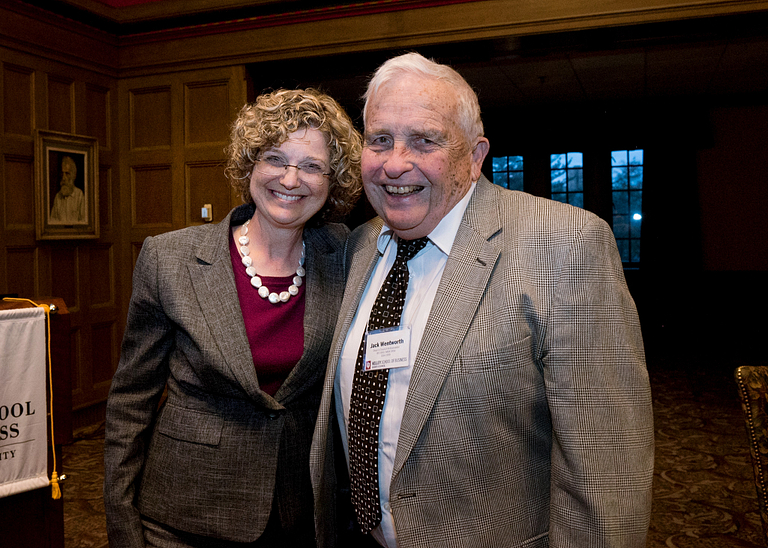 Jack R. Wentworth, who led Indiana University's Kelley School of Business during a crucial time in its history, passed away Sept. 11 in Indianapolis at the age of 89, surrounded by loving family.
During his tenure as dean, Kelley's undergraduate and MBA programs rose to greater national prominence. Private support for the school grew nearly fivefold, and membership in its alumni association nearly doubled.
Wentworth, who led the Kelley School from March 1984 through June 1993 and was the Arthur M. Weimer Professor Emeritus of Business Administration, also laid the foundation for the Kelley School's extensive international involvement today.
"Jack Wentworth introduced pivotal changes to the Kelley School, allowing our organization to achieve recognition as a leading business school in the U.S. Many of his initiatives are still in place today," said Idalene "Idie" Kesner, dean of the Kelley School and the Frank P. Popoff Chair of Strategic Management.
"Jack will be deeply missed by the entire faculty and staff of the Kelley School and by members of the IU community overall. His gentle demeanor and thoughtful leadership left its mark on the culture of our school, and we will forever be grateful," Kesner added.
Wentworth served on the school's faculty for nearly 40 years, joining the faculty as assistant professor in 1959 after earning three degrees in business from IU, serving as a lieutenant in the U.S. Air Force and working in advertising for the Cadillac Division of General Motors.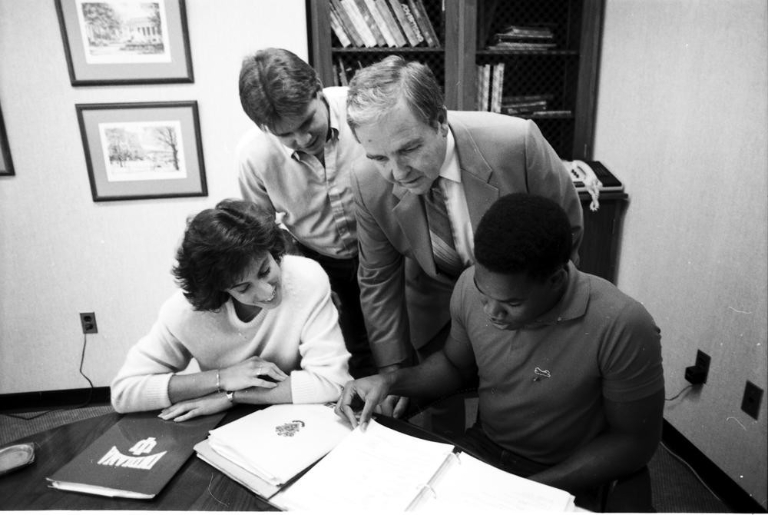 Born June 11, 1928, in Elgin, Illinois, Wentworth transferred to IU from Carleton College as an undergraduate, earning a Bachelor of Science degree in 1950, a Master of Business Administration in 1954 and a Doctor of Business Administration in 1959.
A marketing professor, Wentworth directed the business school's Division of Research (a precursor to Kelley's Indiana Business Research Center) from 1961 to 1971 and the MBA program from 1971 to 1976. He also served as the school's acting dean from January to mid-August 1983.
Wentworth was instrumental in establishing the Consortium for Graduate Studies in Management, a national organization that since 1966 has helped thousands of students from underrepresented populations to earn an MBA and hold executive positions in corporate America.
"As you well know, the country was going through the same kind of thing that we were going through. We just happened to be a school that recognized this is something we needed to do," he said in an interview last year for an article about the organization's 50th anniversary. "It was something that I think took a lot of guts to do, particularly at our level. We did it and it worked, and other schools could see that it worked and they gave us credit for it."
The IU Kelley School was one of three founding members of the consortium, which Wentworth helped direct from 1968 to 1978 and chaired for two years, raising money from U.S. companies to support talented minority students pursuing graduate studies in business.
Shortly after becoming dean in 1984, Wentworth enacted several important organizational and academic changes in the business school, which included creating a separate office for the dean and new associate deanships, while consolidating academic departments for greater effectiveness.
Several research centers and institutes, many of which are still in existence today, were created during Wentworth's tenure, including the Johnson Center for Entrepreneurship and Innovation and the Center for Real Estate Studies. The school also made a concerted push to bring an international perspective to its curriculum by creating a number of overseas student experiences, including those in the Netherlands, Chile, Slovenia and Hong Kong.
During the late 1980s and the early 1990s, when Central and Eastern Europe were emerging from longtime control of the Soviet Union, the business school became involved in efforts to provide management training and education in economics for businesspeople and business teachers in these countries. Wentworth supported efforts to create the Hungarian International Blue-Ribbon Commission, a multi-year effort to direct Hungary's transformation into a market economy.
Other initiatives Wentworth supported included the MBA Enterprise Corps, which sent graduate students to Eastern Europe to assist with local businesses as well as faculty consulting activities in Russia and countries in the former Soviet Union.
The Kelley Indianapolis campus underwent extensive restructuring under Wentworth's direction, resulting in more organizational independence for administrators and faculty.
At a time before business became a popular topic on network television, Wentworth created and hosted a television series, "Business Perspectives," which aired on public television stations across Indiana.
Wentworth also was active in national organizations. He served as national vice president of the American Marketing Association, president of the Association for University Business and Economic Research and chairman of the board of trustees of the Graduate Management Admissions Council. He also was elected to the board of governors for Beta Gamma Sigma and served as its president and chaired the selection committee for the Central Indiana Business Hall of Fame, sponsored by Junior Achievement.
He also became actively involved with the IU Simon Cancer Center Development Board after his wife Rosemary's successful battle with the disease as a 14-year cancer survivor.
From 1978 to 1985, Wentworth served as IU's faculty representative to the Big Ten Athletic Conference and the National Collegiate Athletic Association. In 1980-81, he was chairman of the Big Ten Conference and also was chair of its management review and finance committee. He was a member of the Select Committee on Athletic Problems and Concerns in Higher Education, an independent commission established by the NCAA in 1982.
In 1999, Wentworth was honored with IU's Distinguished Alumni Service Award. After stepping down as dean in 1993, Wentworth remained on the Kelley faculty until 1997, when he retired.
He also served as a director on several corporate boards, including for Kimball International Inc., Bank One Bloomington, IPCO Corp. and Lone Star Industries. He also consulted for General Motors, Hallmark Cards, General Electric, the Indiana Automotive Dealers Association and other entities.
Wentworth was preceded in death by his wife of 50 years, Rosemary, who passed away in 2006, and is survived by their daughter, Barbie Wentworth Morel; son-in-law, Don Morel; a grandson named after him, Jack Morel, a freshman at the University of Michigan; and beloved caregiver, Phil Morel. A son, Bill Wentworth, and his wife, Karen, of Newark, Ohio, also survive.
He will be laid to rest with his wife at Valhalla Memory Gardens after a private family service. A memorial service to celebrate Jack's wonderful life will be held Oct. 16 at a location to be determined on the IU campus.