Indiana University statement on decision to end DACA
Indiana University President Michael A. McRobbie issued a statement Sept. 5 about the Trump administration's announcement that it will terminate the Deferred Action for Childhood Arrivals program, which protects eligible young immigrants from deportation.
"Indiana University is deeply disappointed in the Trump administration's decision to end the Deferred Action for Childhood Arrivals program, especially in light of the administration's prior statements expressing support for young people protected by DACA and the strong bipartisan support that exists nationwide for maintaining the program," he said.
Read McRobbie's entire statement.
Kinsey Institute's legacy lives on with 70th anniversary historical exhibition and celebration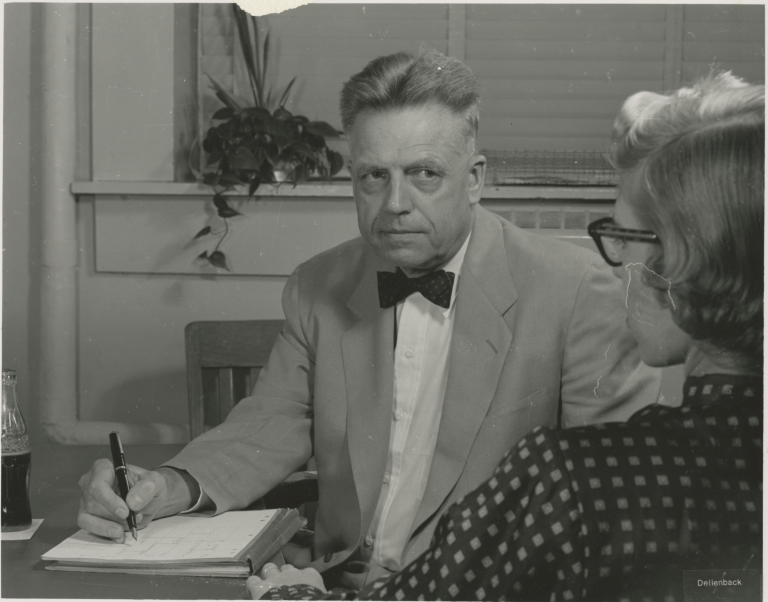 The Kinsey Institute at IU is celebrating a milestone this year: 70 years of sex research.
To honor the Kinsey Institute's legacy, an open house and the unveiling of a new historical exhibition will take place Saturday, Sept. 16. From noon to 6 p.m., visitors can attend short presentations on the institute's art, research and history, and authors will be on hand to sign copies of the newly published "The Kinsey Institute: The First Seventy Years."
The 70th anniversary historical exhibition is displayed in the halls and galleries of the newly restored Morrison Hall. Exhibits include historical photographs, contributions of Kinsey Institute directors, research findings and art.
Workshop covers how to conduct and publish systematic reviews
For faculty members interested in learning more about how to integrate evidence into the classroom, the clinic or patient care, the American Dental Association is hosting an upcoming workshop titled "How to Conduct and Publish Systematic Reviews and Meta-Analyses."
The hands-on workshop is an opportunity to learn how to write a systematic review with guidance from dental research experts, including the editor of the Journal of the American Dental Association. The workshop is also an opportunity to gain firsthand knowledge of how to search for research, appraise this evidence and consider its application in clinical scenarios.
The workshop is scheduled for Nov. 2 to 4 at the Hilton Chicago O'Hare Airport. Course tuition is $750 for ADA members and $900 for non-ADA members.
IU East professor appointed Graf Professorship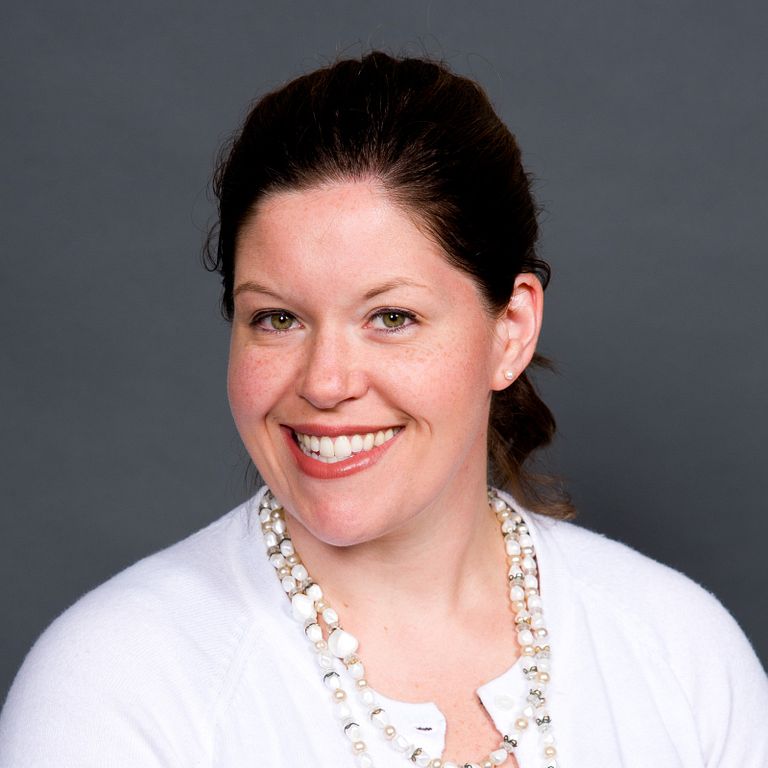 Rosalie Aldrich, a faculty member in the School of Humanities and Social Sciences at IU East, has been appointed to the John and Corrine Graf Professorship. Aldrich joined IU East as an assistant professor of communication studies in fall 2011, and her research interests include health communication, suicide prevention and intervention.
The professorship was established in remembrance of John and Corinne Graf by their daughter, Dorothy Thorman, in September 1998. John Graf was the president of IRC&D Motor Freight. Graf started his own business in the trucking industry as a pick-up and delivery service, and he expanded it into a company of over 300 employees and eight terminals.
Michelle Malott, executive vice chancellor for academic affairs, said the three-year renewable professorship recognizes Aldrich's excellence in scholarly achievement and teaching.
Welch Q&A on Equifax breach
Equifax data breach got you worried? You're not alone. IU cybersecurity guru Von Welch answered questions on everyone's mind in a Q&A in Science Node.
Welch, director for the Center for Applied Cybersecurity Research, shared his take on what happened, what people can do about it and how the next breach can be prevented.
IU Bloomington, IUPUI receive 2017 Higher Education Excellence in Diversity Awards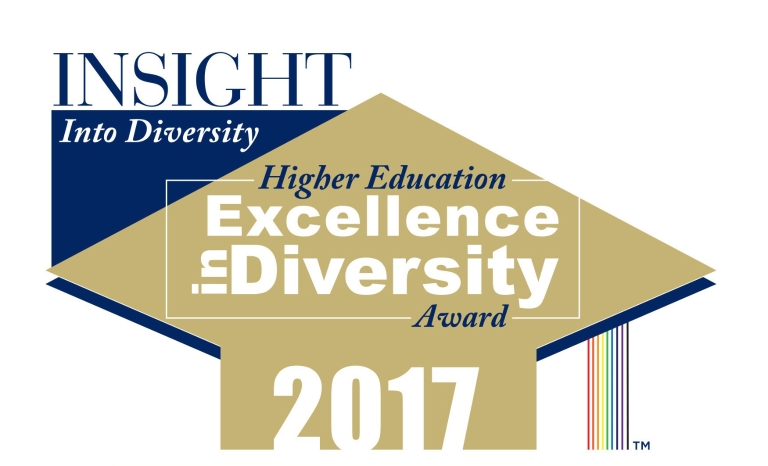 IU Bloomington and IUPUI have once again received the Higher Education Excellence in Diversity Award from Insight Into Diversity magazine, the oldest and largest diversity-focused publication in higher education.
This is the third year IU Bloomington has been honored as a HEED Award recipient and the sixth year that IUPUI has been recognized. The award recognizes schools that have demonstrated a strong commitment to diversity and inclusion through their innovative programs, hiring practices, training, curriculum and on-campus support systems.
Both campuses will be featured, along with the other recipients, in the November 2017 issue of Insight into Diversity magazine.
Several IU programs near the top in world university rankings
IU programs in library and information science, public administration, communications, sociology and business are among the best in the world, according to the 2017 Academic Ranking of World Universities. The rankings refer to academic disciplines, not to specific schools or departments.
The methodology ranks universities and their programs on five indicators: alumni and staff winning Nobel Prizes and Fields Medals; highly cited researchers identified by Thomson Reuters; articles published in journals of Nature and Science; articles indexed in Science Citation Index-Expanded and Social Sciences Citation Index; and per-capita performance. More than 1,200 universities are ranked every year, and the top 500 are published.
The rankings are regarded as among the most influential and widely observed measures of university academic quality.
IU welcomes record freshman classes at IU Bloomington, IUPUI – biggest, brightest and most diverse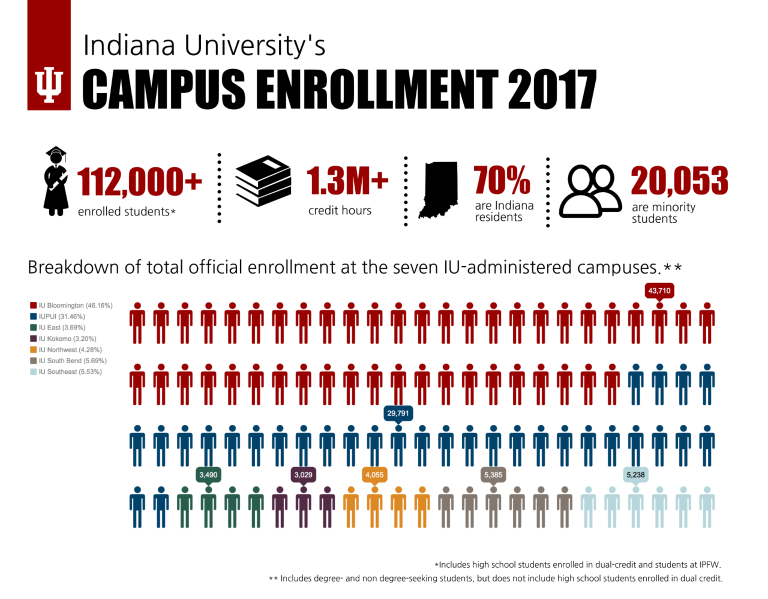 IU campuses in Bloomington and Indianapolis have welcomed their largest, brightest and most diverse freshman classes ever.
On the IU Bloomington campus, there are 8,001 beginning students, who are 23.6 percent minority and have an average SAT composite of 1295, which is up nine points over last year. The IUPUI campus has 4,093 beginning students, who are 27.9 percent minority and have an average SAT composite of 1118, which represents an increase of four points.
Enrollment at all levels across the university remains robust this fall, with IU serving more than 112,000 students across the state. Those students are also taking more than 1.3 million credit hours. The tallies include students enrolled in IU programs at Indiana University-Purdue University Fort Wayne and in high schools taking dual credit through the Advance College Project.
These numbers were reported Aug. 29, the official IU census day for the fall semester.
Nominate faculty members for John W. Ryan award
The application deadline to nominate faculty members for the John W. Ryan Award for Distinguished Contributions to International Programs and Studies is Oct. 16.
Initiated in 1991, the award is named for the late IU president emeritus who led the university from 1971 to 1987 and was instrumental in fostering IU's commitment to excellence in international education. The award honors IU faculty members who have made exceptional contributions to the university's international programs and engagement. One award is given annually to tenure-line, full-time faculty members who may represent any IU campus.
The award will be presented at the Celebration of Distinguished Teaching and accompanied by a certificate and a cash award. A complete list of recipients is available.