Mozart. Beethoven. Bach. Chopin.
These are the names most commonly associated with classical music. But you won't find them on any albums released by New Dynamic Records, a fully functioning record label housed at Indiana University Southeast.
That's because Erich Stem, New Dynamic founder and associate professor of music at IU Southeast, started the label 12 years ago with the mission to record and document the music of our time.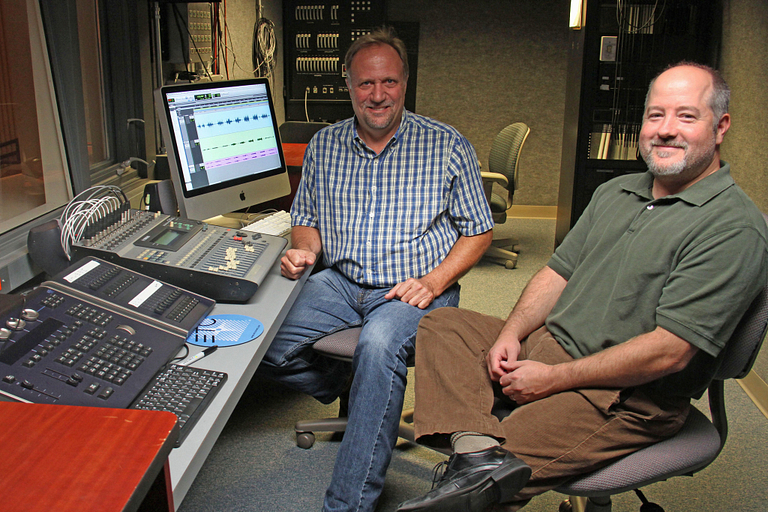 "Most classical labels only push out music by composers we jokingly refer to as the 'dead European guys,'" Stem said. "But there are Mozarts and Beethovens who have written music in our century and are writing music today."
The label is part of Stem's larger initiative, The New Music Project, which is funded by an IU grant and was inspired by his own experiences as an art music composer. Stem started writing music as a 12-year-old after seeing the film "Amadeus." When he nailed his scales and etudes during his violin lessons, his teacher would award him by playing duets he had composed. After studying the music industry at the James Madison University and earning his Doctor of Musical Arts in composition from the University of Maryland, Stem found himself on the IU Southeast Department of Music's faculty with Tim Haertel, executive sound engineer for New Dynamic.
Haertel had been involved in the music industry since he was a long-haired kid dubbing cassette tapes in garages on the outskirts of Louisville. Musician, recording engineer and staple in the Louisville music scene Gary Falk took Haertel under his wing, eventually handing his studio off to Haertel when he retired.
While running the studio, which he renamed TNT Productions, Haertel started recording concerts at IU Southeast on the side. When the school found itself without a teacher for a sound engineering course, Haertel stepped up. One class turned into several classes, and eventually he became a full-time faculty member.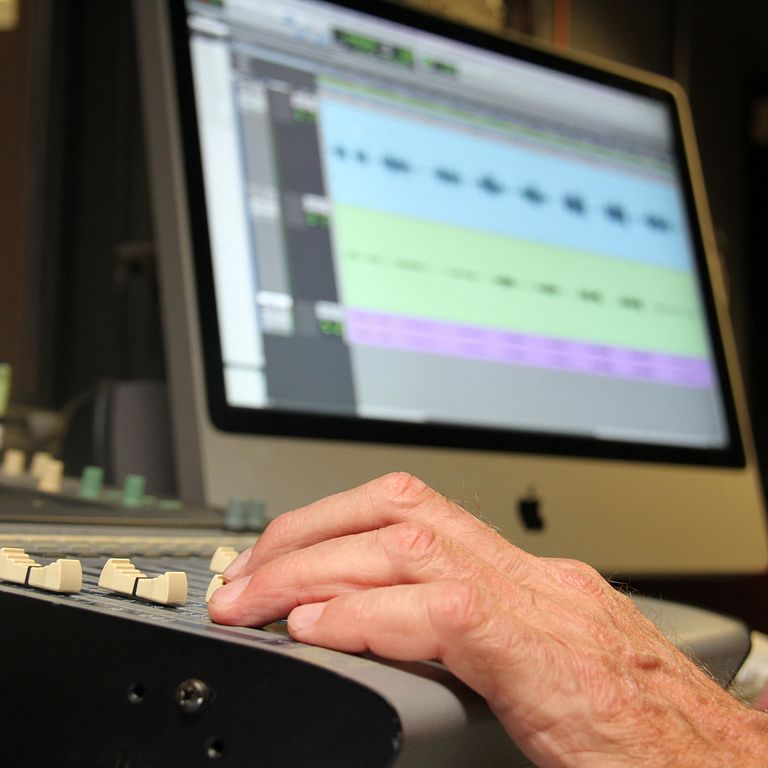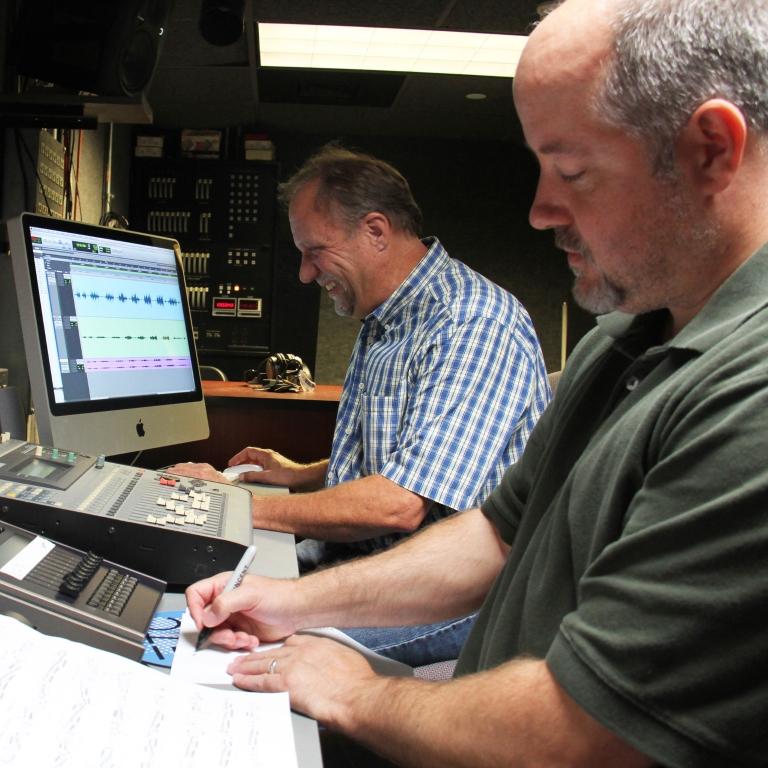 Stem and Haertel's partnership at New Dynamic was natural from the start. Haertel had experience producing classical music, something most sound engineers lacked. Stem had a vision for a project that would put exciting new music in the hands of the public.
"Erich and I are like two parts of puzzle that fit together," Haretel said. "I'm technical, and he's creative. He trusts that I'm going to a good job, and I have a trust in him that when we do something it's for a reason. Some artists will obsess over minutia that no one will ever hear on a recording, and Erich is a great gatekeeper for those corrections."
Beyond introducing the public to new composers, New Dynamic introduces IU Southeast students to the music industry through paid internships. Haretel's audio engineering students place mics and run software during sessions. Music business students handle marketing and promotions of the albums. Fine arts students create covers for the albums. Many students receive name credits on the label's internationally released records.
"Erich brings in some of the top acts in the world for the kids to work with, and the intensity level and demands we have are of professional standards," Haertel said. "They learn to understand the profession. They find out they can't be late and they can't make mistakes. They learn how to let artists be creative while still providing a certain level of guidance and feedback."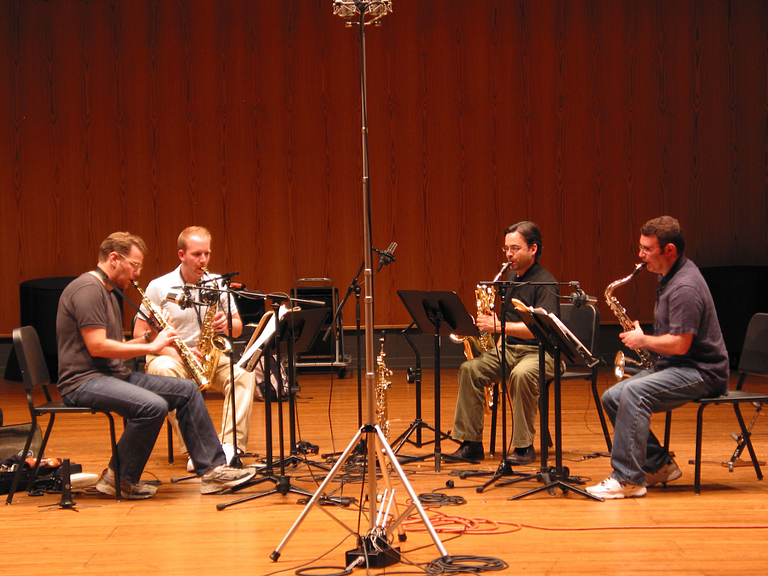 Haertel and Stem agree that the label benefits from students as much as the students benefit from the label.
"The fine arts students rival professional talent and bring interesting and fresh perspectives to the music they hear when they design the covers," Stem said. "Our music business students are more in tune with the younger market and have great ideas about how we can link to this generation."
Haertel said the students' young ears catch mistakes that he often misses in the recording process.
New Dynamic has been fulfilling Stem's mission since its inception in 2005. The label has released 12 albums – one every year – and has featured 60 composers and 42 world premieres. But Stem said that with the rise of streaming services and ever-changing ways technology affects how people access music, a record label may not always be the best way to share new music with audiences.
Whether it be by focusing more on promoting performances, bringing in performers and composers for master classes with students, or even harnessing a growing interest in composing scores for video games, the New Music Project will continue to share the music of our era and prepare students for a career in the music industry.
"Increasingly what is happening is students can't just be composers or performers or sound engineers," Stem said. "They need to be able to do it all. So hopefully our program and project will prepare them for it all."