IU President McRobbie to deliver State of the University address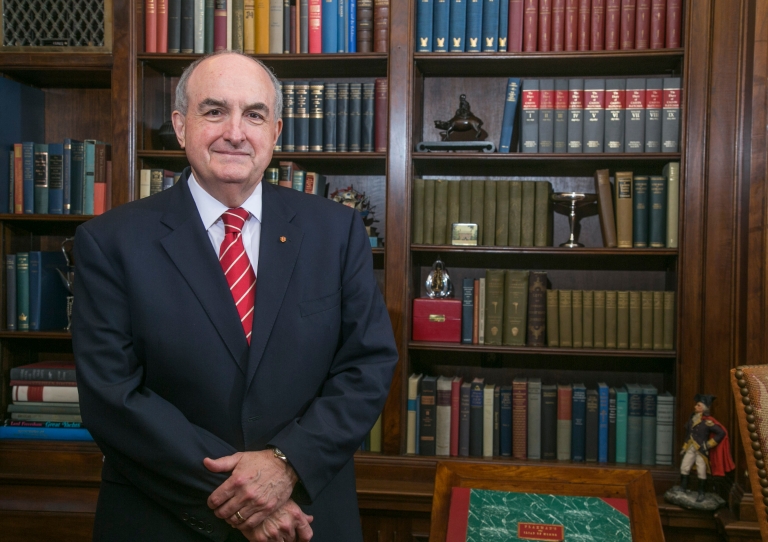 Indiana University President Michael A. McRobbie will present the annual State of the University address at 2 p.m. Tuesday, Oct. 10, at IUPUI's Hine Hall, 850 W. Michigan St. in Indianapolis.
All members of the IU community and the general public are invited to view the address in person or via live-stream broadcasting at broadcast.iu.edu.
Access to philanthropic database available for IU staff, faculty, students
Indiana University Bloomington faculty, students and staff now have free access to the Foundation Directory Online, a comprehensive database of private philanthropic funders. Access is available from any computer using your IU CAS login and has been made possible through the partnership of the Office of the Vice Provost for Research and the IU Libraries.
This newly available resource is available through the IU Libraries website, ready for online funder research. The Foundation Directory Online provides information on funders' giving trends, areas of support and limitations; instructions on approaching U.S. foundations, corporate giving programs and grantmaking public charities, including a growing number of non-U.S. grantmakers; and a database of sponsoring companies, offering a quick pathway to corporate funders.
To learn more about private funding for research, contact a member of IU's Corporate and Foundation Relations team.
IU announces strong technology transfer activity in 2016-17 fiscal year
Officials at the recently reorganized and renamed IU Innovation and Commercialization Office, formerly part of the Indiana University Research and Technology Corp., have announced strong results in innovation and commercialization activities for the 2016-17 fiscal year.
Innovation and commercialization managers apply for patent protection on disclosed inventions, which can take several years to receive. They also market and license the patented- and patent-pending inventions to industry. Achievements from the 2016-17 fiscal year include:
164 disclosed inventions, a 9.3 percent year-over-year increase from 2015-16.
62 completed licensing agreements, which represents a 10-year high and a 44.2 percent increase from 2015-16.
$6.67 million in generated revenue from licensing and royalty revenue. The revenue is distributed to researchers and their laboratories based on the university's intellectual property policy.
57 issued patents from the U.S. Patent and Trademark Office, eclipsing the record 53 issued in 2015-16. Global organizations issued 142 patents, for a cumulative total of 199. This represents a 20.6 percent increase from 2015-16.
IUPD appoints new chief of police at IU Southeast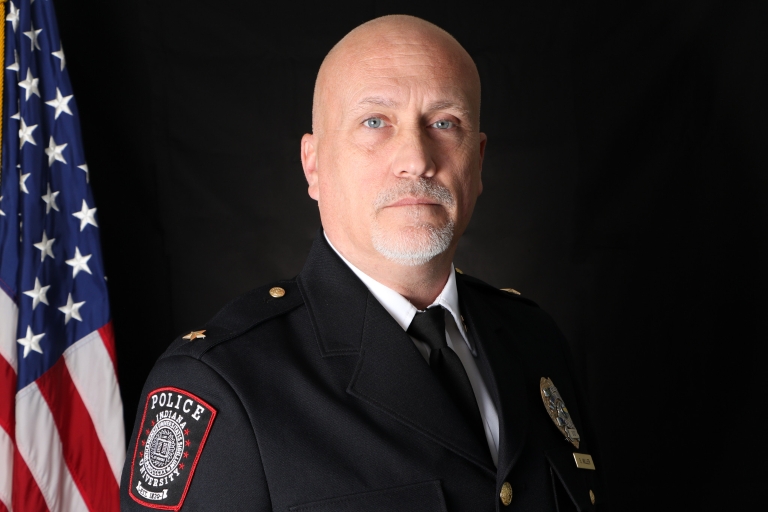 IU Southeast Chancellor Ray Wallace and IU Superintendent of Public Safety Benjamin Hunter have announced the appointment of Stephen Miller as chief of the IUPD division at IU Southeast, where Miller has worked as an officer, sergeant, lieutenant and, most recently, interim chief.
The appointment is effective Oct. 1. Miller's nearly 30 years of law enforcement experience include 13 years with the New York City Police Department.
IUPUC groundskeeper named employee of the quarter
Warren Noble, the groundskeeper with facility services at IUPUC, was selected as the employee of the quarter for the third quarter of 2017.
His nominator wrote: "Every morning, when I walk in or during the day when I walk around campus, I see Warren attending to all the details of our campus, working hard to beautify our space, and make it a welcoming, desirable place to work and study. He keeps the lawn trimmed, neat and growing well. He recently added more flowers and potted displays of plants around different areas including near parking lots, near the education entrance and in the courtyard. These go beyond simple plants and pots and really add a level of detail and horticultural sophistication that I have not seen at IUPUC since I began working here."
IU emergency management experts put skills to the test in Florida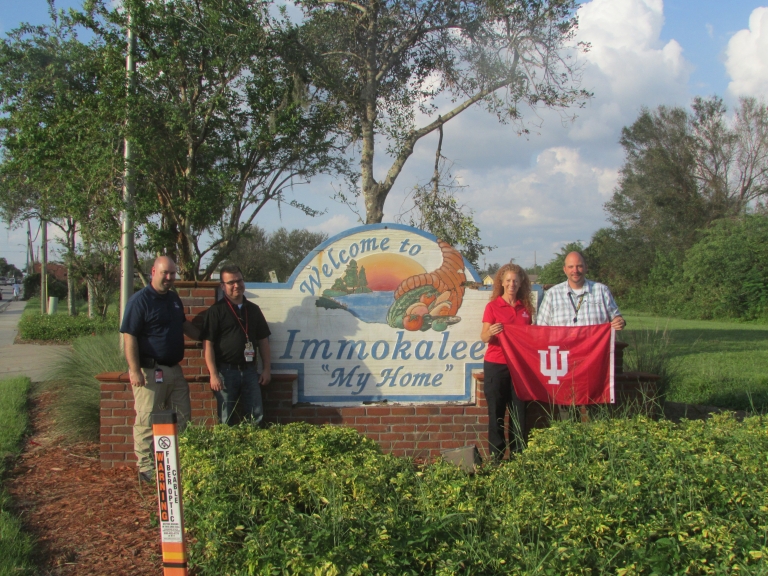 Four IU employees from IUPUI and IU Bloomington are heading back from Florida, where they've been helping with the massive national response in the Hurricane Irma-ravaged state.
IU director of emergency management and continuity Diane Mack, IUPUI director of emergency management and continuity Carlos Garcia, IUPUI assistant director of emergency management and continuity Ryan Chandler and IU Bloomington director of Veteran Support Services John Summerlot are wrapping up an 18-day stint in Florida with the Indiana Department of Homeland Security's Incident Management Assistance Team. Summerlot previously worked for IU Emergency Management and Continuity and teaches emergency management to students at the IU School of Public Health-Bloomington.
"It gives us experience in managing, coordinating and supporting response and recovery efforts for a major incident," Chandler said. "It helps us increase our ability to be part of an incident management team and to manage an incident that happens at Indiana University."
In recent years, IU staff deployed with Indiana response teams to help with Hurricane Matthew, Superstorm Sandy, the deadly Henryville tornadoes in Indiana and the avian influenza outbreak in Southern Indiana.
Join Healthy IU for discussion on successful conversation
Full-time IU faculty and staff are encouraged to sign up for the "How to Connect, Not Just Converse, With Others" course from noon to 1 p.m. Oct. 10  in the Media School's commons area in Franklin Hall.
Bloomington employees are encouraged to attend the talk in person, while staff and faculty on regional campuses may watch the talk live at broadcast.iu.edu.
The course is taught by Bernardo Carducci, a retired professor of psychology at IU Southeast and director of the IU Southeast Shyness Research Institute.
Bradford Woods to celebrate 60 years of environmental education with open house, dinner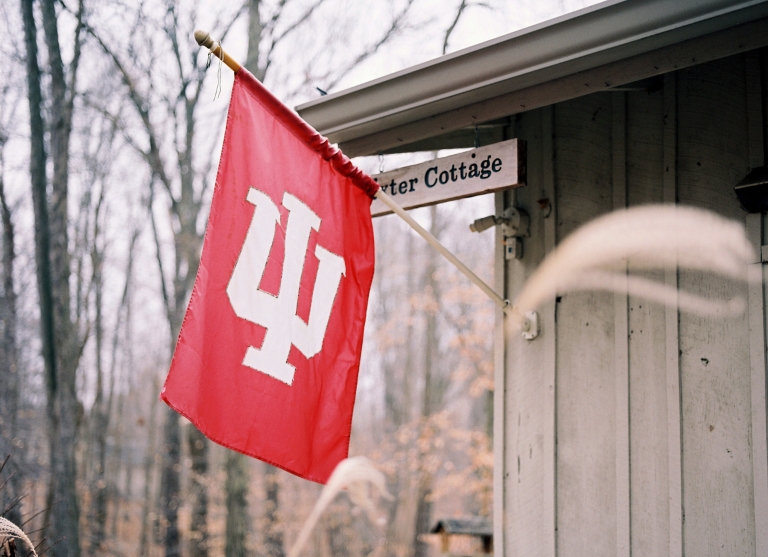 Bradford Woods, IU's outdoor center in Martinsville, will celebrate 60 years of environmental education programming with an open house and a celebration dinner on Saturday, Sept. 30.
The Bradford Woods property will be open to the general public from 10 a.m. to 5 p.m. Guests may visit the property to explore, hike, fish, learn about the Bradford Woods history, participate in selected activities and crafts, and visit the dining hall and camper cabins. Historical photos and information will be on display, as well as some details on what Bradford Woods is currently doing.
The celebration dinner will start with a reception at 5:30 p.m., followed by a Buffalo Tro ceremony. A Bradford Woods tradition dating back decades, the "tro" is inspired by Native Americans of the plains, who, because of lack of firewood, would celebrate the successful pursuit of a bison by cooking the meat directly on buffalo chip coals.
Seats for the celebration dinner are limited. Individual tickets are $50, and sponsorship of a table of eight is $350. All proceeds from the dinner will benefit programs at Bradford Woods.
Three researchers receive 2017 Research Frontiers Trailblazer Award
Researchers from the IU School of Medicine and the Richard M. Fairbanks School of Public Health have been named recipients of the 2017 Research Frontiers Trailblazer Award at IUPUI. Their work could impact lives around the world, as they aim to form new hepatitis B and HIV therapies and to keep chronic pain sufferers from opioid addiction.
The award recognizes outstanding IUPUI researchers who show promise in becoming nationally and internationally known for their research and creative activity. It is given to associate professors within the first three years of being appointed or promoted to that title.
The 2017 recipients are:
Haito Guo, associate professor in the Department of Microbiology and Immunology at the IU School of Medicine
Chris Harle, an associate professor in the Department of Health Policy and Management and the Ph.D. program director at the Richard M. Fairbanks School of Public Health
Andy Yu, associate professor in the Department of Microbiology and Immunology at the IU School of Medicine.