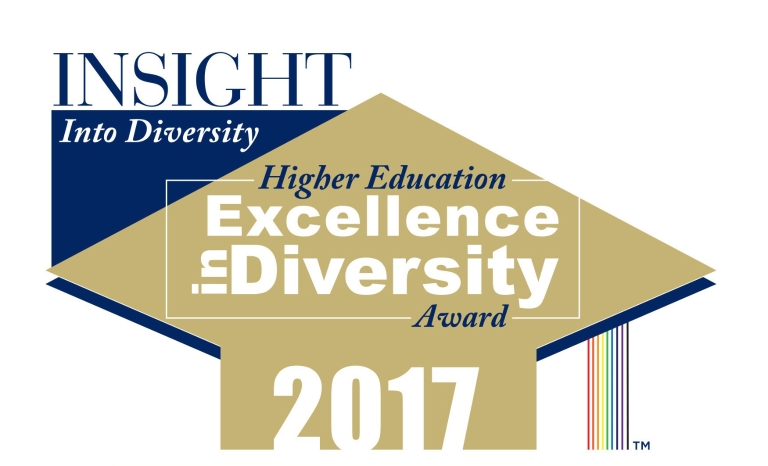 INDIANAPOLIS and BLOOMINGTON, Ind. – Indiana University Bloomington and IUPUI have once again received the Higher Education Excellence in Diversity Award from Insight Into Diversity magazine, the oldest and largest diversity-focused publication in higher education.
This is the third year IU Bloomington has been honored as a HEED Award recipient and the sixth year that IUPUI has been recognized. The award recognizes schools that have demonstrated a strong commitment to diversity and inclusion through their innovative programs, hiring practices, training, curriculum and on-campus support systems.
Both campuses will be featured, along with the other recipients, in the November 2017 issue of Insight into Diversity magazine.
"We strive to cultivate an environment of inclusion where all types of people can come together to learn and grow," said James Wimbush, IU vice president for diversity, equity and multicultural affairs, dean of the University Graduate School, and Johnson Professor for Diversity and Leadership. "We're delighted that IU continues to be recognized for its efforts in creating welcoming campus communities that allow faculty, staff, students and postdocs to thrive."
The magazine's recognition reflects IU Bloomington's and IUPUI's continued commitment to diversity, a top priority in each campus's strategic plan.
In making its selections, Insight Into Diversity factored in each institution's campus and unit diversity plans, diversity recruitment and retention policies and initiatives, leadership involvement in diversity efforts, peer mentoring and tutoring programs, organizational structures, diversity training, minority student population data, and graduation rates and trends.
"The HEED Award process consists of a comprehensive and rigorous application that includes questions relating to the recruitment and retention of students and employees, and best practices for both; continued leadership support for diversity; and other aspects of campus diversity and inclusion," said Lenore Pearlstein, co-publisher of Insight Into Diversity magazine.
"We take a holistic approach to reviewing each application in deciding who will be named a HEED Award recipient," she said. "Our standards are high, and we look for institutions where diversity and inclusion are woven into the work being accomplished every day across their campus."
IU Bloomington
In addition to winning the HEED Award for the third consecutive year, IU Bloomington has also earned Insight Into Diversity's highest distinction, the Diversity Champion. As one of 15 universities to receive that recognition, IU Bloomington is honored for having a campus that is a global beacon for diversity and inclusivity.
In April 2017, IU Bloomington Provost and IU Executive Vice President Lauren Robel established an Advisory Council of Scholars of Inclusion, Ethnicity and Race for the IU Bloomington campus. Its purpose is to assemble leading scholars of diversity and inclusion to discuss and share evidence-based approaches that might benefit IU Bloomington's residential, research-based campus.
Working with deans and chairs, the provost has also made the recruitment and retention of excellent faculty a top priority. Those efforts have resulted in gains among underrepresented minority groups and women faculty in fields where they are underrepresented. Additionally, each school on the IU Bloomington campus is now required to develop and carry out a strategic plan that addresses faculty diversity, recruitment and retention.
The IU Bloomington campus has made advances in student diversity as well. From 2005 to 2016, the percentage of minority students at IU Bloomington increased by 103.3 percent, with a 168 percent increase in Hispanic/Latino students and a 44.3 percent increase in African-American students.
"Creating an inclusive campus is essential to our mission as a public institution of higher education," said John Nieto-Phillips, IU Bloomington vice provost for diversity and inclusion, associate vice president for academic support and diversity, and chief diversity officer. "Herman B Wells laid the foundation for this campus to be a leader in diversity, and we aim to carry on that legacy.
"We need to prepare our students – all of our students – to live and work in a diverse and interconnected world. To do that, we must mirror that diversity and work to bridge cultural and social divides. We're very pleased to be recognized for our efforts. Working with dedicated faculty, students and staff, we've become a more diverse and inclusive campus in the past decade. But just as important, we are determined to make more gains in the months and years ahead. Our work is far from done."
IUPUI
Nearly four years ago, IUPUI adopted the mantra that "diversity is a thought, not an afterthought; an action, not a reaction," and with that has come a six-year streak of HEED Awards.
Insight Into Diversity noted a number of diversity initiatives at IUPUI, starting with a campuswide diversity plan and the annual campus diversity report.
School staff – including IUPUI Campus Police – and faculty are now certified with Safe Space Training and Trans 101 Training, provided through the LGBTQ+ Center. For staff members going above and beyond in supporting students with disabilities, the university has introduced an Advocates for Equity in Accessibility Award.
For continuing enlightenment on diversity issues, IUPUI has launched a Diversity Speaker Series and a book and lecture program centered around social justice, bringing the campus and community together to engage national thought leaders on topics of interest. A new Office of Intercultural Literacy, Capacity and Engagement offers workshops, on- and off-campus training, and "critical conversations," which are monthly lunchtime discussions for faculty and staff on key issues.
IUPUI also has strong faculty and staff affinity groups – including Asian-Pacific Islander American, black, Latino, LGBTQ, Native American and veterans – with vibrant programming and campus support, as well as a Chancellor's Diversity Cabinet. Multiple faculty-support initiatives also ensure the success of junior faculty's professional development and advancement.
"We believe that our work to celebrate, promote and foster diversity is never complete, but in receiving this prestigious award for the sixth consecutive year, we feel validated that we're staying on the right track," said Karen Dace, IUPUI vice chancellor for diversity, equity and inclusion. "Behind the tireless work and dedication of IUPUI students, staff, faculty and community members, we're continuing to build a first-class institution that is welcoming to everyone."