BLOOMINGTON, Ind. – As high schools around the state face an impending shortage of instructors of dual-credit courses, which allow high school students to simultaneously earn high school and college credits, Indiana University's Advance College Project dual-credit program will launch a statewide initiative aimed at addressing the problem.
In 2015, the Higher Learning Commission – the regional accreditor for Indiana University and other public institutions – clarified the credentials required for high school teachers who lead dual-credit courses. Starting in 2022, dual-credit instructors must possess a master's degree and at least 18 credit hours in the subject they teach. This requirement could affect hundreds of instructors currently teaching dual-credit courses in Indiana.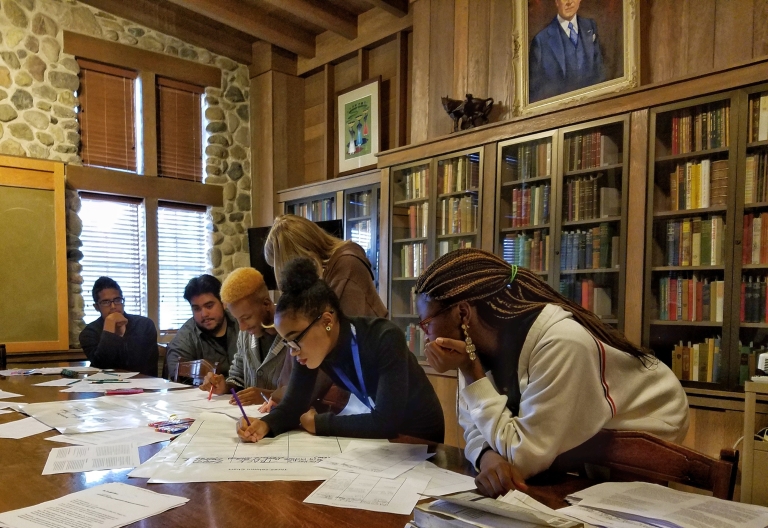 The Advance College Project Dual Credit Pipeline initiative will provide the graduate coursework necessary to ensure quality and cohesion across student, instructor, on-campus department and Higher Learning Commission requirements. Through coordination with IU graduate programs and high schools across the state, the initiative will provide graduate courses to participating teachers in English, public speaking, math, history, political science, biology and chemistry, free of charge, in addition to ongoing professional development and support.
Current Advance College Project instructors, as well as instructors who join the program in the future, are invited to apply.
"Indiana University is in the unique position to bolster widespread dual-credit opportunities in the state by providing ACP instructors with access to world-renowned graduate education," said John Applegate, executive vice president for university academic affairs. "This initiative will benefit high school students across Indiana as they complete their diplomas and launch their collegiate careers while also stabilizing the professional resources that an excellent program like ACP requires."
IU's Advance College Project enrolls more than 15,000 students each year, giving them an early start at earning bachelor's degrees while preparing them for the rigor of the university academic experience. Enabling students to complete dual-credit courses while in high school aligns with Indiana University's commitment to student success, including on-time college graduation, a key component of the university's Bicentennial Strategic Plan.
Dual Credit Pipeline coursework, predominantly offered online through current IU graduate programs, will begin as early as spring 2018 for current and new Advance College Project instructors who join the initiative. IU will host information sessions for high school leadership and instructors to discuss the details of the program.
All Indiana high schools are invited to apply. For information about these sessions and the initiative, contact Patrick Cannon at pcannon@indiana.edu.
In addition to IU's commitment to this project, the initiative will receive $870,000 from the Indiana Commission for Higher Education, the coordinating agency that oversees the state's public universities. It is one of four IU proposals to receive funding from the commission as part of an effort to improve teaching in the STEM fields of science, technology, engineering and mathematics. The others include:
$1,582,000 to a partnership consisting of IUPUI, Ball State University, Purdue University and Valparaiso University. Their project will expand graduate-level course offerings to help with credentialing for current dual-credit teachers and pre-service teachers who plan to teach STEM dual-credit courses.
$240,000 to IU Southeast for a project to increase the number of qualified dual-credit STEM teachers and to recruit students to teacher education programs in those fields.
$143,359 for the SouthEast Indiana STEM project, which will increase content knowledge of teachers in rural areas of Southeastern Indiana and in high-poverty schools where there is a shortage of licensed math and science teachers.
About Advance College Project
Advance College Project, a program of the Office of the Vice Provost for Undergraduate Education,  is nationally recognized for dual-credit delivery in high schools across Indiana. It is a dual-enrollment partnership between Indiana University and more than 500 teachers in high schools throughout Indiana and surrounding states. IU courses taught through the Advance College Project program provide both high school and college credits (known as concurrent or dual enrollment) and allow students to fulfill high school graduation requirements as well as start building credits toward their college careers.