BLOOMINGTON, Ind. – Indiana University's Kelley School of Business has announced its prestigious William R. Fry Scholars and Dean's Council Scholars.
Twenty-eight incoming freshmen have been selected as William R. Fry Scholars. Fifteen additional first-year students are Dean's Council Scholars.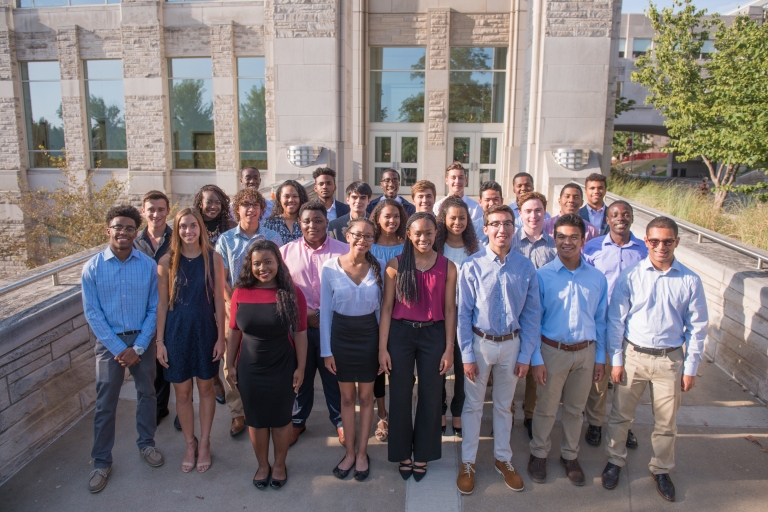 Entering freshmen who applied to IU and were directly admitted to the Kelley School are eligible for both scholarship programs. Preference is given to students who are traditionally underrepresented in the field of business.
Students in each scholarship program receive funding toward standard tuition and fees. They also receive support in the form of an advisor and a Kelley student mentor during their time at IU. They also have the option of residing in the Kelley Living Learning Center, a residential program that focuses on personal, academic and professional development. Each program has its unique events.
The Fry Scholars program is made possible through a $15 million gift in 2008 from the late William R. Fry, a Kelley alumnus. The gift and resulting program are helping the Kelley School pursue a major initiative toward more inclusiveness and increased enrollment of underrepresented minorities. When making the gift, Fry said that he especially liked the impact that his Kelley School gift would have on young minds.
Similarly, the Dean's Council Scholarship was created in 2015 out of a shared aspiration of the Kelley School's dean and Dean's Council to pool their philanthropic resources to sustain and enhance the school's diversity efforts, which includes students from all different economic backgrounds as well as students from diverse cultural backgrounds.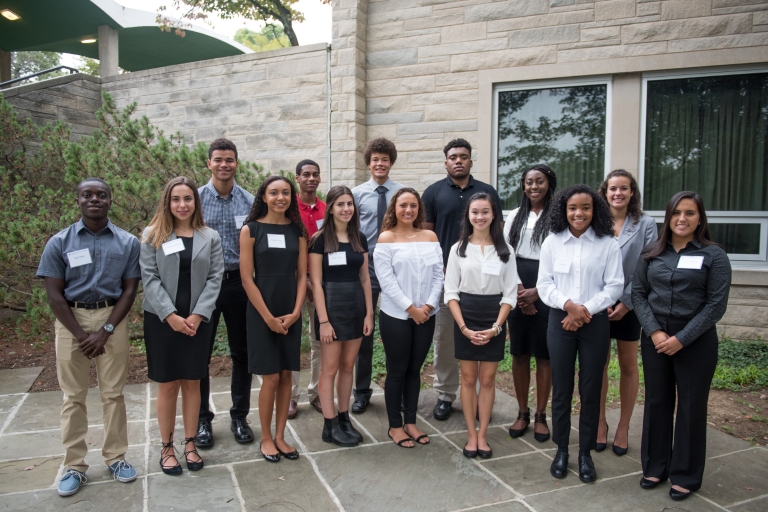 The Kelley Dean's Council is composed of over 150 CEOs, vice presidents and business leaders who represent all ranges of industry. It advises on institutional goals, school strategies and curricula. The council is also actively involved with long-term goal planning for the school and offers input on research, fundraising and the creation of new programs.
The scholarships are renewable as long as recipients meet the expectations of their scholarship program.
This year's Fry Scholars, their high schools and their hometowns are:
Boluwatife Ajanaku, Homewood-Flossmoor Community High School, Flossmoor, Illinois.
Roberto Alas, Carmel High School, Carmel, Indiana.
Malcolm Ali, St. Thomas Aquinas High School, Fort Lauderdale, Florida.
Messan Bokor, Pike High School, Indianapolis.
Haleigh Chube, Brebeuf Preparatory High School, Indianapolis.
Sydney Dixon, Oak Ridge High School, Conroe, Texas.
Erykah Gooch, Bloomington High School South, Bloomington, Indiana.
Amanda Hermann, Warsaw Community High School, Warsaw, Indiana.
Michael Hudson, Summit Country Day School, Cincinnati.
Matthieu Jarrett, McCutcheon High School, Lafayette, Indiana.
Jonah Katz, Park Tudor High School, Indianapolis.
Amine Khalfallah, Bellevue Senior High School, Bellevue, Washington.
Lauren Lapesarde, Harvard-Westlake School, Studio City, California.
Gianmarco Medina, Lawrence High School, Lawrenceville, New Jersey.
Matthew Mireles, Lake Central High School, St. John, Indiana.
Michael Mosley, University High School, Normal, Illinois.
Taegan Myers, Winston Churchill High School, Potomac, Maryland.
Folabomi Odekunle, Loyola Blakefield High School, Towson, Maryland.
Payton Ortiz, Lincoln-Way East High School, Frankfort, Illinois.
Matthieu Picard, Fishers High School, Fishers, Indiana.
Zach Stevens, Zionsville Community High School, Zionsville, Indiana.
Zaila Tanner, Plano Senior High School, Plano, Texas.
Kyle Valencia, Seymour High School, Seymour, Indiana.
Will Valentine, Gonzaga College High School, Washington, D.C.
Kenneth Villacorta, St. Theodore Guerin High School, Noblesville, Indiana.
Imiyah Weatherspoon, Metea Valley High School, Aurora, Illinois.
Isaac Wendt, Plymouth High School, Plymouth, Indiana.
Jordan Williams, Hamilton Southeastern High School, Fishers, Indiana.
This year's Dean's Council Scholars are:
Maryam Adeniyi, Mansfield High School, Mansfield, Texas.
Gabrielle Bloomberg, Dunwoody High School, Atlanta.
Megan Byles, St. Andrews Episcopal School, Potomac, Maryland.
Nicole Caesar, Horace Greeley High School, Chappaqua, New York.
Kenzie Cooper, Neuqua Valley High School, Naperville, Illinois.
Jeremy David, Warsaw Community High School, Warsaw, Indiana.
Victoria Garcia, South High School District 99, Downers Grove, Illinois.
Christian Goines, Center Grove High School, Greenwood, Indiana.
Cameron Hess, Milken Community School, Los Angeles.
Hayley Hidalgo, Laguna Beach High School, Laguna Beach, California.
Sean Keys, Waubonsie Valley High School, Aurora, Illinois.
Darian McGhee, St. John's College High School, Washington, D.C.
Bryce Mitchell, Mount De Sales Academy, Macon, Georgia.
Alex Petit, International Academy, Bloomfield Hills, Michigan.
Teresa Thomas, Lake Central High School, St. John, Indiana.
More information about the Fry Scholars and the Dean's Council Scholars programs is available from Brittani Wilson, director of diversity initiatives; or Luke Leftwich, director of the undergraduate program, at 812-856-7852.