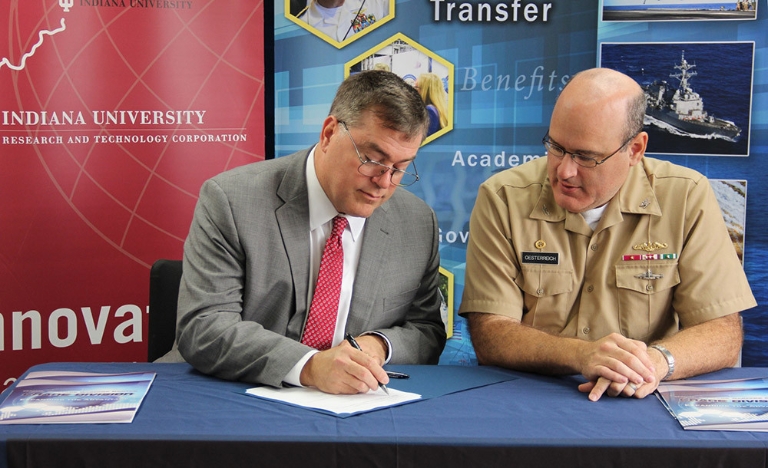 BLOOMINGTON, Ind., and CRANE, Ind. – Leaders at Indiana University and Naval Surface Warfare Center, Crane Division (NSWC Crane), have re-signed a Partnership Intermediary Agreement, or PIA. IU Vice President for Research Fred H. Cate represented the university, and commanding officer Capt. Mark Oesterreich represented NSWC Crane, during an event at Naval Support Activity Crane.
The partnership provides NSWC Crane with an avenue to move innovative technology through the commercialization pipeline with a goal of increasing the number of licensing and startup deals for both Crane and IU.
Additionally, the partnership could strengthen economic vitality in Southern Indiana through high-tech company development and job creation. It could also identify potential research areas that align with the interests of Indiana University and NSWC Crane.
NSWC Crane's mission is to support the warfighter and to provide a full spectrum of technical capabilities to move from concept to production to final operational deployment. Indiana University is one of the world's foremost public higher education institutions.
Cate said the re-signed PIA could have a wide-ranging impact.
"IU's partnership with Crane is an important demonstration of the ways we can help the Navy reach its goals in high-performance computing, big data, artificial intelligence and so many other areas," he said. "IU's research is pushing the boundaries of what is technically possible, and the breakthroughs we achieve working with Crane and other partners are a key way we serve the people of Indiana and the nation."
Oesterreich said the relationship with Indiana University grows stronger through the years.
"NSWC Crane's partnership with Indiana University has expanded over the past two years. Our growth from three to twelve collaborative agreements speaks volumes to a long-term strategic research partnership," he said. "By leveraging our combined resources, specialized facilities and investments, we can more quickly provide technological solutions to the warfighter."