BLOOMINGTON, Ind. – Alexandra Christina, the Countess of Frederiksborg in Denmark and a member of European philanthropic and corporate boards, has been named a leader-in-residence at the Indiana University Kelley School of Business as its Poling Chair of Business and Government for the upcoming academic year.
The Poling Chair was established in 1993 by the late Harold "Red" Poling, a Kelley School alumnus and Ford Motor Co. chairman and CEO from 1985 to 1994.
Recipients of the Poling Chair are given the charge to stimulate discussion in the areas of leadership, the critical interactions between private business and government in matters of public policy, enterprise competitiveness and economic growth.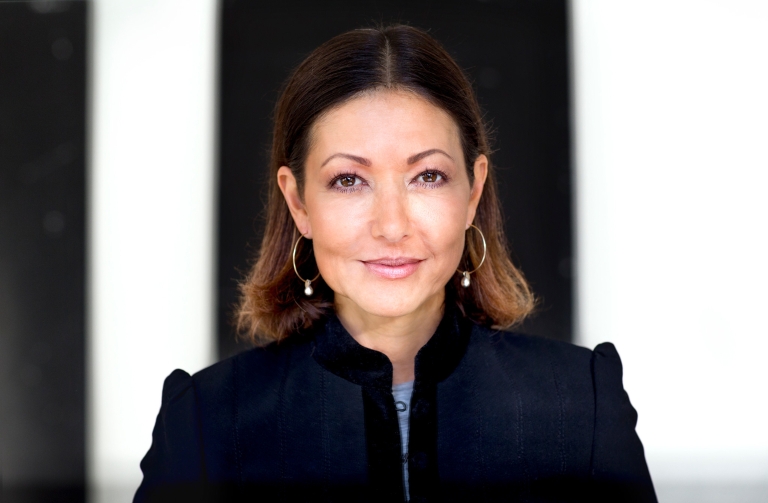 Countess Alexandra will make periodic trips to the Kelley School in Bloomington and Indianapolis, where she will interact with students and faculty.
During her upcoming visit Oct. 23 to 27, she will speak to female students at an event organized by Kelley's Women in Business club and open to other student organizations, about leadership lessons she has learned through her life.
She also will participate in a panel discussion with former congressman Lee Hamilton, Distinguished Scholar in the IU School of Global and International Studies.
Countess Alexandra has completed a book project with Timothy L. Fort, the Eveleigh Professor in Business Ethics and a professor of business law and ethics at the Kelley School and an academic advisor for the Business Roundtable Institute for Corporate Ethics.
Together, they are working to create a model for bringing sincerity to the business context. Their vision for sincerity complies with law, aligns corporate social and financial performance, and values corporate ethics in its own right, rather than as a means to an end.
Based on a synthesis of the top research in the field and interviews with current and former chief executives, their upcoming book shows how leaders can head up companies that more reliably make good decisions and conduct themselves in a trustworthy manner.
Idalene "Idie" Kesner, dean of the Kelley School and the Frank P. Popoff Chair of Strategic Management, said Countess Alexandra will provide a unique perspective on an issue that is increasingly important to the current generations of college students.
"These generations put more value on ethical practices and trustworthiness of corporations and businesses," Kesner said. "They don't want to buy from a company they perceive as unethical or untrustworthy, and they certainly don't want to work for them.
"Successful companies will adapt, but when you look at the international business environment, it's just not that simple. The countess will help students understand the challenges and complexities on a global level. We are looking forward to her visits."
Born Alexandra Christina Manley in Hong Kong, she is a founding member of the Prince Nikolai and Prince Felix Foundation, which supports humanitarian, cultural and higher education causes. From November 1995 to April 2005, she served as Princess Alexandra, while married to Prince Joachim of Denmark, the younger son of Queen Margrethe II.
"My life journey is somewhat unusual and filled with rich experiences, fascinating contrasts and deep transformations," Countess Alexandra said. "They include growing up with an Austrian mother and a Eurasian father in the 1970s in multicultural Hong Kong, working in the fast-paced financial sector in the 1980s and 1990s, marrying into the Danish royal family and playing a royal role as princess in Denmark with many representative and philanthropic activities.
"Today I juggle being a full-time and full-on mother to two teenage princes, as well as carrying out board duties and philanthropic work and writing books. I look forward to sharing my experiences and the knowledge gained on the way," she added.
Since 2007, she has served as a non-executive board member and heads the ethics committee of Ferring Pharmaceuticals International, a Geneva-based, multinational, 7,000-employee company that develops and markets drugs used in human medicine.
Countess Alexandra also is a patron of the Danish Parkinson Disease Association, the Danish Association of the Blind, the Institution for Congregational Daycare, National Association for Infant Deaths, Nordsø Museum, the Danish Animal Foundation, English Speaking Union of Denmark, Randers Rainforest, Odense Zoo, Children's Cultural Building Fyrtøjet, Swedish Villa Foundation and Ecco Walkathon.
She is a founding member of the Mermaid Project, which raises funds for gynecological cancer research, and a member of Christian IV's Guild in Aalborg.
She previously was a patron of the Danish Unicef Committee, the Danish National Girls' Choir and the Danish Cancer Foundation's annual campaign for raising awareness of breast cancer as well as an honorary member of the Danish Children's Cancer Foundation.
Previous Poling Chairs have come from both the public and private sectors. They include Dr. Mae C. Jemison, an astronaut, engineer and entrepreneur; Deepender Hooda, a member of India's parliament; Elizabeth Acton, retired chief financial officer of Comerica and a former vice president and treasurer of Ford Motor Co.; Bob Eckert, CEO of Mattel Inc.; Ronald Dollens, former president and CEO of Guidant Corp.; Samuel K. Skinner, former U.S. secretary of transportation and chief of staff to former President George H.W. Bush; former Sen. Evan Bayh, who taught before his election to the U.S. Senate; Randall L. Tobias, chairman emeritus of Eli Lilly and Co., former vice chairman of AT&T Corp. and former chair of the IU Board of Trustees; Frank Popoff, former CEO and chairman of Dow Chemical Co.; Dale Pollak, chairman and founder of vAuto, Inc.; Gen. Peter Pace, former chairman of the Joint Chiefs of Staff; and Cie Nicholson, former senior vice president and chief marketing officer for Softcard, a mobile wallet joint venture of AT&T, Verizon and T-Mobile that was acquired by Google.