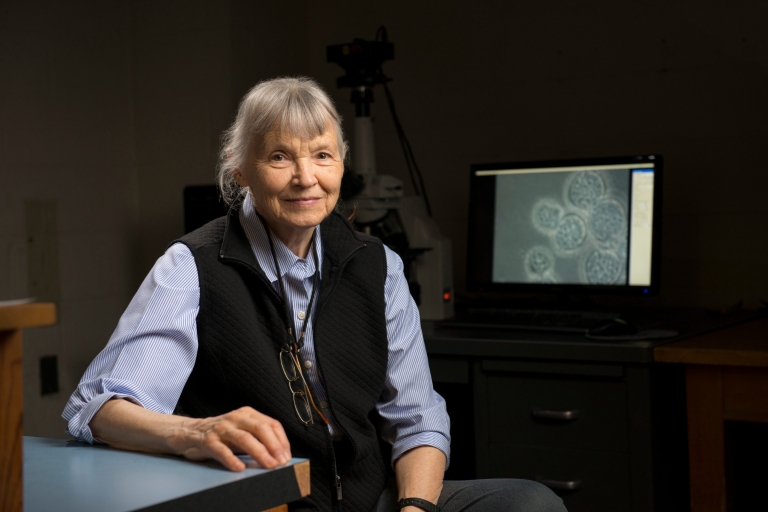 An Indiana University alumna has been recognized for the serious societal benefit of her unusual research.
Joyce Longcore, who earned a master's degree in botany from IU in 1963, is a winner of the American Association for the Advancement of Science's Golden Goose Award for her research on fungal infection, which has helped save species from extinction.
The award honors scientists whose federally funded work may have been considered silly, odd or obscure when first conducted but has resulted in significant benefits to society. The 2017 winners will be recognized during the sixth annual Golden Goose Awards ceremony at the Library of Congress, starting at 5:30 p.m. today.
"The Golden Goose Award reminds us why politicians must leave scientific research to the scientists," said U.S. Rep. Jim Cooper, D-Tenn. "This year's winners prove how obscure and even unbelievable studies can change the world as we know it. We must continue to support our scientists whose brilliance and ingenuity keep America the greatest nation on earth."
Longcore's interest in aquatic fungi began at IU under the mentorship of then-IU faculty member Robert Johns. But her lifelong dedication to studying a seemingly obscure branch of the tree of life – chytrid fungi – later turned her into one of the few people in the world who could answer a question from two veterinary pathologists from the National Zoo in Washington, D.C.: What was killing so many of their frogs?
Her knowledge of chytrid fungi proved crucial to unlocking the mystery of mass die-offs of amphibians around the globe. Due to her work with Allan Pessier, Don Nichols, Elaine Lamirande and other colleagues across the globe, it's now known that fungal infections have the potential to move great distances rapidly, assisted by human movement. The insights from this work have led to changes in national policies on how animals are moved around the globe and helped save iconic species from extinction.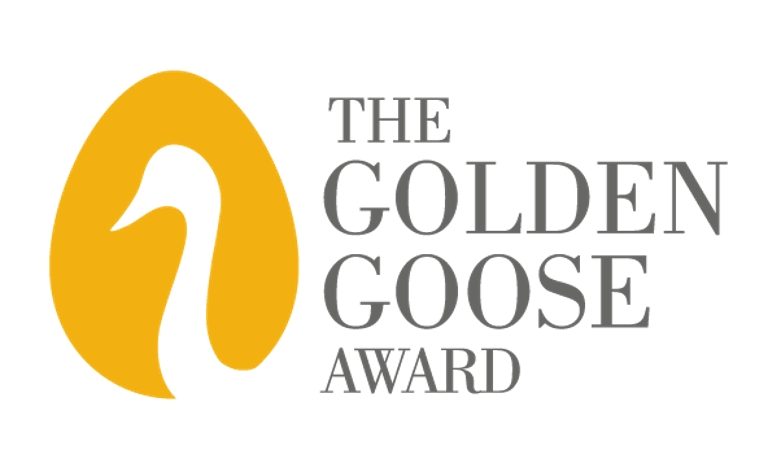 This year's event is also not the first time that IU-related research has been recognized by the Golden Goose Award. In 2013, Thomas Brock, a member of the IU faculty from 1960 to 1971, was honored for research on the microorganisms that reside in hot pools in Yellowstone National Park.
Specifically, Brock's isolation of heat-resistant bacteria in these hot springs became the source of the temperature-resistant enzyme Taq polymerase, a key component for polymerase chain reaction, or PCR. This technology is used to amplify extremely small amounts of DNA and has become one of the most important tools in biomedical research.
In addition to disease diagnosis and drug development, PCR is commonly used to test food for bacterial contamination and to extract useable levels of DNA from hair, skin or blood at crime scenes, among other applications.
"The history of science and innovation tells us that we cannot predict what research has the best chance of yielding the strongest benefits for humanity, as Indiana University's illustrious history of research in microbiology makes clear," said Yves Brun, IU Distinguished Professor in the IU College of Arts and Sciences' Department of Biology, who has delivered talks on the value of "curiosity-driven" research.
The Golden Goose Award, conceived by Cooper, was created by business, university and scientific leaders as a counterpoint to criticisms that certain basic research projects are "wasteful" federal spending, notably the Golden Fleece Award, which was created by the late Sen. William Proxmire, D-Wis. Longcore is currently an associate research professor at the University of Maine.
This year's ceremony is viewable via livestream starting at 5:30 p.m.