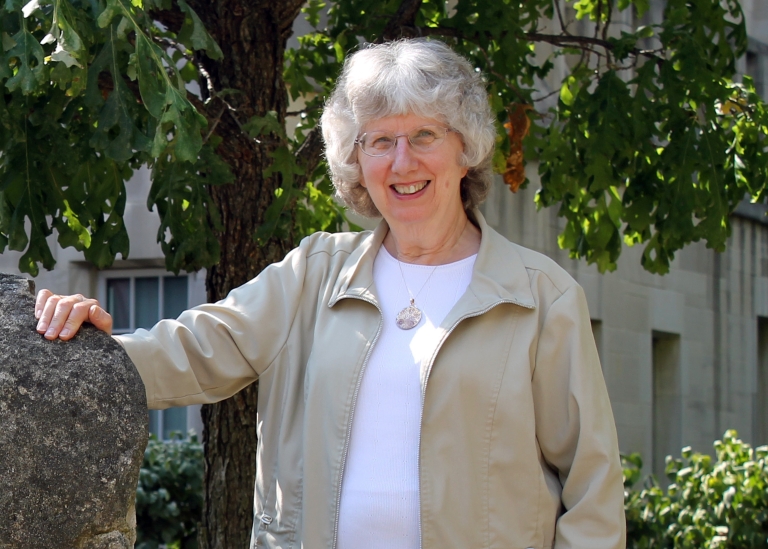 An Indiana University Bloomington researcher is the first woman to receive the highest honor of the International Society of Chemotherapy for Infection and Cancer.
Karen Bush, professor of practice in the Biotechnology Program in the IU Bloomington College of Arts and Sciences' Department of Biology, will receive the society's Hamao Umezawa Memorial Award for her outstanding contributions in the field of antimicrobial chemotherapy.
The biennial award, including a certificate and a medal, will be presented during a reception Nov. 24 at the society's 30th annual meeting in Taipei, Taiwan.
"It is a great privilege to be the first woman to receive this award since its introduction in 1979," Bush said. "I'm also honored to present the plenary lecture at the society's 30th annual conference and look forward to meeting my colleagues from across the globe."
A Ph.D. graduate in biochemistry from IU Bloomington, Bush spent 35 years in pharmaceutical research before joining the IU faculty, focusing on antibiotic drug discovery and development based on her research on antibiotic resistance mechanisms. Her major research interest is beta-lactamases, the enzymes primarily responsible for antibiotic resistance to penicillins and cephalosporins.
As a scientist at Bristol-Myers Squibb, Lederle Laboratories and Johnson & Johnson, Bush was a member of research teams that introduced nine anti-infective drugs into clinical trials and developed the antibiotics aztreonam (Azactam), piperacillin-tazobactam (Zosyn), levofloxacin (Levaquin), doripenem (Doribax) and ceftobiprole (Zevtera).
Currently, she leads a research group at IU that focuses on characterizing resistance mechanisms to beta-lactam antibiotics in enteric bacteria. The research group also studies antibacterial agents and resistance mechanisms in antibiotic-resistant bacteria found in Indiana.
Research from her lab alerted health care facilities in greater Indianapolis to the need for increased infection control to minimize the risk from bacteria resistant to carbapenem, an antibiotic used in the treatment of multi-drug-resistant bacteria. The bacteria, also known as carbapenem-resistant Enterobacteriaceae, or "CREs," have been deemed an urgent threat to the health care community by the Centers for Disease Control and Prevention.
She teaches courses in research ethics, and drug development and regulatory affairs. She also is a consultant for several pharmaceutical and biotech companies. Bush is an author on 215 peer-reviewed papers and 25 book chapters, and she has served on more than 60 study sections for the National Institutes of Health.
The award is sponsored by the Microbial Chemistry Research Foundation of Japan.