On the last Friday of each month, instead of heading home to their families after the weekly School of Informatics, Computing and Engineering faculty meeting, professors Luis Rocha and Johan Bollen head to the Root Cellar Lounge and become DJ E-Trash and DJ Angst.
The ensemble was spawned six years ago when Bollen, whose DJ name Angst stems from his love for The Smiths and Morrissey, rented the Root Cellar to host a surprise birthday party for his wife and asked Rocha to DJ with him. The party was such a hit that Bollen pitched a monthly spot to the bar's staff – and they accepted.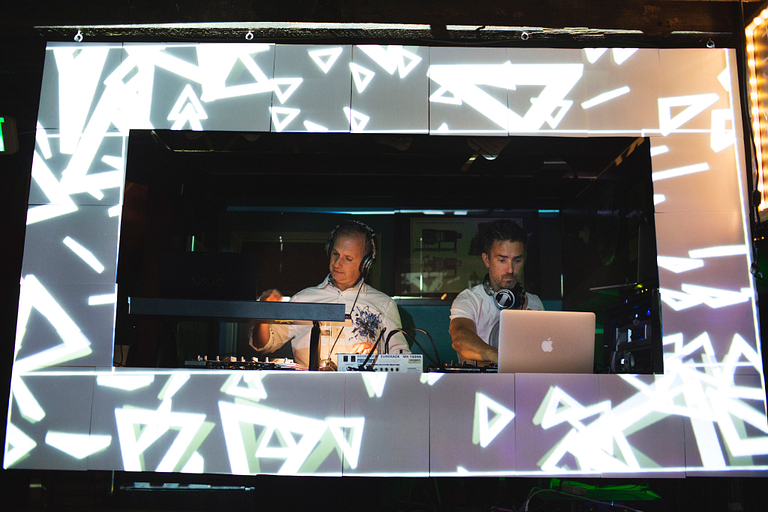 Before the rise in popularity of electronic dance music, there was a void in the Bloomington music scene that DJ E-Trash and DJ Angst were prepared to fill. The two had been performing separately since they were in graduate school in the late 1980s – Bollen as a DJ and Rocha as a member of a synth-pop band – and were excited to help bring the house music to the mainstream in town.
"As a European it was kind of a shock that there's all this urban music that is intrinsically American and so popular in Europe like disco, techno and funk, yet we couldn't find it here," Rocha said. "Now it seems like there's almost more DJs than this city can handle."  
The duo's monthly set, which was eventually dubbed the "Riot Bootique," didn't always boast the same popularity as its Root Cellar debut. Some nights the two would spend hours preparing artfully crafted tracks and end up playing to an empty house. Some nights the crowd requested their favorite Britney Spears or ABBA songs and were uninterested in the pair's performance.  
But through crazy jam-packed sessions and desolate dance floors, the Root Cellar, its manager Danny McKinley and a loyal group of fans stuck by DJ E-Trash and DJ Angst and inspired them to continue to share their musical creations.
"Some people you can have a real connection with because you put on these tracks that you really love, that gives you goosebumps, and sometimes you see people on the dance floor respond and you can tell they are having that same feeling," Bollen said.
While DJ E-Trash and DJ Angst have only been performing together for six years, Rocha and Bollen have known each other for much longer. Bollen's graduate school advisor introduced the two at a conference in Vienna in the '90s, knowing they would bond over their mutual love for music. When the conference ended, the two hit the streets of Vienna to experience the techno music scene and get to know each other.
They kept in touch over the years through both academia and art. Bollen attended Rocha's wedding. Rocha invited Bollen to work on a research project at Los Alamos National Laboratory in New Mexico, where he led the Complex Systems Modeling Research team. When they found themselves in the same cities thanks to research or conferences, they made time to head out to house music clubs in pursuit of a good party.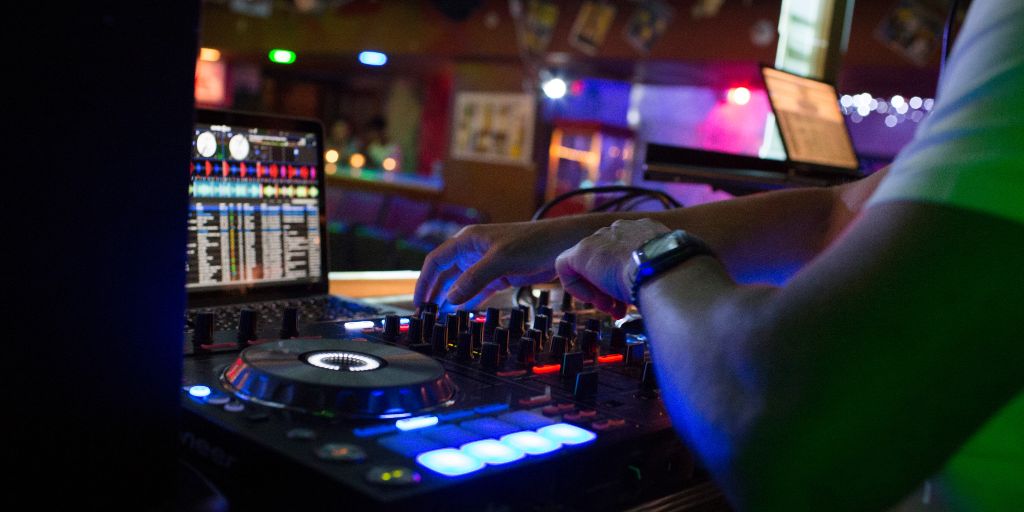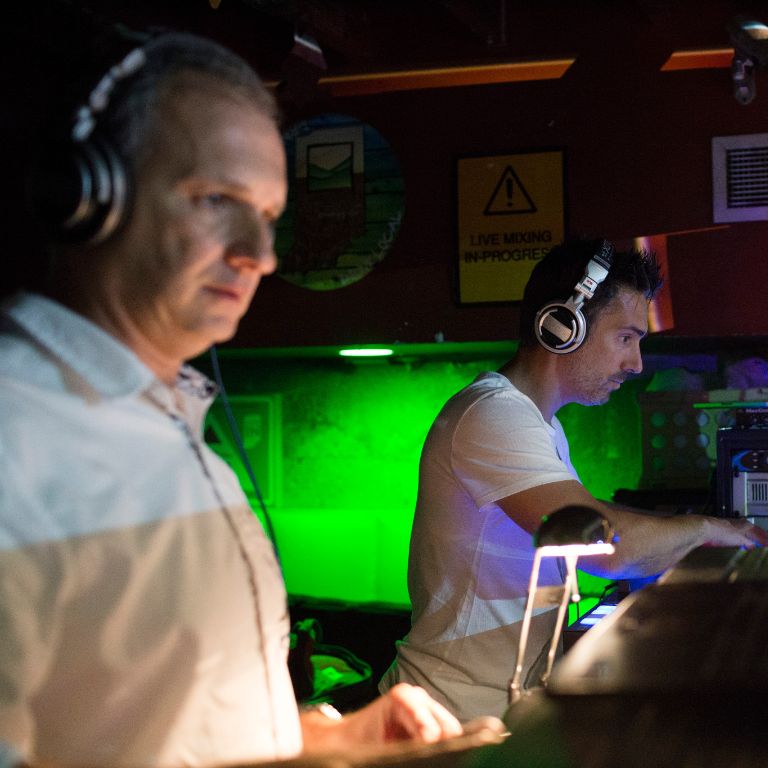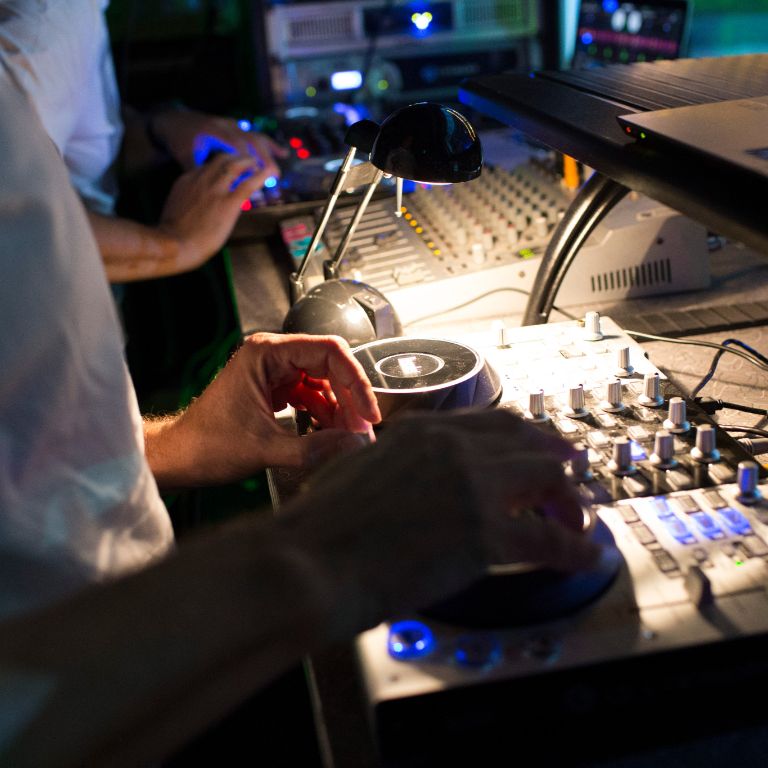 Photos by Chaz Mottinger, IU Communications
Their partnership is not the only commonality between the faculty members' day jobs and hobby. Both Bollen and Rocha are considered experts in the field of complex networks and systems, and they agree that when they DJ, they are part of just the kind of complex systems they study.
"It's about feedback: people on the dance floor tell you what they want by dancing or not dancing, which changes what you do, and what you do changes them," Bollen said. Rocha, who is the director of IU's Complex Systems Program, focuses specifically on the informational properties of natural systems in his research and uses some scientific theories from the lab when he DJs.  
"I think a lot about evolution, natural selection and the recombination of DNA and tend to think of DJing that way, too. I'm recombining existing pieces to make a new organism," he said. "The mantra of our field is that the whole is more than the sum of the parts and, in a sense, we DJ by that mantra."
Parallels between academia and art do exist, but it's the differences that help Rocha and Bollen find balance in busy work schedules as professors and researchers.
"A lot of what we do is so cerebral that the DJing is kind of like meditation. You cannot be cerebral; you have to just feel it," Bollen said. "At the same time it's the most physical, real thing you can do; it's about dancing, it's about loud music, it's about hanging out with other people."
The balance that performing provides and the love of the music keep the two at their DJ mixers late into the night, even after a full week of work. And at 2:50 a.m., when the crowd starts to clear and the lights come on, the party usually continues for DJ E-Trash and DJ Angst – one at the booth the other on the dance floor.