Carla Arton at Indiana University's Media Digitization and Preservation Initiative has been tasked with overseeing the digitization of 12,500 hours of film.
Just watching all of that film nonstop, for 24 hours a day, would take nearly a year and a half. Yet the plan to convert each reel of film to a digital format, run quality control on every single file, perform color correction and post-production restoration on key titles in the collection and make many of the films accessible via the IU Libraries' website is slated to be completed by the university's bicentennial in 2020.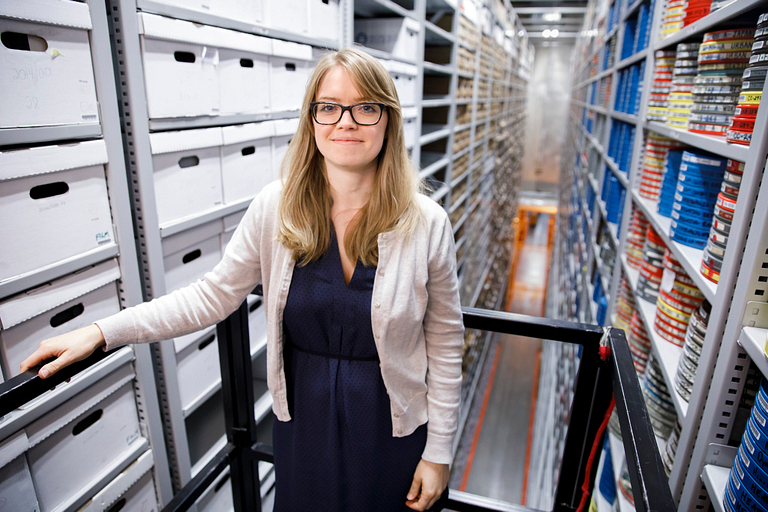 No other library or university has ever attempted to complete this type of project in such a short time span, according to Arton.
"IU has really made a name for itself as a leader in the field of media archiving," Arton said. "The support we receive from leadership is almost unheard of. We have a very unique situation here, and being able to be a part of it is very special."
But Arton is no stranger to large-scale archiving projects. The current director of technical operations for the Media Digitization and Preservation Initiative and former film digitization specialist at the IU Libraries Moving Image Archive worked on a similar initiative for audio as an archivist for the Library of Congress.
That project, titled National Jukebox, digitized 10,000 popular songs from the early 1900s and refined Arton's skills in audio archiving. Holding a position at the Library of Congress is a dream job for most archivists, but Arton said she missed working with film.
"When you actually start handling film, it's so different than when you watch it through Netflix or online," she said. "I think a lot of people who get into film archiving really just want to work with film because the physicality of it is really unique. It's satisfying to wind through film and fix broken splices and perforations. You feel like you're taking care of it."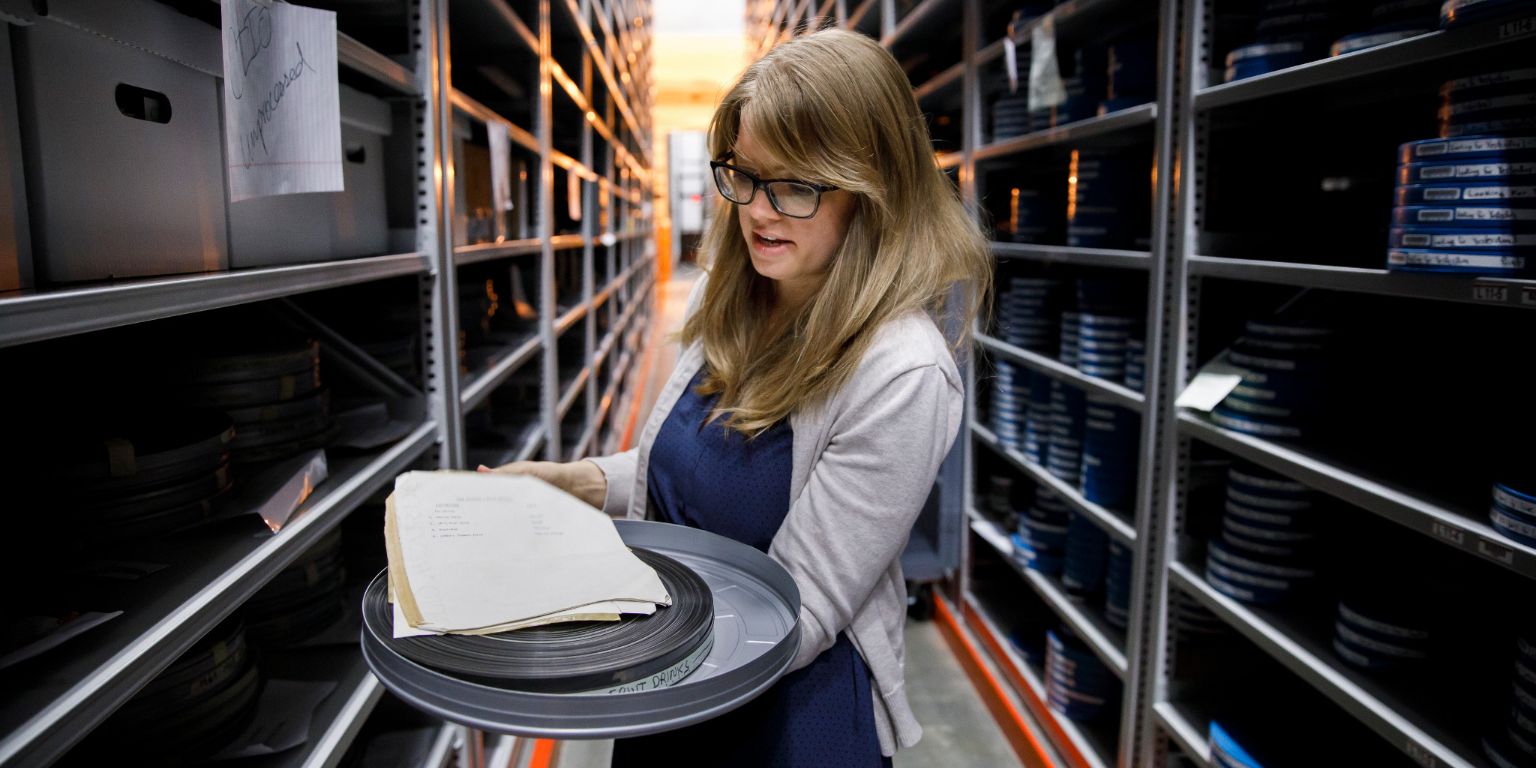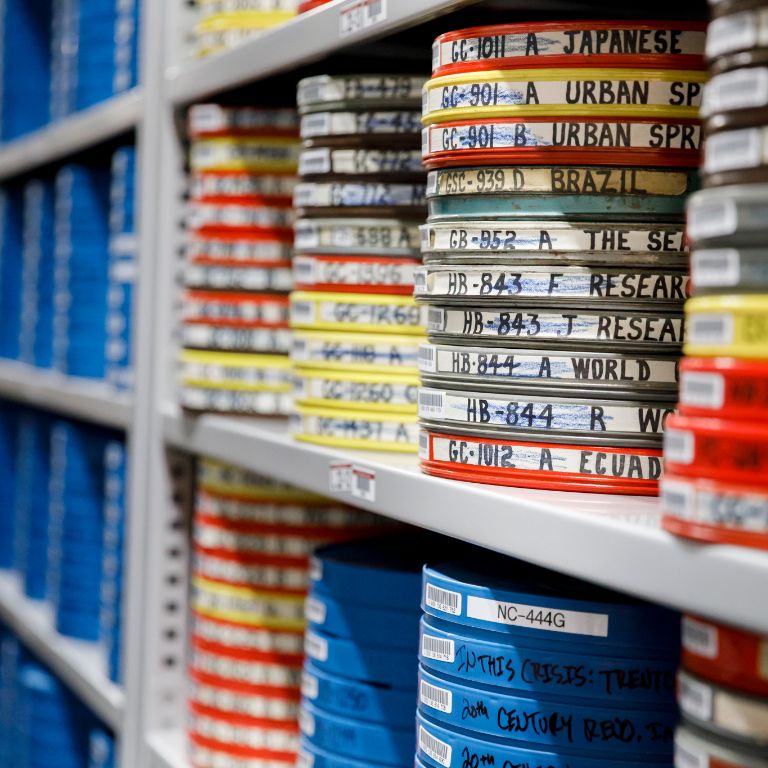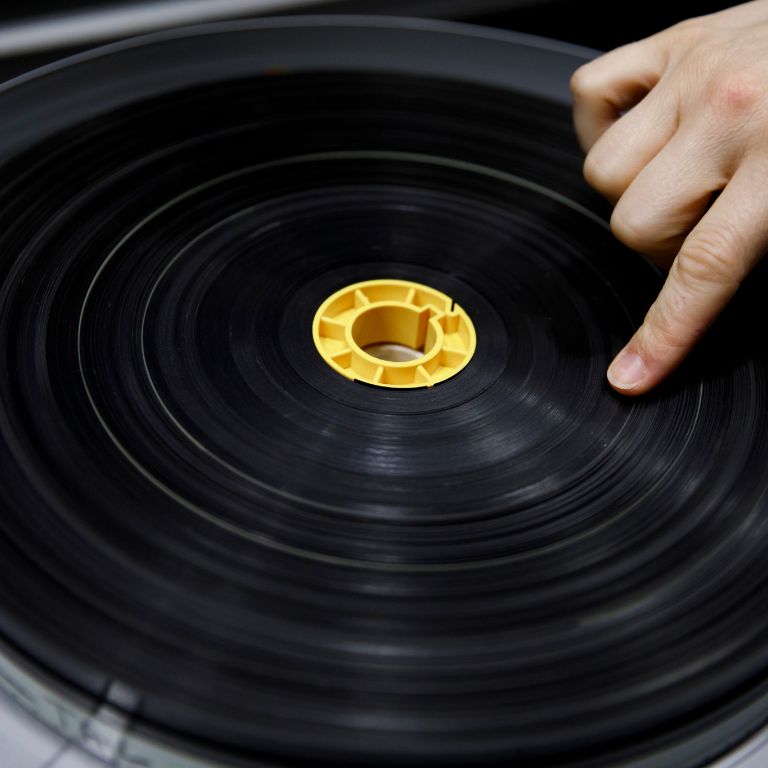 Photos by James Brosher; IU Communications
Arton has been passionate about film since she was a young girl growing up in Petaluma, California. Her mother's collection of more than 500 classic film titles took over every bookshelf in their house and inspired her to pursue a film studies bachelor's degree from Chapman University. During her time at Chapman and as a graduate student at East Anglia University, Arton said she never imagined she would end up in the Hoosier state.
"Indiana was never really on my radar, but IU and MDPI put it on my radar," she said.
In her first role at IU, Arton was a part of the team of specialists at the Moving Image Archive leading the intensive preparations for phase II of the Media Digitization and Preservation Initiative. The group partnered with IU Libraries' IT to build an expansive database for the film collection to support selection for digitization. Together, they also outfitted a newly renovated work space and recruited essential experts to the Moving Image Archive project team. She now acts as a liaison between the initiative and vendor Memnon Archiving Services, a Sony Group Company, which has already digitized much of the 280,000 audio and video files on campus as part of phase I and will handle much of the film digitization for phase II.
Dennis Cromwell, executive director of the Media Digitization and Preservation Initiative, said Arton's archiving knowledge is instrumental to the preservation project.
"Carla brings a tremendous background to the position, and her leadership is essential to the success of this ambitious MDPI phase," he said. "Her previous position in the IU Libraries' Moving Image Archive also ensures close collaboration with its director Rachael Stoeltje and her team, who oversee one of the world's largest educational film collections. In addition to experience and technical skill, Carla has all the attributes of an outstanding leader; she is articulate, a hard worker and pleasant to be around."
Beyond being able to work with film again, Arton said the vibrant theater community and opportunities for her 5-year-old son make her happy to be in Bloomington. Moving forward, she plans to harness the support from IU leadership for the Media Preservation and Digitization Initiative to forge a new path for film archiving and set an example for other universities.
"I've been so impressed with how big of an operation this is and how well everyone here works together. MDPI, UITS, the library, the library IT, special collections – it's amazing how well it's been coordinated," Arton said. "I think people in film archiving are really waiting to see what we have to show for all this."