Recent parking changes at Memorial Stadium are intended to make parking there and riding an Indiana University bus into the heart of campus a more attractive option for staff and faculty.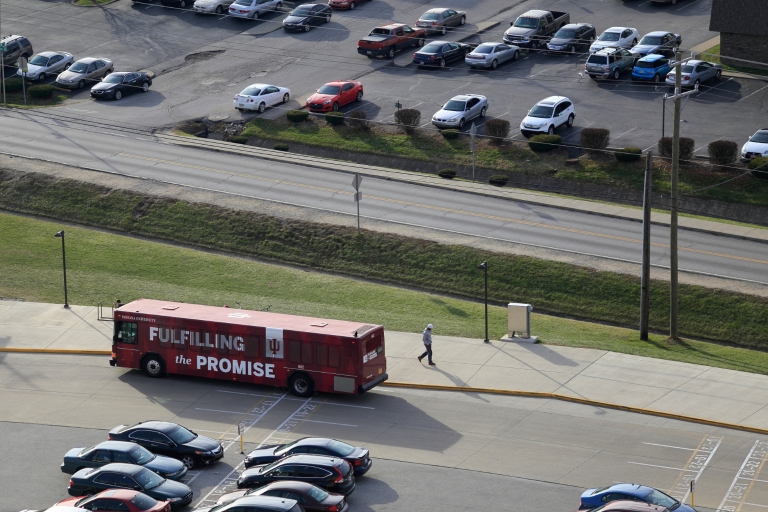 The changes were recommended last year by the university's transportation policy advisory committee after receiving employee feedback that it was difficult to find a parking spot close to the bus stop, that buses were always full and that it took too much time for buses to reach campus locations.
In response to the recommendations, Campus Bus Service and Parking Operations made several changes to the White Lot at the stadium and bus service there, including:
Eliminating overnight parking for about 200 spaces south of the 19th Street entrance from North Dunn Street, which is between two bus stops.
Adding an additional bus to the X route. A complete schedule for the route is available at on the Campus Bus Service website.
"It is our hope that these improvements will allow the less expensive EM-V permit to be a more accessible option for employees to consider," said Amanda Turnipseed, manager of IU Bloomington Parking Operations. "In addition to keeping convenient spaces nearest the shuttle stops available, the EM-V permit will now also provide for after-5 p.m. parking in EM-P and EM-S spaces as well as the parking garages."
Kevin Whited, IU Bloomington transportation demand management coordinator and bicycle manager, said the changes are good for the campus community.
"It's a win-win, in my opinion, because less people will be driving around campus looking for parking, so that's less of what we call 'cruising' as people look for a spot," he said. "And though people are still driving, this new option cuts down on the amount of cars in the heart of campus, so there's less congestion, less pollution and less potential conflicts with bicycles and pedestrians as well."