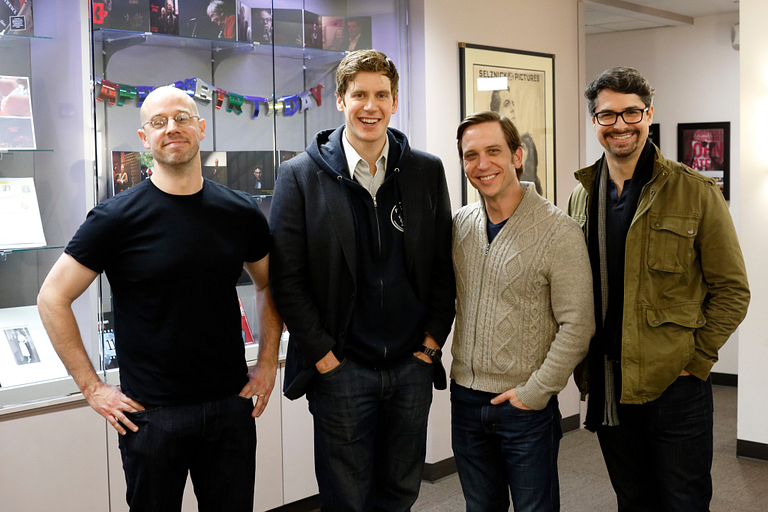 One morning during the last week of October, filmmaker John Armstrong received a call that snow had covered the front lawn of a Bloomington home.
One day earlier, the same lawn had been green. Armstrong's crew needed to finish shooting the scene he'd begun the day before. The snow had to go.
"So, I go down to Southside Rental Center and say, 'Guys, what can I do; I need to melt snow.' And they told me, 'You need a flame thrower.' I was like 'Yes, that is exactly what I want.' So, they gave me this propane tank with this big torch on it and you just spark it up, and I mean it's a huge flame, so it's burning snow off the front lawn of this house. … No matter how much preparation you do something's going to happen."
Armstrong, a native of Brownsburg, Indiana, and an Indiana University alumnus who earned his bachelor's degree in musical theater in 2002 and an MFA in acting in 2007, partnered with two friends from IU Bloomington to produce the film "The Good Catholic," which is making its Indiana premiere at a Sept. 17 red carpet event at the Buskirk-Chumley Theater in Bloomington.
The screening is sold out opening night, but tickets are still available for the Sept. 18, 20, 21 and 22 dates.
Armstrong and his friends Zachary Spicer, a Greencastle, Indiana, native and 2006 IU alumnus, and Paul Shoulberg, an IU MFA graduate who lives in Nashville, Indiana, worked together on the film. It is produced by Pigasus Pictures, owned and operated by Armstrong and Spicer. David Anspaugh, director of iconic films "Rudy" and "Hoosiers," is the executive producer.
"The Good Catholic" is a romantic comedy about a young priest, played by Spicer, and a woman he meets one day in the confessional, played by Wrenn Schmidt. As the story unfolds following the confession, he is forced to question everything he believes. Two older parish priests, played by Danny Glover and John C. McGinley, guide him.
Shoulberg, whose 2015 film "Walter" starred William H. Macy and Virginia Madsen, wrote and directed the film, which is loosely based on the story of how his parents met. His father was a priest, and his mother was a nun. They met in church and both eventually left their orders in the Catholic Church to get married and have a family.
Every frame of the movie was shot in Bloomington. The crew spent 28 days here, of which 18 were spent shooting. Shoulberg drove around the city scouting locations before the cast and crew arrived. Armstrong said it was important to have the film take place in Indiana.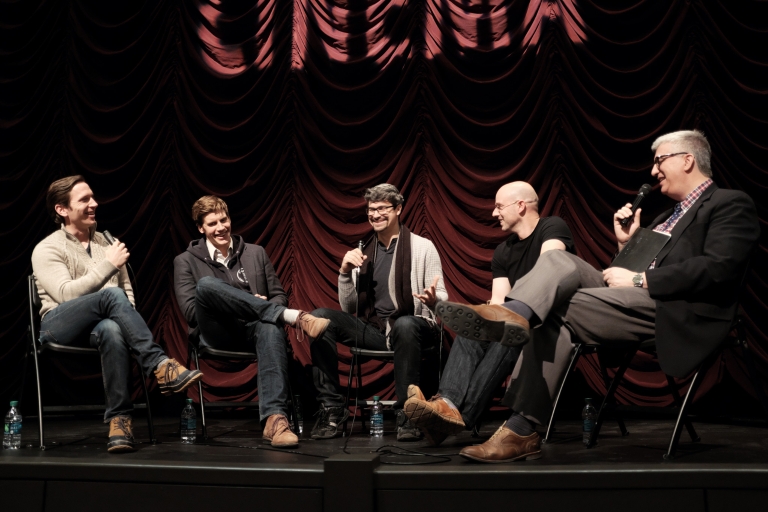 "That's where it all started, " Armstrong said. "The film is set with the backdrop of a college town, because John McGinley's character is an avid IU basketball fan. There's a scene where they are watching basketball, and he's literally wearing a jersey over his Franciscan friar's frock screaming, screaming at the TV."
The jersey McGinley's character Father Ollie wears in the film is a genuine No. 54 jersey from the 1976 Indiana University basketball NCAA championship team. Armstrong said IU Athletics helped them obtain the jersey for the shoot, which added authenticity to the scene because only a die-hard fan would have the actual jersey from that era.
"We also knew with the budget we were working at – and the fact that Indiana doesn't have tax incentives for filmmaking – that we needed to rely heavily on the resources of the community. We needed them to rally around the project, and we knew the community in Bloomington would, and we can't thank everyone enough."
Two key locations that appear in the film are Trinity Church and the former City Grille site on South College Avenue between West Third and West Fourth streets. The former City Grille location was unoccupied when the film was shot. A confessional was built on a sound stage inside.
Other interior church scenes were filmed inside Trinity Church, which was selected because it is small and easier to fill with extras. The crew built the exterior of the confessional inside Trinity Church, so the shots of people coming out of the confessional were shot on separate days from the confessions themselves.
"Every challenge is an opportunity to make something exciting happen, and that is the happening of the film," Armstrong said. "That just makes the film have that extra bit of polish and extra something about it."
The sold-out Sept. 17 screening will be followed by a moderated Q&A about the film. Cast members, including Spicer and Schmidt, are scheduled to be present. The Bloomington premiere is also the launch of a 11-city Indiana tour.
Purchase tickets to remaining screenings