George Walker has loved the radio since he was a child. The WFIU producer and on-air broadcast director's interests have evolved over time from adventure and cowboy stories to opera and classical music, but his passion has stayed the same. 
This year, Walker celebrated his 40-year anniversary of working full time at WFIU.
Walker's first work check came to him at 13 years old in 1956, when he helped with a golf tournament through a radio station in Maine. He did a Saturday midnight show as a college student at the University of Michigan, playing classical music and news.
He came to IU in 1967 for his graduate studies, where he heard about a call for people to read news on the campus radio station.
"I came over, and I auditioned, and they said, 'You don't have a knock 'em dead news voice, but you're OK.' And I did do some news, and they said, 'You know, you really sound a little like a classical radio announcer,'" Walker said. "I talked to the person who was the director of the station, Donna Reed, and honest to Pete she actually did say, 'Try it, you might like it.'"
He joined the WFIU staff full time in 1977, doing a morning show and playing classical music.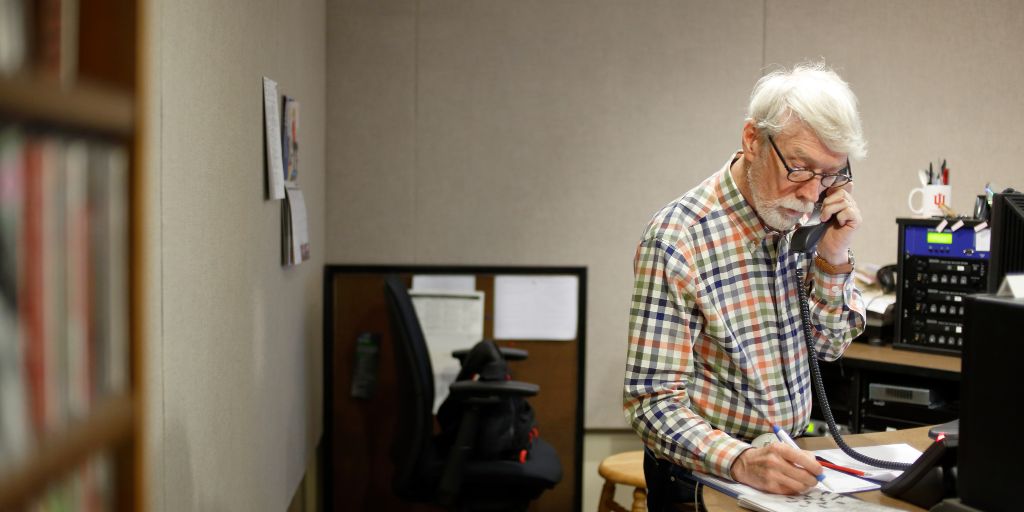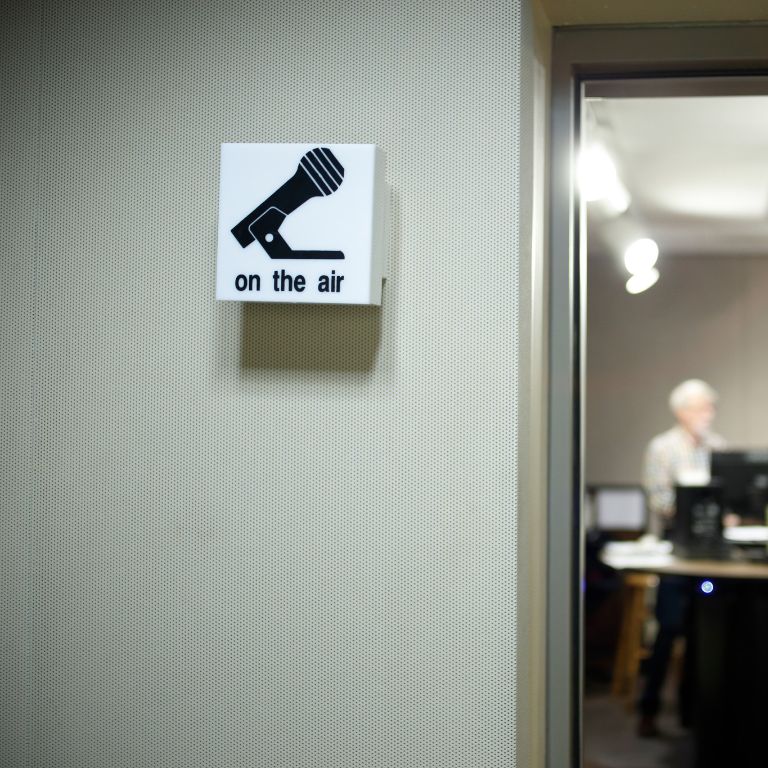 Photos by Eric Rudd, IU Communications
"Over the years, the position has changed in part because of things I wanted to do," he said. "I added opera reviewing and then play reviewing, and then a little bit more arts interviews."
He built on these interests outside the workplace, too, even starting a bluegrass band, the Jordan River Ramblers, named after the Jordan River on IU's campus.
He's continued following his passion for arts interviews and reviews, recently interviewing John Cho from the film "Columbus" and covering the Cardinal Stage Company's Cardinal for Kids production.
Walker has expanded on his web of musical interests by singing in the Bloomington Chamber Singers and singing with his quartet, Shir Simcha, at Beth Shalom. 
Walker said WFIU is special in part because it is constantly changing. Many of its employees are students, so its staff can go through major changes in a span of three years. 
"There's a lot of variety in the people who come, the strengths they bring," he said. "There's been a lot of variety in what WFIU offers to the community and the way we work with the community." 
Because of his long-term placement and influence in the WFIU community, Walker has found ways to challenge himself and keep his own work new and engaging as well.
"It seems that every time things get a little easier, I figure out something to do to make it a little harder," he said. "I've got a really good job."
The Bloomington community thinks so, too. While at restaurants and out and about in town, Walker has found himself recognized by other Hoosiers – if not by looks, by voice. 
"Someone will turn around and say, 'Are you George Walker?,'" he said. "And they're usually pretty happy about it. So it's kind of neat."
Walker's friends and colleagues said his local celebrity status is well earned. Bloomington Symphony Orchestra executive director Donna Lafferty described him as a "genuinely nice person" who supports up-and-coming groups and put on a moving performance as narrator for the orchestra's "Lincoln Portrait."
"George has served as a narrator for me and as a concert host on occasion," said David Bowden, director of the Columbus and Terre Haute orchestras and 40-year friend of Walker. "That has been a wonderful, collaborative way that WFIU engages the community through this gem of a person who has given so much to so many of us."
Bowden said he calls on Walker when he is unsure of how to pronounce a composer's name.
"George has a radio voice that is at once soothing and calming and at the same time very articulate," he said. "His ability to produce the exact sounds of different composers' names who are not always easy to pronounce is wonderful."
Becca Costello, digital producer and reporter at WFIU, has worked with Walker for two years. One of her favorite interactions is working on the Herald-Times crossword puzzle with him, a daily ritual they share between turns on the radio.
"It's something I've come to expect every day when I come into the studio," she said.
Cardinal Stage Company marketing manager Rachel Glago said it's an honor to work with Walker.
"I think George has a strong reputation because of his professionalism, dedication to the craft of radio, and honest arts coverage," she said. "His experience is beyond compare and his passion for the arts is visible in all that he does."