The Florida Gulf Coast University volleyball players found themselves stranded in North Carolina last weekend, unable to return home to Fort Myers as Hurricane Irma headed toward their beach town.
The team had just finished a tournament in North Carolina and wasn't due in Indiana to play in the Hoosier Classic tournament for several days. But as storm surges and heavy winds raked the southwest Florida coast, flooding homes, collapsing buildings and displacing families, Indiana University Athletics searched for a way to help the team during the devastating time.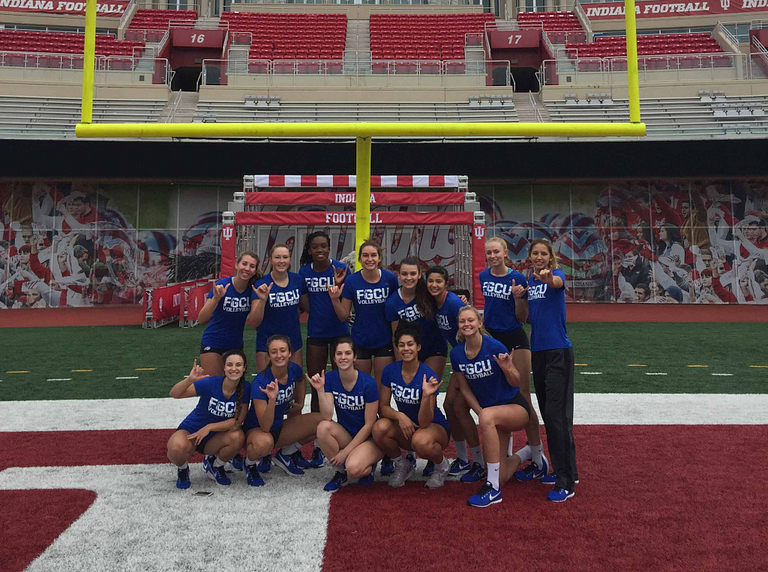 IU head volleyball coach Sherry Dunbar-Kruzan picked up the phone and invited the Florida Gulf Coast team to come to Indiana early.
"We are happy that Florida Gulf Coast is here and safe. We wanted to do what he could to make them feel comfortable this week," Dunbar-Kruzan said. "The volleyball community is great, and if we were in this situation, others would step up and help us."
Along with making them feel comfortable, IU wanted to help the players stick to as much of a normal schedule as possible. Since arriving in Bloomington on Monday evening, the team has been using IU Athletics' practice facility and weight room, hosting study tables and reviewing film. IU is also covering half of the team's hotel and travel expenses for the extra days they had to be in town.
IU football ticket giveaway
Florida Gulf Coast head coach Matt Botsford is familiar with Hoosier hospitality. Before he began his tenure at Florida Gulf Coast, he served as an assistant coach at Notre Dame, IUPUI and the University of Indianapolis. During some down time this week, he took the team to Indianapolis to explore the city, have dinner and attempt to take their minds off the destruction they may return home to.
"This week has been overwhelming for us," Botsford said. "We are so thankful to IU, the coaching staff and administration for welcoming us with open arms and all they have done for us."
Both teams and their coaches are excited to play in the Hoosier Classic tournament this weekend, and they encourage the community to come out to watch.
"Florida Gulf Coast has a great program, and we hope people will come out and watch some great volleyball this weekend in Bloomington," Dunbar-Kruzan said.
The Hoosier Classic takes place today and Saturday, Sept. 15 and 16, at the University Gym. A full schedule is available on the IU Athletics website.